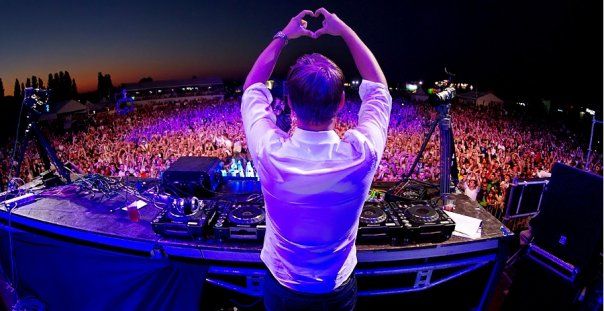 Someday if you're wearing your Google Glass at a music festival (Nicky Romero, we're looking at you…), you may end up sharing your love with the world.
Tech site Engadget uncovered a patent filed by Google Inc. in 2011 designed to patent certain gestures to "signify what is important." The patent was filed in July 2011 but was granted by the United States Patent and Trademark Office on October 15, 2013.  The patent intends to turn hand gestures into a quick way of transmitting messages to a tech-device. In short, the "hand heart" gesture greatly loved by ravers would be interpreted as a "like" by Google.

Armin van Buuren and others are known for flashing the hand heart during their sets–fans, in turn, give it right back. The universal gesture has been commonplace for some time; back in 2011, The New York Times published this article on the symbol's dominance in pop culture. However, the gesture definitely resonates in dance culture, an emblem of the love and acceptance promoted by the music.


Showing the love isn't the only function Google Inc. intends to link with a gesture.  In the patent application, framing an image with your hands in two L-shapes denotes the scene inside of the the square boundaries is the subject of a photo. Frame the scene and snap. It's ready for Instagram.
The abstract text of the patent is below:
"In accordance with example embodiments, hand gestures can be used to provide user input to a wearable computing device, and in particular to identify, signify, or otherwise indicate what may be considered or classified as important or worthy of attention or notice. A wearable computing device, which could include a head-mounted display (HMD) and a video camera, may recognize known hand gestures and carry out particular actions in response. Particular hand gestures could be used for selecting portions of a field of view of the HMD, and generating images from the selected portions. The HMD could then transmit the generated images to one or more applications in a network server communicatively connected with the HMD, including a server or server system hosting a social networking service."