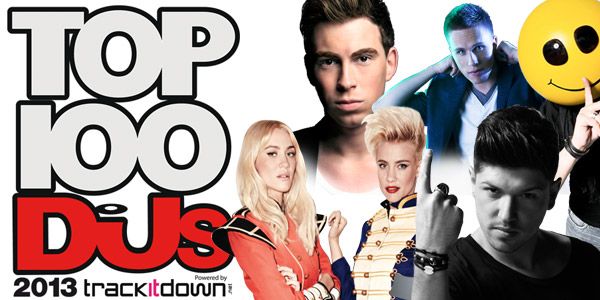 On Saturday night, many of us EDM fans eagerly awaited the annual results of the world's top 100 DJs, presented by DJ Magazine. Naturally, Twitter was abuzz with everyone's thoughts on the matter. It was refreshing to hear humble words of thanks from some of this year's winners, but also interesting to see some of the more opinionated comments. With the list's ubiquity and popularity comes a lot of criticism – and the question of how important it is anyway. Check out our list of Twitter highlights, including thanks from the top qualifiers, as well as some commentary from others.

1) Deadmau5 has always got something to say. Remember his comments on MTV earlier this month?
HOORAAY!!!! IM THE 12th BEST CD PLAYER IN THE WORLD!!. suck it! id like to thank the committee. my fans, all that shit. etc etc.

— deadmau5 (@deadmau5) October 19, 2013
man, its so unreal… i mean, all that training! finally payed off! heres to another awesome year of ableton doing everything for me.

— deadmau5 (@deadmau5) October 19, 2013
k, top100 shits finally over thank god. can i go back to robots and actual music making now?

— deadmau5 (@deadmau5) October 19, 2013
wait.. hold up.. 12?… thats number one… AND two… hah! you can both suckit @hardwell and @arminvanbuuren IN YOUR FACES. I AM BEST PONY.

— deadmau5 (@deadmau5) October 19, 2013
honestly, im kinda dissapointed paris hilton didnt make the list (seriously) i was really rooting for that shitstorm to go down.

— deadmau5 (@deadmau5) October 19, 2013
2) Dillon Francis (who placed 73rd) couldn't help but notice the overwhelmingly Dutch backgrounds of those who made the list.
I'm convinced that being from the Netherlands helps your ranking on DJ Mag top 100

— DILLON FRANCIS (@DILLONFRANCIS) October 19, 2013
3) A lot of us were surprised to see Mat Zo ranked so low, at number 93. Here's what he thought – do you agree?
EDM is like highschool and the top100 is like the yearbook. Everyone pretends not to care but gets sad if theyre not in it

— 川八丅。乙〇 (@Mat_Zo_Official) October 19, 2013
I took out a mortgage to pay for all those votes so i better get top 20

— 川八丅。乙〇 (@Mat_Zo_Official) October 19, 2013
I dont know why i havent added djmag votes to my rider

— 川八丅。乙〇 (@Mat_Zo_Official) October 19, 2013
Im going back to my vote dealer for a full refund

— 川八丅。乙〇 (@Mat_Zo_Official) October 19, 2013
4) You gotta laugh at this tweet from trap DJ duo Heroes x Villains.
My mom says I'm number #1 to her @DJmag #DJMagTop100

— HEROES X VILLAINS (@WE_ARE_HXV) October 19, 2013
5) Finally, Laidback Luke considers the ups and downs to the hype behind the list. We all have favorite artists we were surprised didn't make the list – here, he names some of his missing ones, but ends on a good note. Let's indeed continue to focus on and enjoy the music.
So I guess people didn't vote much for @TJR @djcarnage @atrak @dirtysouth @Will__Sparks huh? They are AMAZING DJs to me. Bit confused.

— Laidback Luke (@LaidbackLuke) October 19, 2013
Quite proud of my position without doing ANY campaign. Nothing. Thank you for the support! Now let's focus more on music please.

— Laidback Luke (@LaidbackLuke) October 19, 2013
6) A-Trak
@LaidbackLuke @TJR @djcarnage @dirtysouth @Will__Sparks Thanks Luke but it's ok, my V-necks aren't deep enough for the DJmag list.

— Prince Hairy (@atrak) October 19, 2013
7) Dirty South
If @rukes doesn't win djmag top100 i'm going on a hunger strike

— Dirty South (@dirtysouth) October 19, 2013
8) Morgan Page
@DJMag #Top100 should be renamed "Top 100 Dutch Media Buys"

— Morgan Page (@morganpage) October 19, 2013
9) Sasha
oh no! i didnt make the @DJmag 100

— Sasha (@sashaofficial) October 20, 2013
10) Chuckie
The DJ TOP 100 list needs more colored people..LOL! I see only Carl Cox and me..

— CHUCKIE | DIRTYDUTCH (@djchuckie) October 20, 2013
Bonus:
11) Hardwell, this year's #1, gave a simple thank you.
#1!! Thank you all for voting for me! This is just unbelievable! You just made my biggest dream come true! #Top100DJs

— Hardwell (@HARDWELL) October 19, 2013
12) And always at the top of the list, Tiesto, coming in at number 4, gave thanks for winning DJ Mag's Legend Award, as well as a shout-out to Hardwell.
Thanks for all the lovely messages about me winning the Legend @DJmag Award! I really appreciate all the support,still after all those years
— Tiësto (@tiesto) October 20, 2013
And of course congratulations to @hardwell for winning the @DJmag top 100!! I am really proud of you brother!! #1
— Tiësto (@tiesto) October 20, 2013
13) We have to include trance king Armin Van Buren's reaction tweet. At #2 this year, Armin is a Top 100 staple.
Just want to take the opportunity to thank all my fans for your votes this year again! Your support feels amazing #Top100DJs #AMF2013 @djmag
— Armin van Buuren (@arminvanbuuren) October 19, 2013
14) Most DJs took to thanking their fans for their support. After all, it was the fans who voted, and the fans who bring the music to life. Those apart of the #NERVONation were probably happy to see this tweet.
WOW AMAZING! CANNOT GET OVER IT.TOTALLY CHUFFED!THANK U EVERY1 WHO VOTED4US#16!#DJMAGTOP100 We really do have THE BEST fans ever#NERVONation
— NERVO (@nervomusic) October 20, 2013
15) But this year's highest new entry, Dyro, was appreciative for his well-deserved votes.
Words can describe how happy i am! Thanks for making dreams come true! Highest New Entry #30! http://t.co/HmQnK1wMwN
— Dyro (@DyroMusic) October 20, 2013
As Twitter proves, there are many mixed opinions on the matter. Ultimately, the list acts as a good "who's who" of the year's most prominent DJs. But it's simply created by fan's votes, illustrating the most important thing about being an electronic music listener – you create your own musical moments. You know in your heart who's number one. At the end of the day, you'll remember the times you had listening to their music more than you'll remember their ranking. Here's to keeping the energy positive!