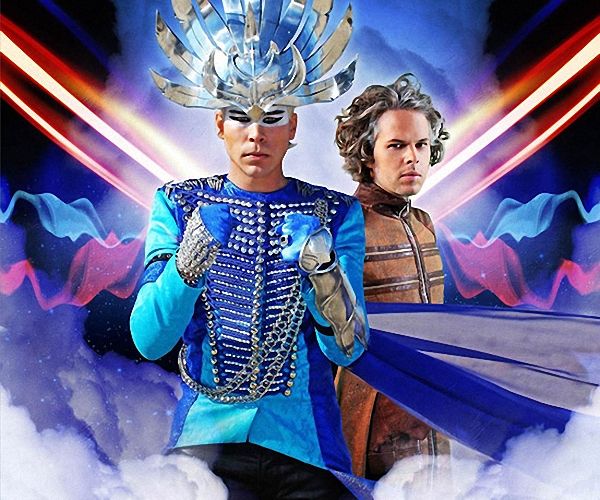 Alrighty then; who says that we have to specifically stick to "popular music" mainstream radio acts for this series? Our series, our rules! Thus, we have decided to spotlight the Australian electronic music duo (and additionally, radio favorites) Empire of the Sun for Episode 5 of Mainstream Radio Remixed.
The collaboration of a former rock band member (Luke Steele of The Sleepy Jackson) and an electronic dance music band refugee (Nick Littlemore of Pnau) doesn't initially appear as the most synergistic musical formation, but you know what they say: opposites attract. Empire of the Sun's award-winning 2008 debut album Walking on a Dream catapulted the duo to the heights of international stardom complete with internationally-charting singles such as "Walking on a Dream" and "We Are the People".

In explanation of the groups' name, Nick states that "the name comes more from the idea of (and you'll see this in the ongoing videos) the fact that we're traveling around the world going to all the places of empires of the civilization where the sun has been a theme of worship. It's not based on the Ballard novel nor the Spielberg film of the same name." Band name origins aside, one can't deny the cinematic nature and almost cosmic aura that Empire of the Sun exudes in their live performances. Coming off their most recent release this past summer of their sophomore album Ice on the Dune and the successes (both original radio-friendly and our favorite…remixes) of "Alive" and "DNA" in recent months, it was a no-brainer to feature the bros of Sol, Empire of the Sun, for Episode 5. And without further ado:
"Alive"

Zedd:
Mat Zo:
"DNA"
Calvin Harris:
M Machine (Helios):
"Walking On A Dream"
Kids At The Bar:
Kaskade:
Mike Foyle feat. X-Vertigo:
"I'll Be Around"
Mark Lower:
"Girl"
Plastic Plates:
"We Are The People"
Andy Moor & Ashley Wallbridge:
Sub Focus:
"Standing On The Shore"
Dirty Disco Youth:
Lifelike:
"Bonus" Track: "Applause"
Empire Of The Sun:
As always…shoot us your suggestions!
Update: Reader Suggestion via twitter…thanks @mitchyy3!
"Mirage The People"
Pryda:
Follow @mattEDMT