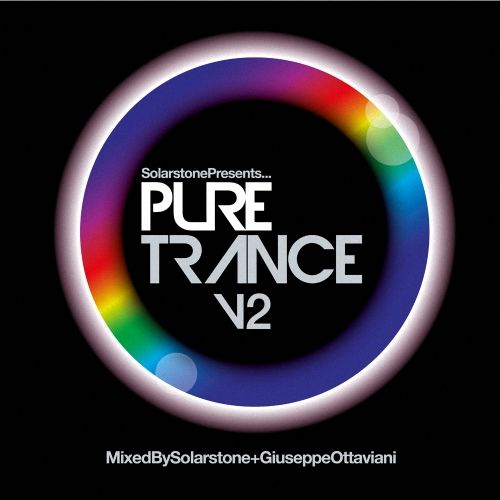 Solarstone Presents… Pure Trance V2 
Label: Black Hole Recordings | Released Date: Oct. 28, 2013
Doomsday prophecies were made, and declarations of "trance is dead" were littered all over the internet as leading trance DJ/producers decided to take a more contemporary approach to their music.  The sounds of new began to creep in to what was familiar to some of us who were already here before the big EDM boom, and the marriage, created by changing tastes, gave birth to what is now called "trouse".  Trouse has become Trance's younger, louder, neon clad brother who screams "YOLO" and loves to GTL but, still, gives hugs freely and trades kandi.  The little one has been in the limelight for the past couple of years, but older brother has been going through a revival in 2013.  There are many great reasons why the worries of a genre dying can be laid to rest.  Solarstone Presents Pure Trance Vol. 2 is one of those great reasons.  Already having a phenomenal year in terms of music and success with Pure Trance events on a global scale and reentry into the DJ Mag Top 100, Solarstone delivers a riveting trance compilation to satiate the demands of old school dinosaurs and show the new school kids where it all began.  With help from another household trance name, Guiseppe Ottaviani, the pair mix classics and unreleased tracks with fluidity and passion that embodies the essence of trance.  The compilation features beloved oldies such as "Made of Love" by Ferry Corsten and "Big Sky" by John O' Callaghan.  There are also recently released gems such as "Are We There Yet" by Suncatcher and unreleased dance floor hits like "Carbon" by James Dymond. Don't miss out on this spectacular journey and get lost in the sounds of Pure Trance on October 28th. You can also pre-order on Itunes or pre-order a signed copy at the Solarshop.
Disc 1.
01. Adam Nickey – Perfect Destiny (Winkee Remix Reconstruction)
02. Aerium – Horizons (Solarstone Retouch)
03. Solarstone featuring Lemon – Lovers (Pure Mix Reconstruction)
04. Elfsong – Seldarine
05. Alex M.O.R.P.H – Eternal Flame (Solarstone Pure Mix)
06. Walsh & McAuley – Ashgrove Throne
07. M.I.K.E – Respire (Solarstone Retouch)
08. Zoo Brazil featuring Philip – Heart's A Legend (Solarstone Pure Dub Retouch)
09. Solarstone – Love Theme from Blade Runner (Pure Mix)
10. Future Disciple – Kwiwakurra
11. Driftmoon – Howl At The Moon (Solarstone Retouch)
12. John O'Callaghan featuring Ria – I'll Follow (Solarstone Pure Dub Reconstruction)
13. Ferry Corsten featuring Betsie Larkin – Made Of Love (Acapella)
14. Suncatcher – Are We There Yet? (Original Mix)
15. Franz – Emerge (Dreamy Remix) 16. Ben Lost – Jump The Next Train (Acapella)
Disc 2.
01. Alex Matteo – Prophecy (Original Mix)
02. Darren Tate – All I Am (Original Mix)
03. Sied van Riel – 8 Decades (Original Mix)
04. Colonial One – Atlas (Original Mix)
05. Andrea Mazza featuring Hysteria! – This Perfect Night (Original Mix)
06. John Mash – Metamorphosi (Original Mix)
07. Alexandre Bergheau & Alex Wackii – French Kiss (Original Mix)
08. Marynus Revert – Scent Of My Dreams (Original Mix)
09. Andain – You Once Told Me (Agnelli & Nelson Remix)
10. Stuart Millar – Always A Moment
11. John O'Callaghan featuring Audrey Gallagher – Big Sky (Original Mix)
12. John O'Callaghan featuring Erica Curran – I Believe (Giuseppe Ottaviani Remix)
13. Giuseppe Ottaviani with Aly & Fila – Brilliant People (Sneijder Remix)
14. Giuseppe Ottaviani featuring Vitamin B – Waiting On Someday (OnAir Mix)
15. James Dymond – Carbon (Original Mix)
16. Joey Chilson – Lost & Found (Original Mix)
17. AERO 21 – Performance (Original Mix)
18. Will Atkinson – Hermosa (Original Mix)