It's summer down under, and Stereosonic is here to bring the best in EDM to Australia. Claiming itself as "Australia's most loved electronic music festival", the five-stop Aussie mega tour has already sold out of industry tickets for Sydney in a record amount of time. With a huge bill announced featuring several of the world's top DJ's as well as over 300 local artists, all eyes are on this year's 2013 edition to witness what Stereosonic will bring to the festival playing field.

No pressure though! Stereosonic promoters, Totem OneLove Group, recently came under the acquisition of EDM event company powerhouse SFX Entertainment for a reported $75 million dollars, issuing the following statement in the company prospectus:
"Maintaining the strength of our festivals, events and online businesses will be challenging, and our relationship with our fans could be harmed for many reasons", "including the quality of the experience at a particular festival, our competitors developing more popular events or attracting talent from our businesses, adverse occurrences or publicity in connection with an event and changes to public tastes that are beyond our control and difficult to anticipate."
With SFX now behind Stereosonic, all systems are GO to deliver the best event possible under SFX's unstoppable mission "to enable this movement by providing our fans with the best possible live experiences, music discovery and connectivity with other fans and events."  Indeed, Sterosonic is prepared to live up to this by "showcasing an all-encompassing festival experience over two jam-packed days that will feature artists from the spectrum of electronic music genres." Tailing fresh off the success of TomorrowWorld, which took place thanks to the 75% investment SFX put into ID&T, business is looking promising for the production giant.
Expected to be the largest-scale festival production Australia has ever seen, Stereosonic 2013 is undeniably making the right moves to establish its status as a global contender in the increasingly competitive festival scene. And responsively, tickets are going fast, prompting the festival to release this statement regarding the likelihood that this spectacular show will sell out entirely: 

"Stereosonic, is pleased to announce that industry tickets for Stereosonic Sydney are sold out due to the overwhelming response toward the lineup. Indicating the continuing rise of electronic music and the popularity of Stereosonic, ticket sales for the festival have exceeded all expectations. Fans of Stereosonic are advised to purchase their tickets urgently, to avoid disappointment and the likelihood of being scammed by ticket scalpers."
So who is lucky enough to chase eternal summer and experience Stereosonic this year?
Final release phases of tickets are still available via Ticketmaster Australia.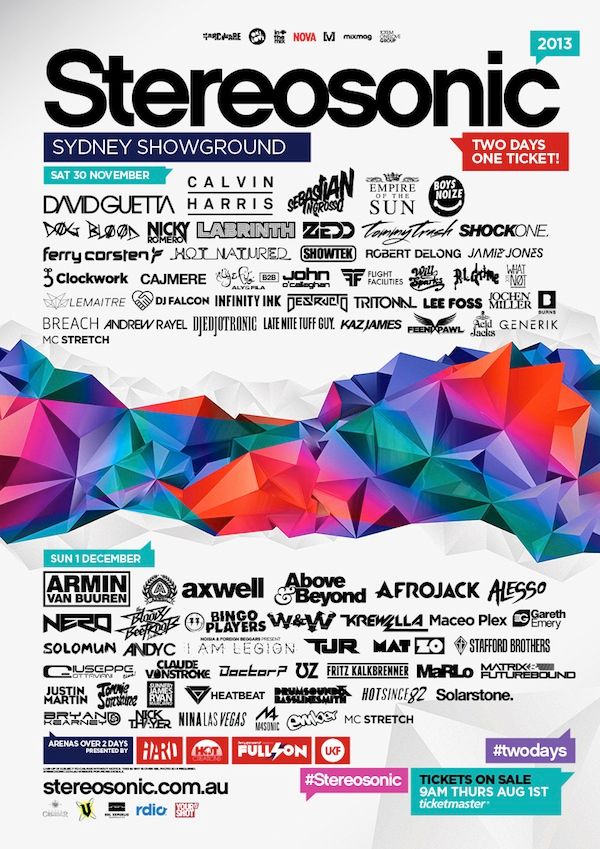 Stereosonic Event Dates and Information:
SYDNEY: Saturday 30th November & Sunday 1st December, Sydney Showground
PERTH: Saturday 30th November & Sunday 1st December, Claremont Showground*
ADELAIDE: Friday 6th December & Saturday 7th December, Adelaide Showground
MELBOURNE: Saturday 7th December & 8th December, Melbourne Showgrounds
BRISBANE: Saturday 7th December & 8th December, RNA Showgrounds
*subject to council approval