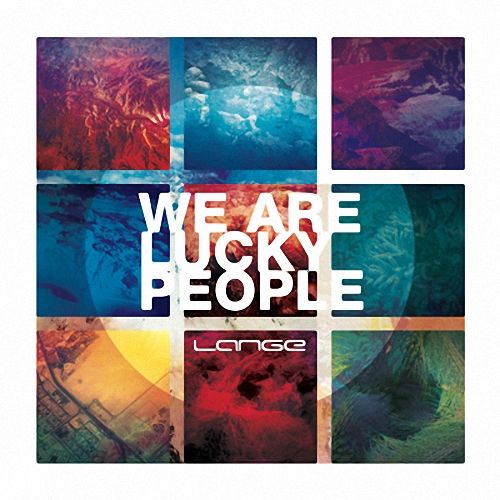 Lange – We Are Lucky People
Label: Lange Recordings / Release Date: November 18, 2013
iTunes Pre-Order / CD Pre-Order
As an electronic music veteran, British international DJ/producer/label owner Stuart Langelaan, more famously known as Lange, has embarked on this third album release in the form of a double-CD release featuring a typically-electronic club based approach CD in addition to a disc featuring a "unique take on a year of club hits". Showcasing his mature sense of musicality, Lange has dropped a release that should quiet any electronic music naysayers whom claim that our genre lacks (what is perceived as) typical musicality.

"We Are Lucky People" takes the listener on 2 distinctive journeys due to the approach of division of production styles, which is refreshing to experience…much along the lines of the Above & Beyond acoustic shows in recent months.  In times of the exponential expansion of all things EDM, it is gratifying to see the genre be able to slip seamlessly into the realm of "mainstream musicality" and evidence that electronic is not all "bloop blip blop…DROP". This is something that Lange has illustrated in spades with this release.
"We Are Lucky People" is stacked with top notch collaborations, from the likes of ethereal vocal trance voices Susana ("Risk Work Taking"), Cate Kanell ("Fireflies"), Shannon Hurley ("Superstars"), Betsie Larkin ("Insatiable"), Stine Grove ("Crossroads") and Hysteria! ("Unfamiliar Truth") plus from the famous violinist Ilseviolin on the track aptly entitled "Violin's Revenge".
I do want to make an initial statement in regard to listening approach to the album. CD1 is the Reworked Club version/Artist Album and CD2 is the more typically electronic music Club CD. Start your listen off with CD2, then later transition to CD1 to aurally visualize Lange's mastery of track evolution. At first listen, I started with CD1, and being an exclusive electronic music listener for the past 4 years or so, my eardrums (and brain) have come to expect a multitude of layers, beats, and soaring melodies. CD1 is the stripped down versions of Lange's club edits, so beginning with CD1 was a bit jarring as my initial listening experience. I am completely down with the double CD release approach; however I would like to urge artists to keep their signature electronic music sound on the first CD and include any reworks or exploratory takes on the second CD in order to facilitate a smoother initial listening experience for the (EDM) masses.
Album Highpoints:
"We Are Lucky People" had many personal highlights that deserved to be given individual recognition (all written from the perspective of the Club CD), which are:
"Crossroads" feat. Stine Grove
A personal favorite track of mine since its single release back in 2012, the track finally has an album to call home. Lange has "turned the concept on its head of an album that spawns a series of singles in its wake", being that each single off the album has been released without an album, until now…which is another production aspect that Lange is spearheading the way in. Stine Grove's vocals in "Crossroads" hit such an exorbitant emotive height that I definitely felt a commercial airliner brush by me as my body floated onwards and upwards, additionally lifted by those mesmerizingly trancey euphoric synths married with a driving and almost-crunchy percussion.

"Violin's Revenge" feat. Ilseviolin
Ilseviolin has already collaborated with Paul van Dyk, Above & Beyond, Carl Cox, Snoop Dog and Kanye West and has added Lange to their collaboration list with "Violin's Revenge". The track is a beautifully melded-infusion of classic instrumentation with the world of electronic. The synergy of styles carries a hopeful, uplifting air throughout the cut, while maintaining certain edgy qualities and some heavier-footed bass elements than we haven't been exposed to throughout much of the remainder of the album. Trance is the sub-genre of feels, and this track is surely Exhibit A for that statement.

"Insatiable" feat. Betsie Larkin
My penchant for vocal trance is showing strong with this track. Possessing many of the typical things I have grown fond of (and love) about vocal trance, "Insatiable" transports you to a place of hopeful longing, raising your spirit via Betsie's dreamy and pristine vocals. To accompany that, Lange weaves in an uplifting, sunny melody that emits a poignant air of optimism while underlying toe-tapping bass elements.
"Destination Anywhere"
The edgiest track, in my opinion, of the album…"Destination Anywhere" is crafted to help take your mind to places you have never even fathomed before. Featuring a nice, smooth climb of a harmonic saw/synth progression into a pristine output of warm strings and gripping pianos before that thumping club-friendly bass kicks in, "Destination Anywhere" is a track that can surely be enjoyed…anywhere.

"Fireflies" feat. Cate Kanell
Firelies. One of Lange's most recent singles from the album…I…love…this…song. It incorporates a driving trance melody with the heavenly vocals of Cate Kanell. Talk about a track of atmospheric proportions. If Cate's voice isn't enough to lift your being to the heights of feels, then Lange's space-twinkling inspired synths and aurally all-encompassing blissfulness will. "Fireflies" also showcases some more string instruments to tack on even more emotion…almost resulting in feels overload.

The Feels:
The albums' title should be your first clue as to the kind of energy that emanates from Lange's effort with "We Are Lucky People". There is an over-reaching theme of gratitude, contentedness and dreaminess complete with singular aspect amplifications of each of those blanket feels with individuated elaborations via each cut on the album. Spanning such lofty ideals as "Risk Worth Taking" to "Destination Anywhere" to "Superstars" to becoming an "Imagineer" of life while spending "Our Brief Time In The Sun", Lange reminds us that we are, indeed…lucky people. His production approach mirrors this sense of hopefulness and idealism, and those feels are what exudes from the speakers directly into the listeners mind while letting the album soak into their consciousness.
As far as the club CD is concerned, it is definitely a member of the trancefamily…however not the nu-trance 2.0 that has been making a way for itself in recent releases, but exists as an airy and atmospheric vibe that is guaranteed to elevate listeners above most trivial life problems we all face throughout the occurrences of everyday life. Like I mentioned above, CD2 is absolutely the more dancefloor friendly release, featuring recurring themes of soaring harmonies, gripping bass lines, scintillating chord progressions and high quality craftsmanship. Lange's overall message is simple: to make the most out of what you have, as we are the lucky people.
The reworked club version, aka CD1, is tailor-made for easy listening situations. I classified this one as more of a mood album…"casual listening with flare," I jotted down. Retaining the dreaminess of his club mixes while cultivating an almost energetic-downtempo take on production, Lange clearly showcases his maturity and versatility as a producer with his reworked envisioning of his club CD. I ultimately decided (for personal reasons) that the reworked version was best for productivity music or if you were in the mood for some unwinding via tranced chillout tunes.
As a whole, "We Are Lucky People" showcases the over-reaching versatility electronic music can exhibit via matured and experienced producers like Lange. As an artist album aiming to show multiple sides and layers, Lange made his point eloquently clear with this release. Just because a producer creates electronic music, doesn't mean that they are unable to master equally-captivating utilizations via classic instrumentation usage. Lange does not stop there, however…he wants to world to know of his gratitude, and hopes that his music will inspire that same gratitude in everyone who listens.
DISC 1
A unique take on a year of club hits, taking the sounds in new and unheard directions plus brand new material
01. We Are Lucky People – Album Intro
02. Imagineer – Album Mix
03. Risk Worth Taking (with Susana) – Acoustic Mix
04. Fireflies (with Cate Kanell) – Under The Moon Mix
05. Superstars (with Shannon Hurley) – Album Mix
06. Insatiable (with Betsie Larkin) – Album Mix
07. A Different Shade of Crazy – We Are All Mix
08. Unfamiliar Truth (with Hysteria!) – Simple Truth Mix
09. Our Brief Time in the Sun – Album Mix
10. Violin's Revenge (with Ilseviolin) – Light Mix
11. Destination Anywhere – Piano Mix
12. Crossroads (with Stine Grove) – Percussive Mix
13. We Are Lucky People – Album Mix
DISC 2
BONUS DISC the club mixes

01. Imagineer – Club Mix
02. Risk Worth Taking (with Susana) – Club Mix
03. Fireflies (with Cate Kanell) – Club Mix
04. Superstars (with Shannon Hurley) – Extended Mix
05. Insatiable (with Betsie Larkin) – Club Mix
06. A Different Shade of Crazy – Club Mix
07. Unfamiliar Truth (with Hysteria!) – Extended Mix
08. Our Brief Time in the Sun – Club Mix
09. Violin's Revenge (with Ilseviolin) – Dark Mix
10. Destination Anywhere – Club Mix
11. Crossroads (with Stine Grove) – Club Mix
12. We Are Lucky People – Club Mix