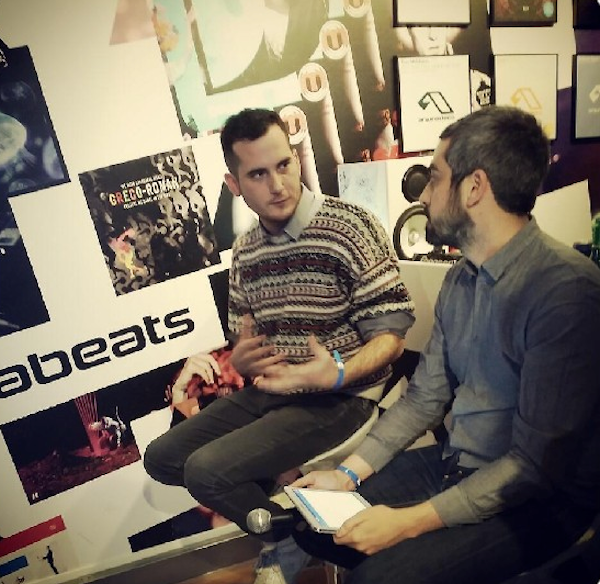 With a cold, free (!) beer in hand, I looked around the Samsung Galaxy studio, and wondered how the event would pan out. A small space located in Shoreditch's "Boxpark", a strip-mall style structure of hipster pop-up shops, located beneath the High Street station of the London neighborhood. This studio was decorated for the night with framed album artwork of Anjunabeats productions. It was the perfect setting for the Thursday night Q&A event with artist Andrew Bayer.  At first glance, I didn't even realize the man was standing right in front of me, talking to professionals and fans alike. But upon leaving, it felt like we were all friends.

Andrew Bayer has had an amazing year in both the studio and the live performance spheres. He released the dynamic full-length album If It Were You, We'd Never Leave, went on tour with Above & Beyond, and has been featured on numerous radio shows and mixes. Yet at the event, he was super approachable and warm to absolutely every fan. Standing around in a circle with a small group of other Anjunabeats fans in attendance, we talked among ourselves. It felt intimate, like we were all at a party together. And later on, he did an official on-camera interview.
In the interview, we learned about the new album (some of the vocalists featured on it were close friends from his time at Berklee College of Music), recent singles (the beat in "Perth" was inspired by the beeping signal for crossing the street in the Australian city), his new collaborative group with Norin & Rad, Artificial (they're working on producing more music soon), and where he got the fabulous sweater he was wearing (Urban Outfitters).  A big buzzword used was "musicality", which could definitely be applied to Andrew's recent releases. The new album, and Andrew's work in general, can hardly been identified under one genre – it has trance, progressive, and even acoustic vibes, and truly illustrates his multi-faceted musical talents.
He told us the story behind the name of an upcoming Artifical single, "Stuck in Sa Caleta", about misinterpreting flight times when leaving the Ibiza beach, and another story about accidentally having Bitsy, Jono Grant's dog, get too close for comfort. It was laid-back and funny, and knowing that Andrew is going to be in the studio the next couple of months producing even more music was the greatest news of all. However, overall, the best part of the event was feeling like part of the Anjunabeats family.
Personally, I met four different people who had come to the event alone. We were from a few different countries, and we all chatted and shared our experiences as fans of the label and trance in general. By the end, we were smiling and exchanging contact info. "Look, we made our own little trance family!" one of the girls exclaimed. At large, fans were interacting on social media. Seeing a picture of myself and one of my new "family" members with Andrew on the official Anjunabeats Twitter page made my day. With talk of good music, and even better vibes in the air, the Andrew Bayer Q&A in London was one of my favorite events of the season, and we didn't even hear that much music. We shared our love for it in a different way.