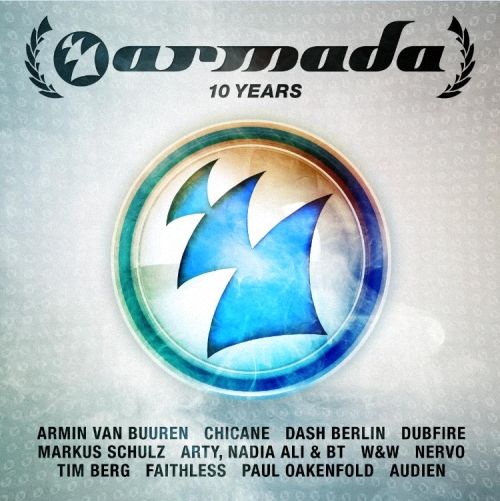 2013 is an important year for one of the leading labels in electronic dance music, Armada, for they are celebrating their tenth year of providing the world with some of the best dance music on the planet. To celebrate, the legendary record label will be releasing a mix CD entitled, 10 Years Armada. As one would expect from the title, the compilation will look back upon a decade of music from the label and will include the timeless tracks from Armin van Buuren, Motorcycle, Aly & Fila, W&W, Audien, Dash Berlin, Dubfire, Markus Schulz, Tim Berg, NERVO, BT, and many more.

Growing from an improbable dream into an award-winning company, the Dutch record label has continued to impress for many years. For the fifth season in a row, Armada has won the International Dance Music Award for 'Best Global Record Label', a sign of not only their incredible staying power and influence, but also of their commitment to scoping out and releasing new and fresh tracks from the world's very best up and coming producers.
Armada Music was founded by Armin van Buuren, Maykel Piron and David Lewis in June 2003, upon the shoulders of Motorcycle's now legendary 'As The Rush Comes'. Ten years have come and gone since this monumental release, and it is without a doubt safe to say that after these ten years, Armada Music is firmly entrenched at the very pinnacle of the scene. This compilation will act as a perfect look-back into the formidable and impressive discography that Armada has built since that first release. Any fan of dance music will without a doubt find something to enjoy here, and life long fans of Armada will surely cherish such a broad compilation of legendary tunes. The CD comes out later this month on November 22, 2013, and you can pre-order it here.
Tracklist
CD 1
01 Armin van Buuren feat. Trevor Guthrie – This Is What It Feels Like
02 Motorcycle – As The Rush Comes
03 Chicane feat. Moya Brennan – Saltwater
04 Tim Berg – Bromance (Avicii's Arena Mix)
05 Dubfire – Roadkill
06 Gabriel & Dresden feat. Molly Bancroft – Tracking Treasure Down
07 Nadia Ali – Rapture (Avicii New Generation Remix)
08 W&W – Lift Off!
09 Laurent Wolf – No Stress
10 NERVO feat. Ollie James – Irresistible
11 Audien feat. Michael S. – Leaving You
12 Dash Berlin – Till The Sky Falls Down
13 Faithless – Not Going Home (Armin van Buuren Remix)
14 Karen Overton – Your Loving Arms
15 Ransom – My Dance
16 John O'Callaghan feat. Audrey Gallagher – Big Sky
17 Paul Oakenfold feat. Matt Goss – Firefly
18 Arty, Nadia Ali & BT – Must Be The Love
19 Binary Finary – 1998 (Paul van Dyk Remix)
20 Laserkraft 3D – Nein, Mann!
21 Jerome Isma-Ae – Hold That Sucker Down
22 Umek vs Beltek – Army Of Two
23 Shogun – Skyfire
CD 2
01 Gaia – Tuvan
02 Omnia & Ira – The Fusion
03 The Thrillseekers – Synaesthesia (En-Motion Remix)
04 Ridgewalkers feat. El – Find (Andy Moor Remix)
05 Laura Jansen – Use Somebody (Armin van Buuren Rework)
06 Sunlounger feat. Zara – Lost
07 Mischa Daniels feat. J-Son – Where You Wanna Go
08 DJ Remy & Roland Klinkenberg – Till Ya Drop!
09 Origene – Sanctuary
10 Tom Fall & Jwaydan – Untouchable
11 Markus Schulz feat. Seri – Love Rain Down
12 Way Out West – Only Love
13 Dobenbeck feat. Joanna – Please Don't Go
14 Milan & Phoenix – Carnival
15 Solarstone – Seven Cities (Armin van Buuren Remix)
16 Arnej – They Always Come Back
17 Signum – What Ya Got 4 Me
18 Christian Burns & Paul van Dyk – We Are Tonight
19 Alex M.O.R.P.H. feat. Sylvia Tosun – An Angel's Love
20 Ørjan Nilsen – La Guitarra
21 Glenn Morrison – No Sudden Moves
22 Interstate – I Found You
23 Questia – Nexus Asia
CD 3
01 Antillas feat. Fiora – Damaged
02 DJ's United – Remember Love
03 Cerf, Mitiska & Jaren – Light The Skies (Retrobyte's Classic Electrobounce Remix)
04 Kat Krazy feat. elkka – Siren
05 Whiteroom feat. Amy Cooper – Someday
06 Chris Reece feat. Jennifer Needles – Never Let Me Go
07 Andy Moor & Ashley Wallbridge feat. Meighan Nealon – Faces
08 Pulser – My Religion
09 Emma Hewitt – Colours (Armin van Buuren Remix)
10 Josh Gabriel presents Winter Kills – Deep Down
11 Simon & Shaker vs Groove Garcia – Soultech! (Simon & Shaker Remix)
12 Grace – Not Over Yet (Max Graham vs Protoculture Remix)
13 Max Graham feat. Jessica Jacobs – I Know You're Gone
14 Rex Mundi vs Ronski Speed feat. Sir Adrian – The Perspective Space (Markus Schulz Mash Up)
15 M.I.K.E. – Turn Out The Lights
16 Kirsty Hawkshaw meets Tenishia – Reasons To Forgive
17 Aly & Fila vs Jwaydan – Coming Home
18 The Doppler Effect – Beauty Hides In The Deep
19 EDX feat. Sarah McLeod – Falling Out Of Love
20 Mark Otten – Tranquility
21 Envio – Touched By The Sun
22 Jose Amnesia feat. Jennifer Rene – Louder
23 Masters & Nickson feat. Justine Suissa – Out There (5Th Dimension)