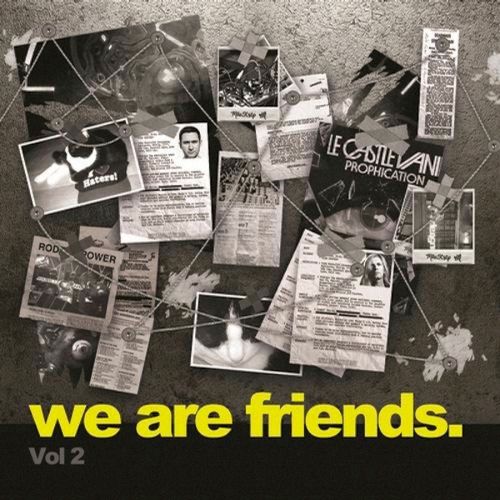 Deadmau5 and the Mau5trap team have released a followup to their previous compilation album "We Are Friends." In Volume 2, the Mau5 brings back some familiar faces but also uses this new album as an opportunity to shed some light on some of his favorite new talent.  The album starts off with "Suckfest9001", the Deadmau5 single that was released last month, and is followed closely by the another from Joel himself: "Your ad Here".  The first two tracks sound just as classically Deadmau5 as their names.  Steady four on the floor beats with the occasional stunningly beautiful lofty melodic interlude.

But Joel's friends don't disappoint either.  In many of the tracks like Aron H's "Entrance", you can hear Deadmau5's own sound interspersed with elements that are completely new, elements that Joel may want to emulate in the future.  "Entrance" sounds like somewhere in between "A State of Trance", "Random Album Title" and "Discovery".
"We Are Friends" is not just a collection of Deadmau5 copycats though.  Quite the contrary, all of the producers who been added onto the album bring something new and different.  In his second "We Are Friends" appearance, Kairo Kingdom brings two tracks towards the end of the album and both of them add a fresh new feel.  The spooky and thoughtful "Machine Empire" adds a new dimension of depth to the album and leaves you wishing for more.  The album ends with a bass heavy cameo from Al Bizarre: "Crime".  The track is filled with a feeling of momentum, and so is the whole album.
Now that Mau5trap will release "We Are Friends Vol. 2" on November 11, the team will be able to focus on Deadmau5's own work.  Particularly the potential that the new year provides for Toronto's favorite producer.  Just as he prepares to unleash a storm of his own work, Deadmau5 has made sure to remember his roots and the smaller artists who he wants to glorify.
2014 is looking like a big year for the Mau5.  With talk of a new album and a tour along with new technology like his recent collaboration with Microsoft, Mr. Zimmerman will clearly continue to blaze a trail into uncharted territory for electronic music, just as he has so many times before.
You can pre order the album now on iTunes.