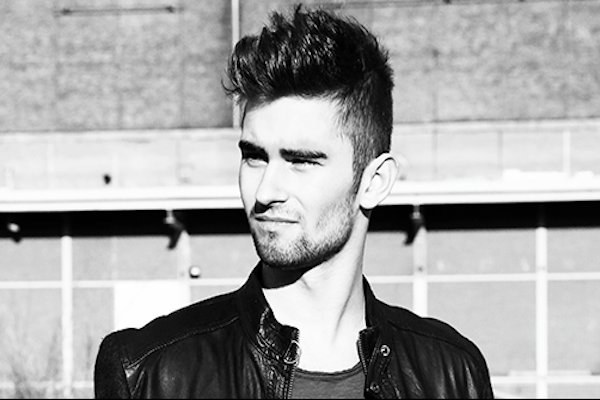 During his visit to Los Angeles to tear down Create Nightclub in Hollywood, EDMTunes had the opportunity to sit down with the young producer, Dyro. Entering the scene with a bang during Ultra 2013 with Hardwell, the road to success for Dyro has only gotten better. From a Beatport chart topping collaboration to a sell out tour with Hardwell and now landing a high spot on the DJ Mag Poll, there is no stopping this young and talented producer. Read on to see what Dyro has to say about what inspires him, his relationship with Hardwell and his opinions on the DJ Mag Poll, as well as what the Dyro has in store for 2014!

EDMTunes: First off, thank you for sitting down with us here at EDMTunes.
Dyro: You're welcome!
EDMTunes: Can you give us a quick introduction for those that may not know who you are?
Dyro: Well my name is Dyro, my real name is Jordy Van Egmond and I am from The Netherlands. I've worked under the name Dyro for the last two years touring with guys like Hardwell and Dannic for Revealed and also for myself as well. I've just been releasing music since two years ago and actually just been awarded highest new entry on the DJ Mag at number 30.
EDMTunes: Congratulations on that!
Dyro: Thank you!
EDMTunes: The Netherlands has always been a hotbed for electronic music. Growing up with the Dutch music scene, what or who inspired your production style?
Dyro: It's a funny question…I'm pretty young, 21, and when I started producing, which was only like three years ago, guys like Hardwell and Tiesto were already on the radio and in clubs, so it's funny, those guys influenced me and inspired me to make music and now I'm actually working with them really closely, so it's actually a pretty unique situation.
EDMTunes: You mentioned Hardwell, it seems he has impacted your career quite a bit. Can you tell us a little bit about your relationship with him?
Dyro: I met Hardwell two years ago at ADE, we had contact before that when he played one of my first produced songs at EZOO New York. After I noticed that, I sent him an email and he contacted me with his management and we actually stayed in contact from then and we met up at ADE exactly two years ago. From there we started working together.  I had my first releases on Revealed Recordings, I did Daftastic first on the Talent EP and then I had my own EP a few weeks later, Metaphor/Magno. Then from there I just kept releasing and they started booking me on the Revealed tours. The time we spent together, me, Dannic and Hardwell, we grew into a friendship.
EDMTunes: Hardwell hand picked you and Dannic to come on his Revealed Tour with him, what impact did that opportunity have on your career?
Dyro: It was good recognition, you know. Hardwell was…he still is my hero. I know Hardwell and I know Robbert and Robbert is just a good friend of mine, like a good guy to hang out with, always fun. But I know Hardwell as well and I still respect Hardwell the way I did three years ago. So yea it obviously feels good that one of your heroes chose you to actually work with him. It feels great!
EDMTunes: You've already been able to collaborate with the #1 DJ in the world, is there anyone at the moment that you can't wait to collaborate with?
Dyro: I'm actually working on a song together with Dannic, which I am pretty excited about because we have different sounds, but it blends pretty well. It's a bit of an experiment for us and like I said we have different styles, so to be able to put those two styles together is a real experiment. It's taking a while right now, we really want to nail this collaboration, so we want to be 200 percent sure that it's a good song.
EDMTunes: Is there anything in particular that you draw inspiration from?
Dyro: Not really, my main inspiration and motivation is to do something different than what everybody else is doing. If you look at the Beatport chart at the moment it's all like trancey breaks and hard kick drum drops with triplets and shit. If I start doing that as well then where does it end? My main motivation is to not do that at all. It's funny because dance music is my work, like I'm always busy with dance music, so I don't listen to dance music at all in my free time, I just listen to the music I happen to like, which doesn't really have a genre specifically to it. Yea other than that just daily things inspire my music. If I'm watching TV and there is a jingle on a TV show with a melody I like, I start developing melodies in my head and from there on sometimes I hum things in my phone or whatever and later when I play it back I'm like, "what the fuck am I doing?" (laughs). So yea, all these different things inspire me.
EDMTunes: Sounds like you've got quite the musical brain there. Your music career seems to have taken off at full speed.
Dyro: Yea, mostly because of Hardwell.
EDMTunes: You just kinda got thrown in there! What was your back up plan if you didn't succeed with music?
Dyro: Two years ago I was still in school, I did an engineering study, so I was in my exams when my music first started to take off and honestly I never cared about school at all. I really really didn't care. I always knew that I was going to do something different than all the other people. I didn't really agree with everyone else's vision about life: get a job, get an education, get a degree, get a job, get married, get children, pass it on. That's not who I am and I was always against that vision, so I always wanted to do something different. I developed this hobby and this passion and I fully went on it. My back up plan would have been my education, but honestly I don't think I would have really fit in to the business world or whatever.
EDMTunes: Well you are kind of an audio engineer now. Lets talk a little bit about your radio show, Daftastic, which is still under a year old and you've been able to keep it updated quite frequently. How do you manage to do this despite your vigorous schedule?
Dyro: I'm actually the worst with my radio show. I drive my management nuts. Sometimes I'm like a week late. For instance at this past ADE I didn't really have time to do it and they were tired of my shit, so they were like "fuck you, get over it". When I finally had time I obviously did it, because it is important for my fans as well. It's kinda a natural process, because you are a DJ, so you are always looking for new music and the bigger you get the more new DJs or already established DJs are going to send your their music and promos, like  labels are going to start sending you promos as well. It's cool, I hand pick almost every song I like, but my management obviously throws in some ideas as well.
EDMTunes: So you keep that classic digging for records kind of thing expected of a DJ?
Dyro: Yea that's what I'm doing before every show, checking if there is new music in my promo email, check Beatport….for what it's still worth. Sometimes I actually find gems lying around which haven't been featured on any charts or whatever. Those for me are the most important to find.
EDMTunes: Being able to tour all over and share your music with people from all over the world, what has been your favorite moment or highlight of your career thus far?
Dyro: I think the biggest accomplishment was the DJ Mag award for highest new entry, that was complete recognition for all the hard work that I've been doing for the last two years. Other than that I really had a good time on the first tour I ever did with Hardwell and Dannic. It was a good time! It felt like I was on a vacation with two friends partying every night and I'm 21, so I didn't really get to enjoy that with my friends from home, so that was really really cool. Obviously the collaboration with Hardwell was number 1 and the support I got on my track 'Leprechauns and Unicorns' and all the tracks I've put out. It's been a fun ride so far.
EDMTunes: As you said before, you managed to land in spot #30 on the DJ Mag Poll this year. What do you think it was that catapulted you high into the rankings?
Dyro: It's a combination of a lot of things, obviously the song with Hardwell did a lot. A lot of people were voting for Hardwell and had his last track in their minds when they were voting and I was also on that track title, so it encourages them to put my name in the voting as well. So maybe that helped and I have a lot of following on my radio show and yea I think just putting on good shows, like tearing every club to pieces is also very helpful. That's actually the most important thing because ultimately it's a "DJ Mag" competition not a "Producer" competition. Although the definition of the DJ Mag kinda changed lately because it is more about artists and the marketing plan behind them. It's 50/50, 50 percent talent, DJing and producing, and 50 percent marketing. That's the way it is right now, you have to either participate in it or don't care about it.
EDMTunes: Take it for what it's worth.
Dyro: Exactly, if you don't care about it don't even spend time bitching about it. I see a lot of guys bitching about it's not worth anything anymore because they are all of a sudden at spot whatever, but three years ago when they were up there on the list they were like thanking their fans  and approving of the DJ Mag then, so I don't really get why everyone is being such a bitch about it.
EDMTunes: Just take it for what it is and congratulations on your award.
Dyro: Obviously I am really happy, maybe in 5 years when I'm starting to exit the list, I'm going to be like " ah fuck that, it's not important." But right now I'm just enjoying it.
EDMTunes: 2013 has been a momentous year for you with touring the world at different clubs and festivals, while putting out original productions and remixes. What can your fans expect from you in 2014?
Dyro: We are already doing the big stuff right now. The next stuff will be an actual solo tour, I'm already working on concept shows and an album deal, it may be a little far fetched at the moment, so right now I'm just focusing on good productions, quality over quantity.