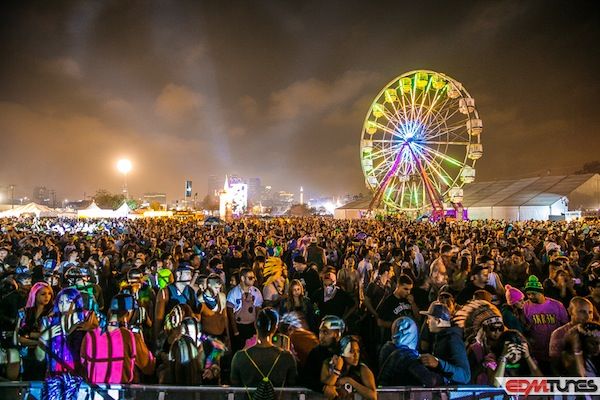 HARD's Dia de los Muertos continues to give Los Angeles' non trick-or-treaters a legitimate reason to look forward to Halloween every year. This past weekend, a grand total of 70,000 high-spirited fans made their way out to the LA State Historic Park for two solid days of music talents ranging from names you've never heard of, to rising stars to, superstars. The two part event boasted a lineup that would capture any music lover's heart; from unknown undergrounds to established well-knowns. Gary Richards, the man behind the scheme, had a little something-something in his back pocket for just about everybody in attendance. The enormous park was able to house two main stages, as well as an Underground and a Discotheque stage tucked away at their usual locations: far south of the grounds and in a larger than life tent, respectively. The gates opened early on Saturday afternoon and the eager attendees knew damn well as soon as they stepped foot inside the park that there wasn't anywhere else they'd rather be.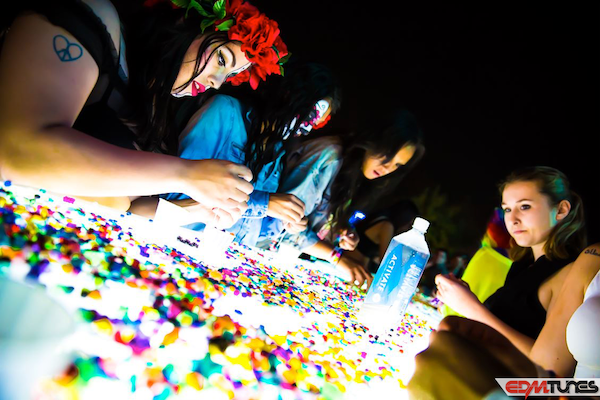 Coming into this event, Richards knew that some altercations had to be made in order for his goers to leave satisfied. He took careful notes of the criticisms he received last year from unsatisfied fans in regards to the rowdy riots, difficult layout, sandstorm of dust, lack of additional activities, etc. Being the only organizer in Los Angeles that is able to consistently throw this big of an event year in and year out, Richards took the criticism to heart and came up with some resolutions. To counteract the riots that were a principal concern last year, his team loaded up on additional securities both inside and outside of the front gate entrance, as well as the whole surrounding of the park for his fans to leave at midnight in peace. The layout was strategically reconstructed this time around so that commuting in and around the crowd no longer cost an arm and a leg. He also made sure that his fans had at least something to do, whether it be making kandis or grabbing a bite of churro, to take their minds off of the whirlwind of dust, which unfortunately was still a major issue.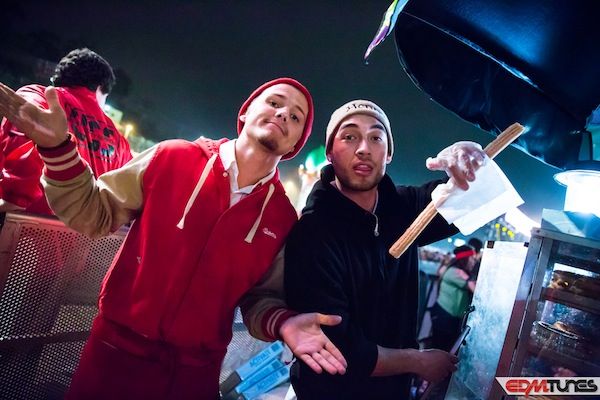 Many HARD veterans couldn't help but feel a sense of deja vu as they witnessed Saturday's monstrous lineup, which consisted of Bloody Beetroots, Boys Noize, Nero and Skrillex, who were all headliners at Hard Summer this previous year. But with a stacked lineup like that, who cares if they're throwing the same festival twice? Bloody Beetroots took the cake early on in the night with an electrifying live performance. Bob Cornelius Rifo didn't hesitate to show off his arsenal of skills as he ran laps around his decks, piano, and guitar, vigorously jumping about and keeping his fans on edge. On the other side of the main stage, the crowd was buzzing about Nero, who've been MIA from the spotlight for the past year or so, busy putting in work into their upcoming album. Loyal fans were eagerly pushing their way to the front of the crowd to get a closer glimpse of this 'new' Nero. The duo dropped a handful of new tracks and made it clear that their vividly blistering sound will surely be worth the wait.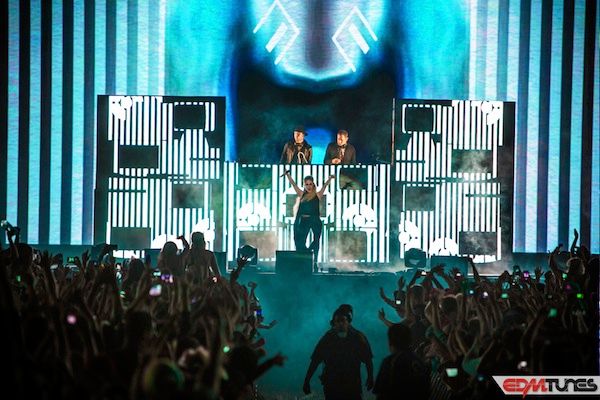 But the night wasn't done until Sonny said it was. The main stage was at max capacity an entire 30 minutes before Skrillex decided to take Los Angeles for a spin. Whether you were a fan of his music or not, there weren't any plausible reasons why you would be anywhere else. After a slight delay in setting up his production, the curtain that blanketed the stage was removed and Skrillex was revealed to the cheering audience, atop a giant pumpkin deck. OOOs and AAAHHs were channeled throughout the crowd as he maneuvered through an assortment of genres, from electro and trap, to dubstep and hardstyle; Skrillex easily proved why he warranted the final slot of the night. Sonny didn't seem to hold back whatsoever, premiering 6 new tracks off of his upcoming album. Fans who have been following Sonny for the past few years didn't expect anything less; after all, he did make a name for himself in front of that very crowd when Richards gave him the opportunity to perform at HARD a few years back. When Rolling Stone asked why he chose HARD to premiere his new material, Skrillex answered, "Growing up, I always saw it as the one festival that really took chances on really cool up-and-coming [acts]. They always have really interesting lineups and it's always super tasteful and works somehow, so that's why I really like playing this festival." Well, way to give back to your roots, good sir.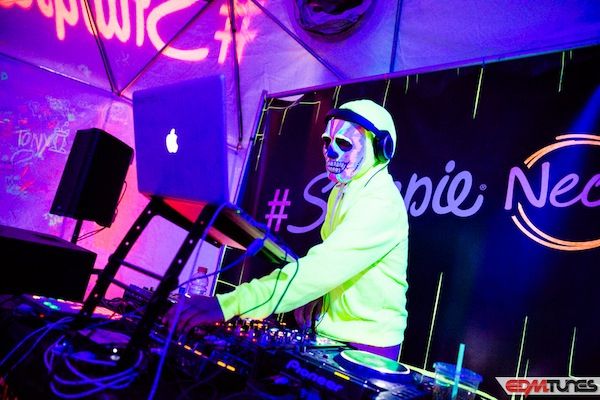 Sunday night attracted a bit more of a crowd compared to Saturday, and the lineup might have had something to do with it. The returning crowd came with their festive gears; zombies, ghosts, and monsters quickly filled the entrance. Day of the Dead round 2 was just about to commence, yet the mood was anything but lifeless. The night had much to offer, including: RL Grime/Baauer's b2b set, Amtrac, GTA, Calvin Harris, Eric Prydz, Pretty Lights, Paper Diamond (Carnage made a surprise appearance), Giovanni Giorgio Moroder, and much more. If you didn't find a set enjoyable that night, then you didn't deserve to be there.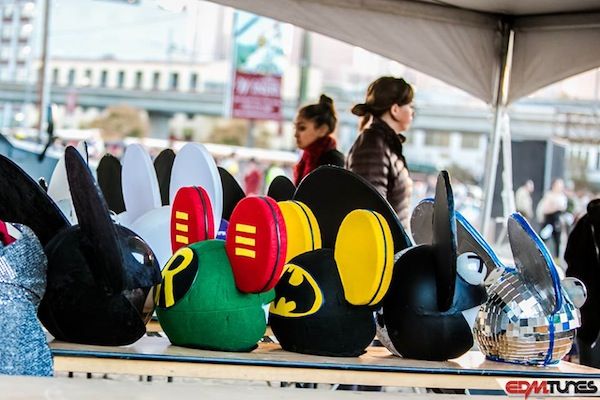 Oh…did we forget to mention that deadmau5 was performing as well? After being the center of attention on just about every EDM blog for the past few months, LA fans were ecstatic to finally see the man put on a show. He has openly expressed his annoyance and anger at the culture for not moving in the right direction and behind hindered by mainstream expectations. Fans who came expecting a barrage of bass quickly left in disappointment within the first 20 minutes. "Is he trolling us?" & "I don't get it" was heard left and right. Sorry ladies and gentlemen, that's not him trolling. That's just Deadmau5 being…Deadmau5. He continued into the night with his original productions, ranging from tracks off of his forthcoming album as well as the celebrated classics such as 'I Remember', 'Strobe', 'Raise Your Weapon' and 'Ghosts n Stuff'. From the moment he played the opening track until the very second he stepped off the stage, mau5 was in full control of every aspect of the crowd, which extended from the stage all the way to the front gate. The bar was set extremely high for the grammy-nominated producer, and boy did he deliver. Paper Diamond and Giorgio Moroder may have also been closing out their stages that very night, but all eyes were fixed on Deadmau5 from start to finish. And with a blink of an eye, HARD DOTD came to an end and we can't help but wait for it's reincarnation again next year.