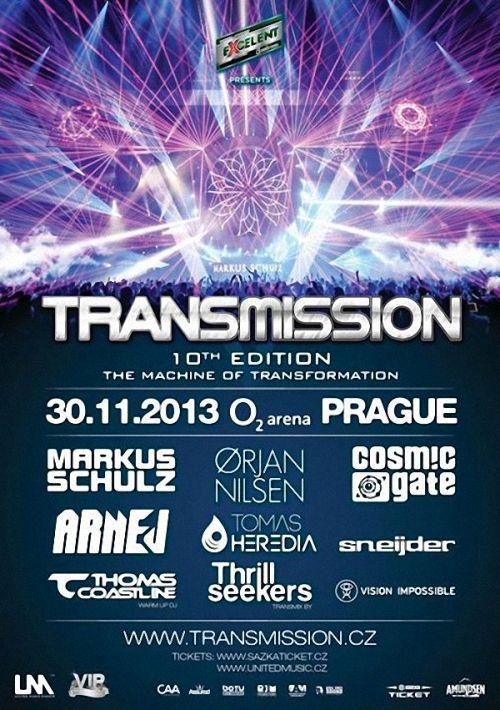 So if the video below doesn't grab your attention slash blow your freaking mind…then I just don't have any words for you, seriously. To those of you with your jaws still on the ground – pick them up and let me tell you a little story about one of my dream international event/rave destinations: the encapsulation of an epic and spiritually evolutionary show, which formulates in this case to a trance event entitled Transmission. The celebration this year on Saturday, November 30th will be the events' 10th anniversary, and is held in Prague, Czech Republic at the O2 Arena. Able to house 15,000 members of the #transmissionfamily into a singular room, the event emanates and exudes a more pronounced vibe on a higher level  than many US based events in multiple aspects.
"Visitors enjoy the music, visuals, each other's presence and that all in a very friendly and unique atmosphere. It's an unparalleled feast for the senses, those who have been there know what we are talking about. What's great is that the event takes place in one room –the modern and multi-functional O2 arena- so everyone is in the same vibe."
Exactly, there aren't multiple stages for you to choose which DJ to see, so the event is able to craft a seamless story and unifying experience for all those present. In regards to big name roster draws, Transmission doesn't strictly play by those rules: "Transmission is not only about celebrity DJs. It's just as much about the production, atmosphere, energy and overall experience." Even though Markus Schulz might as well be considered resident DJ of Transmission, having performed at 7 of the previous 9 events. Because of this approach to bookings, organizers are able to offer tickets to the extended event for around 53 Euros general admission and 150 Euros for VIP. Not bad at all for all that you are getting, especially in comparison to ridiculous pricing at some other events throughout the US. Transmission is aiming to expand into other European markets in the future (and hopefully with time in the US…) but once must experience this whole new world at its birthplace in Prague, I believe (and in which I hope to be attending in person next year!)
Lastly (and most obviously): the production. WOW. Mind blowing. Face melting. Spiritually evolving. Dimensional Bending. On par with Defqon:1…amirite?  Dem…freaking…dancing lasers. This is where US visual directors should take note: THIS IS HOW YOU UTILIZE LASERS! Boasting dozens of green and full color lasers, hundreds of lights, confetti, pyro technics and CO2 & fire cannons, the event is topped off with a British-imported Funktion One sound system flooding the O2 Arena with thundering trancey goodness. Even the Funktion One owner Tony Andrews was impressed with the event as a whole, he recalled the event was "simply outrageous. One of the best sound, laser and music productions." Plus there is an all encompassing thread of a theme throughout the night to fully take you and 14,999 of your closest friends on an ethereal journey…maybe even shift you into some parallel universes with those intertwining grids of lasers flooding you visually while the atmospheric synths imbue you audibly until you embody and become the personification of this years theme: The Machine Of Transformation.
Check out the trailer for this years event and line-up, scope the absolutely insane extended laser show video and grab your tickets here (a few are still left before the event on Saturday).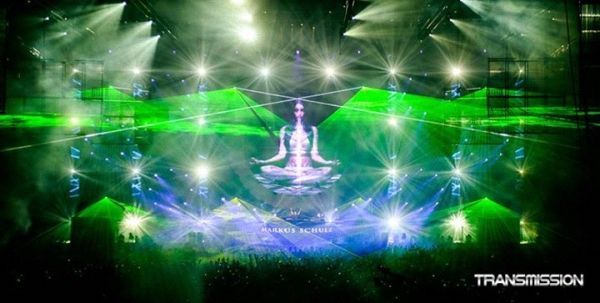 Transmission 2012: The Spiritual Gateway – Extended Laser Show:
Transmission 2013 Trailer: