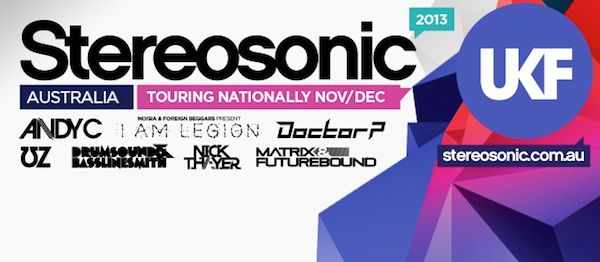 Stereosonic, Australia's largest EDM festival, is to have a stage hosted by the British brand UKF.  Along with Calvin Harris, Armin van Buuren, Above and Beyond, and many others already signed up to play down under, UKF is slated to further bolster the line up by bringing acts such as Doctor P, UZ, and I Am Legion (Noisia and Foreign Beggars).  UKF is well known for its Youtube channels UKF Dubstep, UKF Music, and several others.
UKF has long helped introduce people to EDM, particularly dubstep and bass music, and now that they are continuing to move into the realm of live events they will be able to do so on an even larger scale.
To promote their stage at Stereonsonic, UKF is offering a ticket giveaway competition and a chance to meet Nick Thayer.  You can enter HERE or on the UKF Facebook Page.