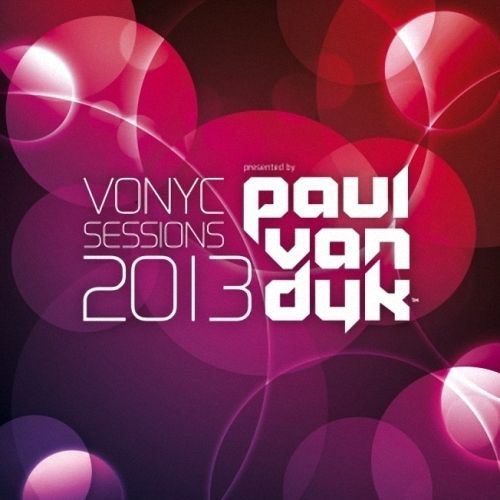 VONYC Sessions 2013 – Mixed By Paul Van Dyk
Label: VANDIT Records | Release Date: December 13, 2013
Pre-Order On iTunes
December…a time where listeners are treated to the plethora of year-in-review compilations as seen from the aural perspective of their favorite producers and DJ's of the year. After showcasing over 600 tracks on 60+ leading stations on his weekly radio show VONYC Sessions, industry veteran Paul van Dyk has whittled down his personal quintessential tracks of one of the biggest years of electronic music yet in the release of the 5th installment of his radio show's annual mix.

2013 has been a busy year for the German producer/DJ/remixer/radio host extrordinaire Matthias Paul (aka Paul van Dyk), having wrapped up his US "Revolution" tour and piloting VONYC Sessions all year in addition to running his label VANDIT Records. However, the real work for any DJ releasing a Year Mix comes in December though, complete with not only the decisions of which tracks to include, but also how to fuse, cut and mesh them into a cohesive story of the prior years' trends, fads, and fan favorites. PvD has shown his veteran skill and  stepped up to the plate to deliver a pristine and scintillating output of the wide variety of current trance trends in VONYC Sessions 2013.
"Compiling the annual VONYC Sessions album is one of the most demanding, yet fulfilling tasks I do in a year", says van Dyk. "Selecting the best of the best from your most requested tracks in any 12 month period – especially one as alive with good music as 2013, is always a challenge. The perspective it brings to the end of each year though is the reward. With the release of this 'VONYC Sessions', collectively I feel we've brought a picture-perfect representation of the year. Hopefully its one you'll return and listen to many times in the future and remember this great year that was!"
After 1st (and subsequent listens) I came to the personal listening conclusion that CD1 offered the best all encompassing glimpse into the widest array of trance styles represented, while CD2 appeared to focus more on the darker, more tech-influenced and eventually harder nu-trance sounds. Often being the receiver of that innocuous question "Is this trance?" by fellow "EDM listeners"…I would now respond to any questions in regards to which sub-genre styles are technically classified as trance  with the suggestion of checking out CD1 of VONYC Sessions 2013, in no uncertain terms.
Year mixes are where producer/DJ's really get to show off their aptitude in the DJ arena with their mixing abilities. With Year Mixes containing the biggest tracks of the year, it allows the listener to really tune in and be able to appreciate deftly woven transitions and flow facilitation. There were multiple transition points within both CDs of VONYC Sessions that I found myself slack-jawed in awe over the silky-smooth track melding (Mark Sixma's "Requiem" into W&W & Ummet Ozcan's "The Code", for one, made me go :-O).
As mentioned previously, CD1 gave me a personal impression of the evident showcasing of the plethora of sub-genres underneath the trance umbrella…beginning full-throttle with the summer tech-infused banger "We Are One" by PvD & Arnej. Paul then launches us into the atmospheric and spacey-trance arena via Omnia's "Immersion" and Alexander Popov's nighttime feel-laden "Moscow Subway". We are then led into the harder and more driving of the trance arena with the tracks "Requiem" by Mark Sixma and W&W & Ummet Ozcan's "The Code". Van Dyk then takes us into what I refer to as the "nu-trance 2.0" sounds of the likes of Solis & Truby's mix of Judge Jules and Christina Novelli's track "Collide Turn It On" and Las Salinas' "Chipsy Kings". Nu-trance gives way to the euphoric and uplifting side of the trance spectrum with the inclusion of Nick The Kid feat. The Nameless Girl "Bright Light" (Digital Self & Tek-Tonic Mix) and Alex M.O.R.P.H. pres. Corti Organ's "Magnum". Note that all these stylistic transitions are done flawlessly, allowing for maximum flowage. Paul ends the ride of CD1 with the pure trancey goodness of Giuseppe Ottaviani's remix of van Dyk's beautiful release "Lost In Berlin" leading into the higher BPM's of the 138 range with the floaty yet rabbit hole-inducing track from Ben Nicky & James Dymond "Refresh". CD1 wraps up with the massively uplifting "The One" by Simon Patterson and Lucy Pullin. CD1 was a wickedly fun ride…and next up is CD2 with a ride of a different type of stylistic persuasion.
CD2 kicks off the pace hard wish a mash of Ferry Corsten's "Diss" and Jerome Isma-Ae's remix of the ubiquitous PvD/Plumb track "I Don't Deserve You" led into the gripping PvD/Kyau & Albert collab "Open Your Eyes". On through the rhapsodic cuts "Talisman" from Protoculture and "England" from Andrew Bayer…the mix hits its heavier paces throughout the middle of CD2 starting with the likes of Heatbeat & Chris Schweitzer's electro-tinged "Nasty" and through Estiva's "Dinodrums". A touch of pure trance is sipped via Giusseppe Ottaviani's "Earthbeat" which blends nicely into the nu-trance sounds of Las Salinas, Woody van Eyden, Maarten De Jong, Richard Durand and Shato & Paul Rockseek's summer banger "Deer Friends". As we reach near the end of our journey…is the only time that I felt some bumps in the road so to speak…no, it doesn't have to do with any mixing faux pas, however has to do with purely personal issues with song choices to end CD2. Both final tracks lack originality to me, and amongst the other awesome cuts in the mix, they seem out of place…especially as an ending one-two-punch.
But we all have our personal tastes…and I will bet that at least some of yours will be tempted via the sweet sounds of van Dyk on the decks. Comprised of a tracklisting that wonderfully spans the spectrum and variety of trance music in 2013, VONYC Sessions 2013 is sure to be ranked as one of the top compilations of the year.
Tracklisting:
Disc 1:
Paul van Dyk & Arnej – We Are One 2013 (Intro Radio Mix) (04:07)
Genix & Las Salinas – Say Another What (Radio Mix) (03:30)
Omnia – Immersion (Radio Edit) (03:50)
Alexander Popov – Moscow Subway (Radio Edit) (03:30)
Mark Sixma – Requiem (Radio Edit) (03:42)
W&W & Ummet Ozcan – The Code (Radio Edit) (02:45)
Max Graham – The Evil ID (Radio Edit) (03:45)
Alex M.O.R.P.H. & Jerome Isma-Ae – Bang! (Radio Edit) (03:40)
Judge Jules feat. Christina Novelli – Collide (Solis & Sean Truby Radio Edit) (04:20)
Las Salinas & Elad Efrati – Nothing Lasts (Radio Edit) (04:29)
Las Salinas – Chipsy Kings (Radio Edit) (04:20)
Nick The Kid presents The Nameless Girl – Bright Light (Digital Self & Tek-Tonic Mix) (07:41)
Judge Jules – Fiber (Radio Edit) (04:29)
Alex M.O.R.P.H. presents Corti Organ – Magnum (Radio Edit) (03:41)
Tristan D & Tangle presents Nu-State – Vertigo (Original Mix) (05:07)
Judge Jules – Phenomenology (Radio Edit) (04:36)
SHato & Paul Rockseek – The Hunt (Radio Mix) (03:010)
Paul van Dyk feat. Michelle Leonard – Lost In Berlin (Giuseppe Ottaviani Radio Edit) (04:28)
Ben Nicky & James Dymond – Refresh (Original Mix) (07:11)
Simon Patterson feat. Lucy Pullin – The One (Radio Edit) (03:14)
Paul van Dyk – VONYC Sessions 2013 (Presented by Paul van Dyk) (Full Continuous Mix, Pt. 1) (73:58)
Disc 2:
Ferry Corsten – Diss! (Original Mix Edit) (03:24)
Paul van Dyk feat. Plumb – I Don't Deserve You (Jerome Isma-Ae Radio Edit) (03:33)
Paul van Dyk feat. Kyau & Albert – Open My Eyes (Kyau & Albert Radio Edit) (03:57)
Protoculture – Talisman (Radio Edit) (03:56)
Andrew Bayer – England (Original Mix Edit) (04:11)
Heatbeat & Chris Schweizer – Nasty (Radio Edit) (04:15)
Maarten De Jong – Wave Glider (Radio Edit) (03:19)
Estiva – Dinodrums (Radio Edit) (03:16)
DNS Project – Confront (Radio Edit) (03:46)
Three Drives – Greece 2000 (Matt Davey Radio Edit) (03:09)
Giuseppe Ottaviani – Earthbeat (Radio Edit) (03:54)
Las Salinas – Bada Bing (Daniel Garrick Radio Mix) (03:22)
Christian Burns & Paul van Dyk – We Are Tonight (Las Salinas Radio Edit) (04:17)
Paul van Dyk feat. Sue McLaren & Arty – The Sun After Heartbreak (Woody van Eyden Radio Edit) (03:35)
Woody van Eyden & Maarten de Jong – It's A Shark! (Maarten de Jong Mix) (05:47)
Richard Durand – Super Dad (Original Mix Edit) (02:32)
Maarten de Jong – Face The World (Radio Edit) (03:51)
SHato & Paul Rockseek – Deer Friends (Radio Edit) (03:34)
Cosmic Gate – So Get Up (Radio Edit) (03:41)
Rick Mitchells – Rockin' Steady (Radio Edit) (03:22)
Paul van Dyk – VONYC Sessions 2013 (Presented by Paul van Dyk) (Full Continuous Mix, Pt. 2) (69:51)