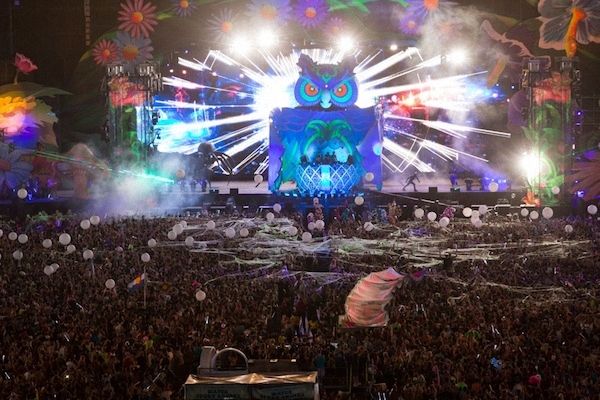 A lot of the time when the word "money" gets tossed around together with music festivals, the focus is always on the ticket price. But there is so much more to it. According to Insomniac and an economic impact report released today by Beacon Economics, LLC.(a leading provider of economic research, forecasting, industry analysis, and data services), the Electric Daisy Carnival 2013 in Las Vegas generated more than $278 million in three days for the local economy. Also noted, over the three years, EDC Las Vegas has generated more than $621 million for Clark County, Nev.
This makes perfect sense in the grand scheme of things. According to Insomniac, "Nearly 95 percent of attendees traveled from outside the Las Vegas area for the event, accounting for an estimated 92,000 hotel room nights alone, generating $25 million in accommodations. Additionally, fans spent more than $45 million on food and beverage, $22.1 million in transportation, $19.6 million in gaming, $13.1 million in entertainment and $11.8 million on retail spending."
"Each year our goal with EDC Las Vegas is to improve the fan experience and I'm so happy that, as we continue to improve and grow, that Clark County continues to benefit too," said Pasquale Rotella, founder and CEO of Insomniac. "The Insomniac family and our fans have truly embraced Las Vegas as our home during EDC Week in the City, and the idea that the fans get to have fun while also creating hundreds of millions of dollars for the local economy is truly a win-win situation. We're already looking forward to returning in 2014."
According to Insomniac, "the study was commissioned by them and revealed that the third annual event generated $136.9 million in attendee spending, a 38 percent increase from the 2012 event. The festival created an estimated $17.4 million in tax revenue for state and local government. EDC Las Vegas' overall economic output is the equivalent of 2,686 full-time jobs and increased labor income by $113.8 million for workers in Clark County."
"It's important to understand that these numbers are being driven by spending across Las Vegas as well as at the Speedway where the festival was held," said Beacon Economics' Founding Partner Christopher Thornberg. "The average group stayed four nights in town, meaning they were there to enjoy EDC Las Vegas, but also put spending toward the many other activities and sites the city has to offer."
EDC will return to Vegas on June 20-22 in 2014. Tickets are currently on sale.