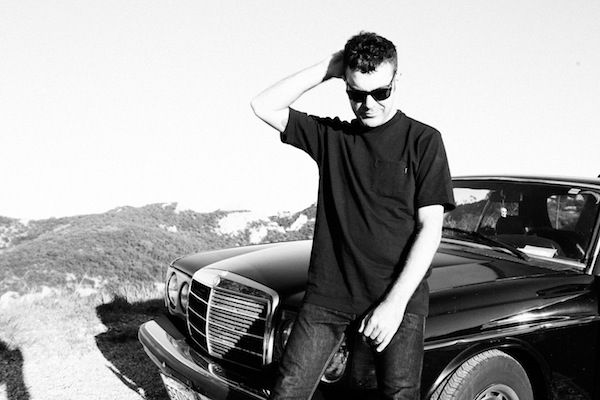 To get to China's premier clubs, the journey is directly vertical. Vertical to excellence in electronic music and vertical to a room full to the brim with Americans, Europeans, and Chinese trying to steal a glimpse of Congorock or Martin Garrix. It's just a crowded elevator ride, but when you know what awaits you at the top, an elevator shaft is suddenly a wormhole to another dimension. Shanghai is going through a run of world class DJs and it's only just the beginning. As the world's most populous city proper begins to flex it's muscles in an atmosphere of newfound freedom, it'll continue to draw in dance music's most sought after acts.  I sat down with Congorock, the edgy Italian electro house producer who has been touring with Avicii and Martin Garrix, as the three make their way through Asia.
As I shuffled through the crowd by a surly security guard, I mumble a few badly pronounced iterations of the Mandarin for "I'm sorry" to the Chinese girl whose vodka I accidentally knocked to the floor.  Gruffy (our security guardian who I've named by now seeing as no proper name is forthcoming) leads us to what looks like a Soviet era factory mixed with a secret passageway at Hogwarts mixed with Bill Gates' dining room.
There, at the end of a long wooden table, sits Congorock. Facing him is a bar with exotic bottles of gin, scotch, and vodka from who knows where. In the background we can hear the sounds of M2's famous MC singing to the tunes of Usher and Swedish House Mafia, but Congorock makes his voice heard.
The man himself feels friendly and sincere, but ever so slightly suspicious. He wears a plain t-shirt, jeans, and a down to earth aura that assures me that although we are talking as friends, he's definitely talking business, and he definitely knows what he's talking about.  As I introduce myself to ask him questions, recorder in hand, he is clearly aware of the exchange taking place and speaks clearly and directly.
The Italian DJ has long been known for his aggressively creative tracks and his "tribal sound"  that always brings something new and unexpected.  When I ask him about touring with Avicii, he's noticeably optimistic:
"Our sounds really match together… We've shared the stage many times, so I'm happy I'm playing with him.  I'm gonna play many gigs with him."
I knew going into this that Congorock has developed an impressive resume over the past few years, ever since the release of "Babylon" in 2010.  He's released tracks and worked with the likes of the Bloody Beetroots, Swedish House Mafia, Steve Aoki, and Benny Benassi, and he shows no signs of slowing down, with plans of new collaborations in 2014.
His tour was in Shanghai tonight, only a week after China's newest EDM festival "Storm" surfaced for the first time with magnificent effect. EDM is moving towards Asia at a breakneck pace and Shanghai is right at the heart. Huge festivals like Storm in Shanghai and Stereosonic in Australia are bringing major artists like Axwell, Armin Van Buuren, and Calvin Harris to Southeast Asia and the wider region. At this rate, Asia is well on it's way to becoming a major player in the EDM scene. Mr. Rampino (Congorock is a stage name for Rocco Rampino) calmly considers my questions as I try somewhat nervously to gather his position on EDM and an Asian audience.
EDMT: "So how is DJing in Asia different?"
"It's a market that me and most DJs don't get to play like, more than once a year.  Also I have a feeling that like when we come here, it means that we are doing really good.  If you make it to Asia it means you've made it to a higher level you know?  So it's a great feeling to have this sort of response. Even to have interest, and to see people going nuts at parties… it's great."
EDMT: "Do you feel like you have to adjust your style of djing or performance for a crowd in Asia?"
"No I never did, actually, more than adjusting I just felt like playing whatever I wanted.  I probably felt more free to play whatever I wanted here than in other markets like say… the United States.  In the last month I've been playing a lot of festivals, and most of the festival performances are like an hour, and you have to play usually as hard as you can.  While here in Asia I think you can surprise people, like in different ways, not only playing bangers.  Like tonight I'm in a club and I feel like I can play any type of dance music that I want."
Congorock is upbeat about the current festival scene, he says that an hourlong set can force DJs to play nothing but bangers, it can push them to play in different ways as well. He still believes that improvisation and DJ skills matter, despite the dreaded pre-recorded set. After this, I ask him about what his future plans hold.
"I want to challenge myself with something more experimental too… I've always been inspired by soundtracks, like lately I've been listening to a lot of horror movie soundtracks… also like video game soundtracks.  In some of my songs like "Ivory" or "Babylon" in the breakdown you can feel some kind of cinematic touch, I think it will be interesting to develop and write sounds that will stay in that kind of vibe rather than just dropping into something heavier… I'm interested in the early 70's sound of electronic music, so like going back to basics, and I'm jamming with midi synthesizers.  Maybe I'm going to put it out. […] Having a real keyboard with knobs in front of you definitely changes your approach to production."
Although he isn't too clear, we can be sure that there will soon be new material coming out from Congorock.  During the interview, he even mentions working on a new full length album. No matter what it is, it will be nothing like what we are used to hearing from the mainstream of electronic music.  Congorock cryptically weaves in talks of new materials coming out in new and different forms, and particularly his description of a "cinematic touch" brings to mind new frontiers in EDM. I find myself wondering if Deadmau5 and his plans to bring active storytelling into his shows and production have any power of inspiration for Congorock.
Where is the next frontier of EDM and of music in general? It's hard to say, but perhaps it is in something beyond simply a different sound. Perhaps the new frontier lies in the effect that the music has upon the listeners. A story is so much more than a tune, and if music can convey a story then it becomes all the more meaningful for listeners. Congorock has a grip of that, and we are waiting with baited breath to see what he comes up with next.
As I wrap up the interview, I ask what he wants to accomplish with this trip to Asia. Congorock affirms his earlier sentiments about how Asia is a new ground for EDM, and how it's a ground that is ready to be the stage of the next electronic music sensation.
"I feel like when I establish that kind of interaction with the crowd in Asia it's always something special.  So I always hope that I'm going back home knowing that someone will keep this gig forever.  Asia is an expanding market.  There's a lot of interest in this kind of music, so I think there's going to be more and more gigs down here."
At the interview's conclusion, I received a sincere handshake from the DJ as he walked away, in slow motion it seemed, to battle for EDM, for innovation, and for music. He ascends the raised DJ stand, not unlike the pulpit of some overly passionate preacher, to play a long set to a large responsive crowd.  There are certainly many patrons who will "keep that gig forever". When Asia becomes EDM's new playground, Congorock will be right in the center, playing hard the whole way through.