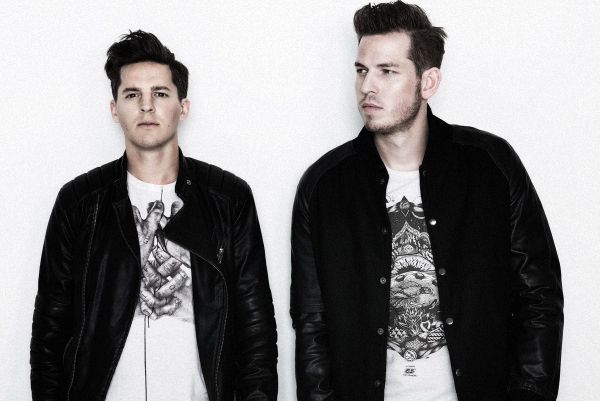 It's been quite a year for Dutch duo Firebeatz. Tim Smulders and Jurre van Doeselaar have remixed superstars such as Rihanna, Calvin Harris and Justin Timberlake with their big-room electro house sound and released originals like "Wonderful," "Gangster," and  "Wicked" with Schella all while touring the world.  Their latest tune "Max Ammo" will be out on DOORN Records on December 16th.  Tim and Jurre also spent time in the studio collaborating with Tiesto, The Cataracs and Dubvision, ensuring 2014 is going to be an even bigger year.
EDMTunes got to catch up with the guys during their recent stop in Los Angeles–we found out what fuels all that amazing energy and why a school assignment is the reason Firebeatz should've been voted "Most Likely To Succeed."

EDMTunes: Great to meet you, thanks for sitting with us… So 2013 was a huge year for dance music, for you guys, for everyone. What were your guys' highlights?
Jurre: Gigs wise, we got admittance for the USA so our first tour in the USA was amazing. Ibiza, Pacha residency, festivals in Europe… Tomorrowland. Musicwise, we had the Timberlake remix with Jay Z ["Suit & Tie"].
Tim: Calvin Harris remix ["Thinking About You"]… "Wicked." So much stuff happened.
Jurre: "Wonderful."
EDMTunes: Did you play the secret stage at Tomorrowland?
Tim: It was on a raft or something and all day it was pretty busy but when we started playing that thing almost sunk. It was crazy.
Jurre: It was crazy!
Tim: So many people there.  Next Tomorrowland we're on the big stage and we're playing two weekends.
EDMTunes: That's awesome. What do you think about the festival going to two weekends?
Jurre: I think it's good for an anniversary and especially for the people because Tomorrowland is just a different kind of experience. It's so big and it's great to see people from all over the world at one festival so I think it could be like four weeks.
EDMTunes: You guys met in high school? How did that pan out?
Jurre: I started listening to music and making music with the Roland Groovebox and I also started playing music as a DJ and had the whole setup. And then I went to the School of Arts and I was already producing music and there I met him [Tim].
EDMTunes: Did you listen to each other's productions and then decide to collaborate? How did that work?
Jurre: It was an assignment. We needed to work together and it worked out pretty good [laughs].
EDMTunes: Yeah, I would say so! So lately you've been in the studio with The Cataracs, Dubvision, Tiesto… Can you tell me about some of those collaborations?
Tim: It was really cool. I was actually at my parents house when Tiesto came by so that was really funny. And my mom was baking a cake and she was like "Tiesto, do you want a piece of cake?" … Then we made the track and it's going to be on his new album and it's going to be a vocal track so it's something different for us also and something commercial so we'll see how that works out. Dubvision is going to be a really hard, banging electro track and with the young kid, Martin Garrix, something also really cool. So it was really nice, really cool working with those guys.
EDMTunes: That's amazing. How long have you known Tiesto if he's stopping by your mom's house?
Tim: We met him the first time in Ibiza–that's three years ago actually and we met him at an after party of his and he'd already played some of our tracks and he was like "Come party with me," and it was the craziest night still to date…. one of the craziest nights ever.
Jurre: For everybody that night… we were with Tommy Trash, Bassjackers. That was crazy.
EDMTunes: Do you have a dream collaboration?
Tim: We're talking a lot about that we want to work with Prodigy. That would be really cool because they're really sample-based and they make such unique sounds. That would be really cool.
EDMTunes: Talk to me about the sample in "Wonderful." Is that an old vocal track or a rework?
Jurre: It's a rework and we pitched it up to get the crazy high-pitched feeling.
EDMTunes: What are do you generally look for when you're listening to a song and you decide to remix it, what stands out to you?
Jurre: We listen to the original but you also think who is the person… if it's a big artist. The most important thing is if we can do something with it so make it like a Firebeatz Club Remix and if we decide that's possible then we go for it.
EDMTunes: You're definitely high-energy. Do you have any pre-set routines?
Tim: Well, we always take a vodka before we start. Just one to get in the mood and that's it.
Jurre: You take a pee…
Tim: Oh, I always piss before I go… Just five minutes before I go.
EDMTunes: That's a good idea. And in general, is it feeding off the crowd, just the high energy of the set?
Tim: Yeah, we're really busy with the crowd the whole performance.
EDMTunes: You did Beyond Wonderland in San Francisco earlier this fall and then you just did Create [in Hollywood]. Tell me about the American dance music scene. What do you think of it? How is it different?
Tim: They're really out there.
Jurre: It's really big.
Tim: They dress up and they make a thing out of it and I really love that–that's really cool. You wouldn't see that in Europe.
EDMTunes: I have to ask… I saw you went to In-N-Out on Twitter. How was that?
Tim: Want to know what we got?
EDMTunes: I hope you got animal style.
Tim: No, we didn't! We'll have to come back.
Jurre: Well we love the milkshakes. The milkshakes are amazing.
EDMTunes: So from here where are you headed?
Tim: Amsterdam and then Friday we're playing Czechia and then Nijmegen, it's also in the Netherlands, and then after that we're going to Korea.
Jurre: Korea and Italy and Scotland and then we go back to the States… Vegas and New Year's Eve with Hardwell in Canada.
EDMTunes: Crazy, it's a whirlwind. Do you like traveling?
Tim: The traveling itself, like sitting in airplanes, sucks but seeing all those places is really cool.
EDMTunes: "Max Ammo" is coming out soon. Tell me about that.
Jurre: It's just a crazy-ass record.
Tim: We made that synth; we really made it from scratch so no presets, nothing. We just sat in the studio–we were like we need to build this hoover that goes [insert synth sound here] we were like, "Ah, let's build it. Okay!" and just made that and actually we were looking for a melodic part for the breakdown and we had another record which had a really good breakdown but no good drop so we combined it and…
Jurre: That's "Max Ammo."
EDMTunes: Finally, for 2014, any big goals? What are you looking forward to the most?
Jurre: I'm looking forward to the release of the track with Tiesto and all the other collaborations and then gig-wise, Ultra of course, Miami again, and all the big festivals in the states.
Tim: All the big festivals with Insomniac… it's going to be crazy.
EDMTunes: Well, thank you for everything.  Anything else you want to say?
Tim: I want to thank you for the interview; thank you to everyone checking it out. Just watch out, 2014–it's going to be crazy.