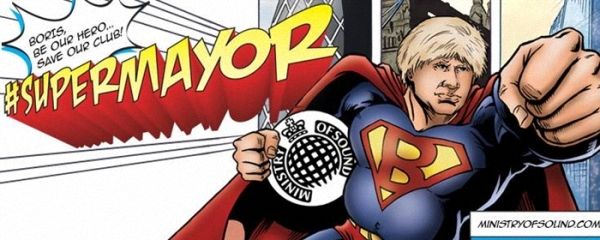 What was the main reason for this slated closure?  Real estate development.  Local real estate was slated for a new 41-story high rise, right next to a club that rages onward until 6am. We were distraught and saddened at the news that Ministry of Sound was on the verge of being outed by real estate negotiations, however, there were good news this time around. It was only a matter of time before its fate was sealed. Announced this morning – "Save our Club" was a success.  Although details were vague, MoS released this announcement earlier this morning:

"WE DID IT!

After the heroic intervention of Mayor of London Boris Johnson at City Hall on 19 December, a landmark legal deal has been agreed between Ministry of Sound and the developer Oakmayne that will enable Eileen House to be redeveloped without threatening our club's existence.

That's all we ever wanted in the first place – and finally that's what we've achieved. It's taken five long years, but we vowed to keep fighting until we'd secured our future. It was that simple.

We couldn't have done it without you – the hundreds of thousands from all over the world who joined the battle to save our club. You helped us to persuade Boris to do the right thing. We cannot thank you enough for your encouragement, goodwill and support. Together we've ensured the music at Ministry never stops."
Congratulations to MoS.  Keep on raging.