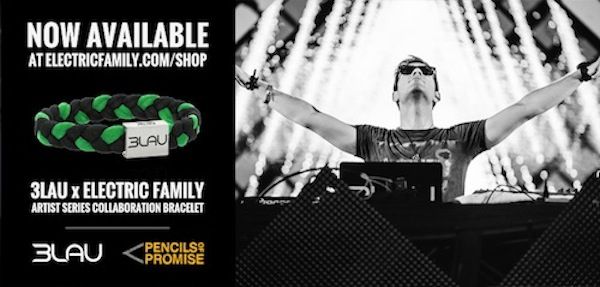 Electric Family is an EDM apparel and lifestyle brand that is working towards encouraging positive action within the ginormous community that is the Electronic Dance Community, which in turn will help make the world a better place for everyone. To this day, various DJs have partnered with Electric Family in an effort to raise money for their chosen charity.  Most recently, Adventure Club and Krewella have partnered with Electric Family to release custom bracelets; with the proceeds of the bracelets heading directly to the charities chosen by the DJs. 3LAU is the most current DJ to release a custom bracelet of his own. Between 3LAU, Adventure Club, and Fedde Le Grand, the charities of Fuck Cancer, World Wildlife Foundation, and Pencils of Promise are being helped immensely with the sales of the custom bracelets. In the near future, everyone can keep an eye out for the release of custom  Markus Schulz bracelets, which will benefit the PETA organization.

3LAU, aka Justin Blau, has been working with Pencils of Promise raising money to build schools. One hundred percent of the 3LAU bracelet series proceeds will go towards building 3LAU's second school with Pencils of Promise. Building the school will require fundings of over $25,000, and if 2,000 of 3LAU's bracelets are sold, a school for children in need will be built. Pencils of Promise is an organization that builds education systems in developing countries and have been a huge staple for many organizations and cities that lack the fundings to provide for their scholars. 3LAU's first school with Pencils of Promise was built in Guatemala this past January, and he's looking to do it all over again.
Support 3LAU and Electric Family's endeavor to help out Pencils of Promise by grabbing a bracelet at electricfamily.com/shop.