It was the day after Christmas, and all lovers of house, gathered at Raymond James Stadium for the coming of the Mau5. It was your typical rave scene, fluffies, kandi, eccentric hats, happy ravers, enjoying the cool Floridian air; thousands gathered in excitement knowing soon, jolly Joel Zimmerman would soon be there. The Mau5's openers were by no means typical. The talented duos GTA, Nervo, Adventure Club, all played spectacular sets with great avail, surely making this holiday ball in Tampa quite a memorable tale:

The day began at 5:30, the sky was slightly overcast, and the early birds began to arrive for the night of festivities. The local talent preformed their respective sets for the hour and got the crowd moving with flying performances of bass music and electro. Then at 6:30 Nom De Strip took to the stage and brought a sound that was quite different and appealing, seeming to take a somewhat low key feel to an electro house set but still truly maintained an essence of liveliness, making it resonate with myself personally when it came to individuality.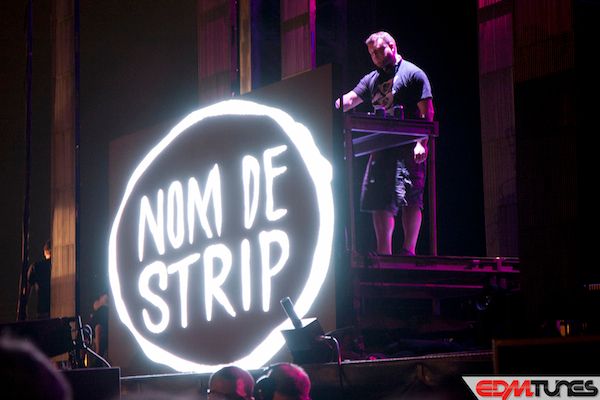 The clock creeped closely to half past seven. The energy began to pick up in the crisp thin air and the crowd was much larger now. The more knowledgeable attendees began to cheer as they saw two men take to the stage and prepare their DJ tech preferences over Nom De Strip's closing track. Then the unmistakable loop began. "GTA Up In The Club" the speakers blared in staccato fashion as bursts of screams and whistles went up into the atmosphere, surely infecting anyone who may have been just having a somewhat decent evening. The duo introduced themselves as "GTA" and began an hour long performance of a signature dance music sound with a distinct Miami flare that has made this group so memorable to so many, and respected by everyone from the mystic uncle of EDM Diplo to the Chicago native DJ of soul, Kaskade. Their signature tracks "Boy Oh Boy" and "Booty Bounce" were recognized and loved by their audience and their new song with Major Lazer (yet to be released) was one of craziness and organized insanity that should be on every music lovers' radar in the coming months. Then as what seemed to be a rather fast 60 minutes, the clock jumped to half past 8.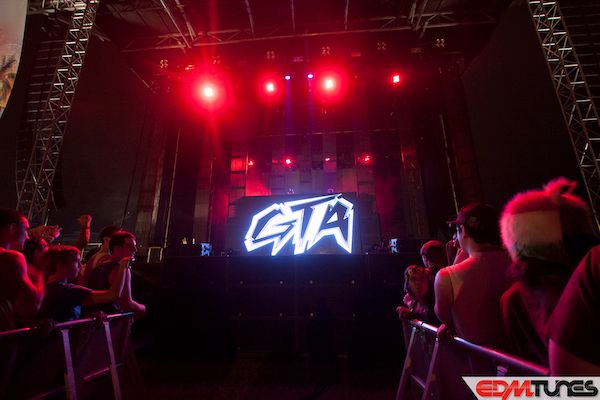 Nervo was one of the biggest surprises of that night for me. Being the first time witnessing a live set from them, describing Nervo's stage presence and energy in one word is difficult, but if I had to do it, I'd go with "FUN!!!" as simple as that may be. The Australian sisters took to the stage in the same fashion GTA, in complete politeness and efficiency preparing their portion of musical gifts to the energized Tampa crowd (by this time, being quite a vast sea of beautiful ravers facing the stage). I was back by the sound booth waiting for some friends to arrive and believe me when I say that the smile on the duos face could be clearly seen from where I stood, several hundred feet from the front row. These two were excited. These two were here to have fun. And they made it their joyous job to make sure The Gift attendees had just as much fun as they were having. The two played massive big room, progressive and electro hits, dancing on stage, amping up the crowd and sucking out any and all chill vibes that didn't come with the time of year the Earth was currently in.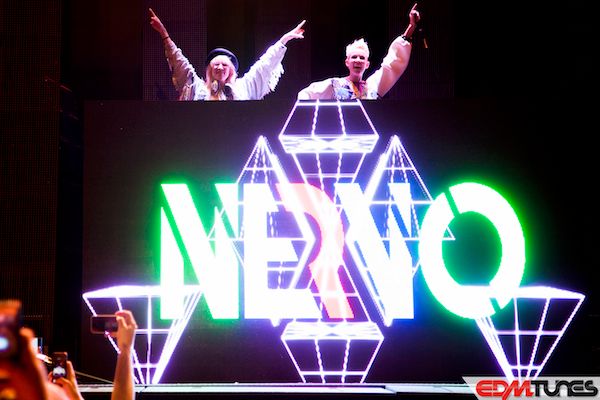 Tampa was having fun and before anyone knew it we were all getting ready to watch the last opener before the headliner of legend was to take to the stage. Adventure Club really needs no introduction. And anyone unfamiliar with their absolute competency for showmanship and entertainment would probably be hesitant to admit so. These two are pure uncut Canadian energy and tonight was no exception. The powerhouse began their time slot with their epic introduction from their Superheroes Anonymous Volume 4 mix. An orchestra that creates a heroic sound of warm anticipation that only gains as it moves forward. A voice headed the crowd to brace ourselves as the echoes bled into their first electrifying, Zomboy produced, electro track of the hour putting all of us at a new energetic high that Adventure Club would only let us down from for their larger than life progressive dubstep anthems such as "Gold" and their renowned remix of "Crave You" that eternally brings their audience into a deep place of unified vibing and entranced dancing that they have trademarked so well. And like a flash, as all the other openers before them, Adventure Club was finished and it was time for the last act of the night. A musician by the name of Deadmau5.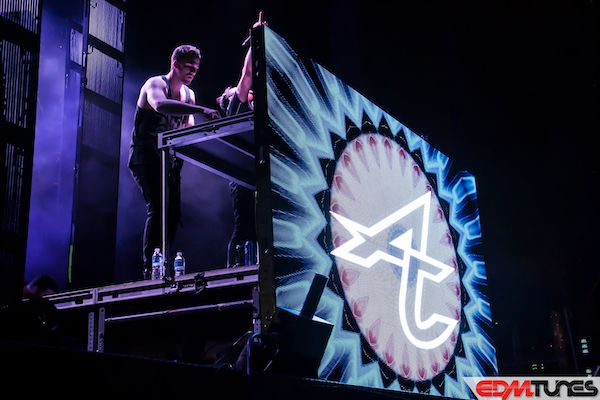 We all waited in musical silence for a few long minutes. The only silence that emitted from the stage all night. Canadian native, Joel Zimmerman took to the stage in just his simple yet still well known baseball cap, an awesome and eccentric mouse head at his side; and to simply put it, pockets of the crowd went into a cheering frenzy. The DJ booth lit showing a circular picture moving inward as if taking us all into an electric rabbit hole, followed by square shaped lights surrounding the entire stage itself accompanied by a soft piano solo (still roaring over any other possible noise, the stage's sound system now at its maximum output for the final act of the night). And like a parent inducing a child's silence with a lullaby, we all stood and listened. The piano solo that played was from one of his most recent releases "Gulu (Redeux)", and if you're familiar with track, you know the dark, distinct, heavy chord that hits shortly after the introduction is a perfect choice for the legendary Deadmau5 to introduce himself with. So naturally, if that initial bass line was his handshake to Tampa Florida, the truly immaculate, radiant and glorious chords of his new masterpiece "Avaritia" was his almost organically physical way of saying "Hey, I'm Deadmau5!" to us as he began whisk us down further into the electric portal of his mind and musical talents. In those beginning moments, Zimmerman's music smite the audience and projected its own complexity and positivity onto us. I looked around to soak in the atmosphere and it was overwhelming to say the least. Within my cramped proximity there were fans who simply smiled and cheered from excitement, individuals raised their hands with closed eyes to go on what seemed to be a spiritual escape, some were emotional and teared up from the energy, lovers embraced, friends jumped up and down and shrieked bloody murder as if "Deadmau5" was a boy band from the '90's. Characters from all walks, lifestyles, creeds and places raved to those beginning minutes of the Mau5's set in their own different way. The only thing that seemed uniform about us gathered their in the winter air was our happiness.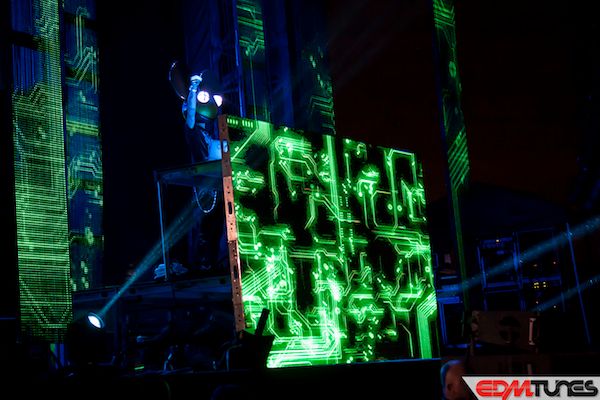 The 90 minutes set was filled with almost all his new music that he released over the course of 2013 with a few legendary anthems such as "The Veldt", "Ghosts & Stuff" and "Strobe." This was personally my first time seeing the legend perform and I now truly know that there's a reason as to why no matter what EDM subgenre one may prefer, Deadmau5 is considered not only a legend within the realms of dance music, but all music. His set is nothing like any other live set in the world. Hearing his own music strung together for 90 minutes was an ear opening experience for me and to be perfectly honest, changed the way I hear music and dance music sets in general. It's no secret that Deadmau5 is notorious for only playing his records during his shows and I believe this can be evident to even those most ignorant of electronic music. All the music was from Joel. Like a person's voice, or eyes, or smile, Deadmau5's music takes on its own unmistakable sound and when put together in sequence by the very man who created it, it astonishingly and almost hauntingly feels like he's having a personal conversation with you through what he chooses to play. Like a long conversation with a close friend, it goes through peaks and valleys, takes on different emotional tones and subjects as two people sit and converse about whatever may come to mind appropriate for the conversation at hand. It was logical and artistic, energized and chilled, everywhere and together, creating an atmosphere that I personally have never felt in my years of attending various electronic music shows. It set itself apart and I believe that anyone attending that night would say the same. As the clock waltzed towards midnight Deadmau5 decided to end the night with Strobe, truly leaving all his fans on a high note and naturally begging for more. He got on the mic and humorously informed why he couldn't play more, wanting to spare the venue of hefty curfew fines. All in all, The Gift was just that. Several great acts came to play for their fans at an extremely reasonable price in the holiday season, all musicians holding nothing back, showing us that there are still artists out there who would play more affordable concerts despite price spikes all around the scene. It was a magical gift given to Tampa; 5 perfect sets to end a perfect night.
All photos courtesy of Charles Levy