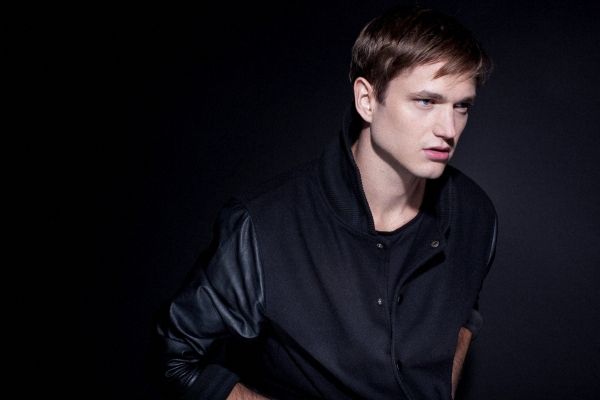 Create nightclub is a venue in Los Angeles that is one of few where the layout truly caters to reveling in the music; the dance space is front and center with the VIP tables left to the periphery. On this particular evening, Adrian Lux was the headliner to an event benefitting the Michael Hoefflin Foundation for Kids with Cancer – it was also a pivotal stop on his 'Wild Child' North American tour, aptly named for his latest single. My cohort, a fellow writer for the website, and I waited anxiously in the green room for the artist and his entourage to arrive. We were the first ones there, and were lucky enough to take in some of the iconic signatures of the green room at Create nightclub. Anyone who headlines there has the opportunity to sign the wall in chalk (pictured below are myself, Adrian, and a fellow writer underneath his signature in the green room).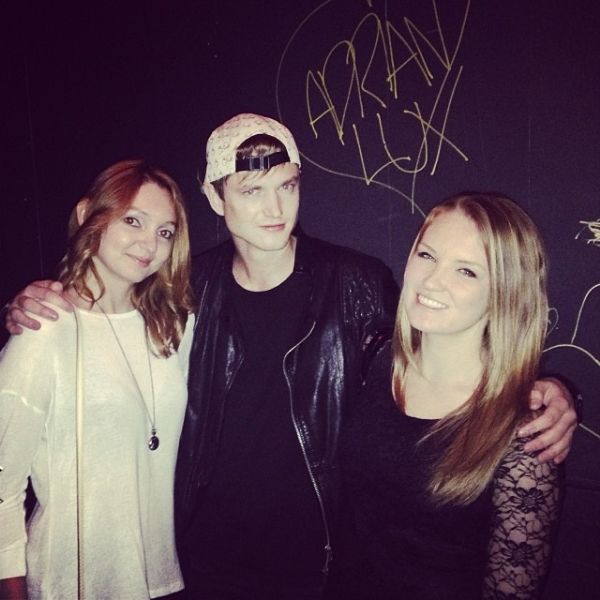 Personally I've done several interviews. Regardless, no matter how many times you find yourself in this situation the dynamic is always completely different. No two exchanges are similar – there is a real reason to be nervous, but as soon as Adrian Lux and his manager arrived a lot of the nerves disappeared (it's always a relief to find that you aren't interviewing jerk artists). Our interview took place before his set, so of course one of my first questions had to do with the nature of his own personal set composition and the extent of improvisation.
"I have like a plan that I can stick by in way…this is going to be very technical but I arrange everything in folders by key, when you're mixing everything in the same kind of key it flows better."
Of course it matters to Adrian whether he is playing a festival or a smaller club night; for a larger festival he definitely has a solid idea of what he plans to include in his sets while still leaving room for improvisation. In fact, the Wild Child tour is practically a back to back to his previous tour, the Damaged tour – which is when I first witnessed him play. I asked him how the two tours have compared so far.
"I feel like this set that I am playing now is a lot of what the forthcoming album is going to be. I got way more into the songs I am making so I think this set is maybe even more closer to what I am going to do in the next year."
This is Adrian Lux's second tour within the span of one year. When you factor in additional appearances – festivals, a Las Vegas residency – on top of travel time you have to wonder how the man stays sane. He travels frequently with his manager, and joked about giving the latter hell all the time. Having gone to bed the previous evening at 6am following another stop on his Wild Child tour in San Diego, Adrian jokes about threatening his manager with 7am departure (they ended up leaving later than that). And if you know anything about Adrian Lux, you might have noticed that his major singles have a common theme running through them. 'Teenage Crime,' 'Damaged,' and 'Wild Child,' are songs that seem to be inspired by young adulthood, and this in turn inspired me to ask him what he was like as a teenager.
"I was kind of just out a lot, like a club kid. In Stockholm it's a bit, different – the club environment – and I was around these technoey club nights. Yeah so my world and my friend's world was revolving around this life, the club world basically. And there's a lot of beauty in all of that too, there's moments. So a lot of those songs are kind of like based around themes like that. Teenage Crime for example, there was this one summer where we had the best after parties, not like fancy at all… but we were really close. It didn't really matter – I don't come from a lot of money or anything, my friends are kind of the same, but the thing that mattered was like unity and that we had fun."
Being around electronic music as a lifestyle, one must notice the disparities between the club scene in the States versus that of in Europe. For one, clubs in Europe don't have to close at 2 in the morning as they must here – unless of course you're somewhere like Las Vegas. Adrian Lux has played just about everywhere you can imagine, so I asked him about the differences between the club scenes here in the US and everywhere else.
"I wouldn't say its better, it's just different. Here (US) it's more like its very big and the club scene in Europe is a bit more anonymous. The clubs go to 7 in the morning so our nights always end when it was like bright outside."
Many of our readers are not just audiophiles, but hopeful to be producers and DJ's in their own right one day. To that end, it's always interesting to ask about the mechanics of DJing and producing – the tools that it actually takes in order to craft the most loved tracks we hear in their final product. Adrian uses Logic as his main platform, and a lot of Arturia synths; he also recommends the new sampler from Vengeance which he says is "pretty good." Part of creating electronic music is staying on top of the technology, and there's a ton of it out there. Everybody has their own set up and their favorite tools, but beyond that Adrian notes:
"I think my sound is more about whats going on musically so the kind of melodies that I try and figure out more like sound things – I'm not too concentrated on what other people are doing. I'm trying to do my own thing."
But did he always want to be in the music business? When I was growing up you never really heard people say things like 'I want to be a DJ when I grow up!' but even a decade ago electronic music wasn't nearly as much in the spotlight as it is today. As a kid, Adrian says
"I always wanted to be like a marine biologist."
Generally, towards the end of an interview the mood lightens considerably and we like to throw in a couple of silly questions. For example, I asked Adrian if he had any guilty pleasures when it comes to the music he listens to.
"I kinda like that 'We Can't Stop' by Miley Cyrus. That's kinda my guilty pleasure. What can you say it's a good song?"
And because the year was coming to a close, I asked if he had any New Years resolutions. The answer is one that we have all made in the past, and that many of us probably made this year.
"I'm gonna try to become super healthy."
What a coincidence, me too! Shortly after our chat, Adrian Lux laid down a fantastic set filled with tracks that complimented his sound while still keeping it interesting and varied. What we took away from the evening was all positive – solid music at a good venue. And it's always a bonus when you're out on an assignment and encounter genuinely nice people to work with; it makes the entire experience that much more satisfying to write about later.