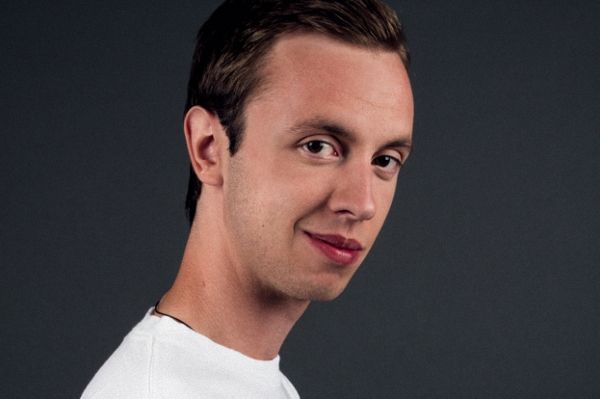 Greetings from a fresh new year with a large blank canvas awaiting the future musical brush strokes from some of our favorite electronic music acts; my New Years Eve was spent up in Montreal, Canada attending the Circus Maximus celebration at Circus After Hours. Before the show even began, I had the exciting opportunity of catching up with one of EDMTunes' members of the "New Guard," none other than Moldovan Andrei Rata…more famously known as Andrew Rayel.

The "Dark Warrior" and "Intense" remixer extraordinaire treated us to many tantalizing informational morsels throughout our chat. Andrei touched on his: forthcoming artist album, tour schedule for 2014, favorite moments throughout 2013 plus personal picks for forthcoming rising stars in 2014.


First off, I'd like to relay my appreciation for taking the time out of your busy schedule to speak with me tonight. When did you arrive in Montreal and what have you been up to in the city so far? Is this your first visit to the city?

I arrived in Montreal yesterday, having previously played in Edmonton after coming directly from India. We visited some shops today and purchased some presents for the family. I am going home for the month of January after the show tonight. No it isn't my first time in the city, I actually performed in Montreal last March at Bal en Blanc, my set was 10am-12pm…was totally surprised that no one left because of the late set time (the whole place was full) but it was a great environment and atmosphere.
What are the top 3 geographic locations/venues you have performed at this year?
One of the best was Stereosonic in Australia in Sydney, I also really loved the vibe and crowd in Tunisia. I have a lot of followers there and tickets sold out quickly. Also I love Holland, which has an amazing vibe. But of course I love to play in every country and I am happy I can share my music with so many people around the world and that I have the opportunity to travel and play for all the great fans I have.
Now I have read in prior interviews that you haven't played any US shows because of visa issues. Has there been any progress on that situation and roughly when can we expect your first US tour?
We started working on my visa some time ago, but we had additional situations to clear which are now worked out. I am already confirmed for Ultra in Miami in March…I'm really excited to play there, I've seen the live streams and I've heard so much about it from other DJs…so I can't wait to play my set there this year. In regards to a first US tour…right after Ultra, probably…I can't confirm much about this right now – but certainly I'll be having many US tour dates upcoming!
What have been your personal Top 3 Moments Of 2013? Top 3 EDM Tracks?
A few marriage marriage proposals via posters (Montreal at Bal en Blanc and at Stereosonic) plus the energy that I get from fans at live shows and gigs I've played around the world. Lastly, I enjoy spending time in the studio producing music which is where a major piece of my passion lies. As far as my 3 favorite tracks, they are in no particular order: Orjan Nilsen – Violetta, Armin van Buuren – Intense, RAM – RAMelia.
Many have been drawing the comparison between trance music and classical music lately. What do you feel differentiates trance from the rest of "EDM" and what do you see ahead for trance in 2014 (especially in America)?
There is definitely a big difference between trance and other genres. Trance is always about melody and emotions…trance is not only about the "break" but about melody and emotion and deep chords, which is closest to my heart and similar to classical in those respects. I think trance is going to grow a lot, as there are many new trance producers arising. Also, many new producers are choosing to produce trance. I think everything, including music, goes in circles and trance is coming up…
The industry has also been seeing a push towards producers creating more full-length artist albums than previously seen. Do you have one in the works or planned?
I'm coming out with my debut artist album in 2014, it's almost done…but I have a couple more tracks I have to finish during my break in January. We also have an upcoming album tour planned to support the album release…especially within the states. There is a lot of new stuff, great vocals that I know people will really love. I can't wait to share all the new stuff with everyone.
So, titillate us some…what big comings-up are on tap for your 2014 schedule?
As I mentioned, my mrtist album and tour, plus a lot of great big gigs [can't spill the beans on all the huge festivals], my podcast is going very well…maybe the podcast will grow into a radio show where I can share ideas with everyone. Also I am extremely excited to be playing at ASOT 650 in four cities (Miami, Utrecht, Jakarta and Kuala Lumpur) and I'm very honored that I can play 50% of the tours' stops.
Seeing that you were named as one of EDMTunes' "10 Members of the New Guard" back in June, from your perspective…who are a couple of your predictions for breakout star(s) of 2014?
Alexander Bergheau, he's from France and I've been following his stuff for a while, we did a collaboration entitled "We Are Not Afraid Of 138", which was something in between my normal style and true uplifting style. Also Marlo, he's been in the scene for a while but I've heard some of his new tracks and he's definitely going to getting bigger with tracks like "Boom" and "Visions."
Enough with the stereotypical music questions: What is your New Years' Resolution?
Actually I don't really have any…we've [Andrei and his manager] been talking about that some. Haha; produce better tracks, travel more. Something like that. I don't have resolutions like don't smoke or drink because I don't do either…
As we wrap up our chat, the conversation branches off into discussing Montreal's club scene in preparation for the (then) forthcoming night of festivities. Both Andrei and his manager stated that everything starts late up here…and that Montreal's club time generally kicks off at like 1am and often lasts until noon the next day – which is exactly what happened at Circus…I raged until 11:30am. Definitely a personal first.
The night ahead was purely mind bending and an amazing way to spend New Years Eve in an environment with incredible vibes permeating every nook and cranny of Circus After Hours. The Canadian rave scene has is remnants of the American side (some neon, some glow products, even some glovers) but PLUR is just a way of being up there…everyone is just chill to the bone. As a fellow rave friend in attendance with me dubbed the excursion, after catching the breathtaking lineup of Mr. Pit, Beat Service, Andrew Rayel and Arctic Moon…it truly was Trance Heaven NYE. To those of you that missed this opportunity, fret not…you have Andrew's upcoming US tour to gear up for. So stay tuned for both the tour announcement and official album release info!
Bonne année to all!