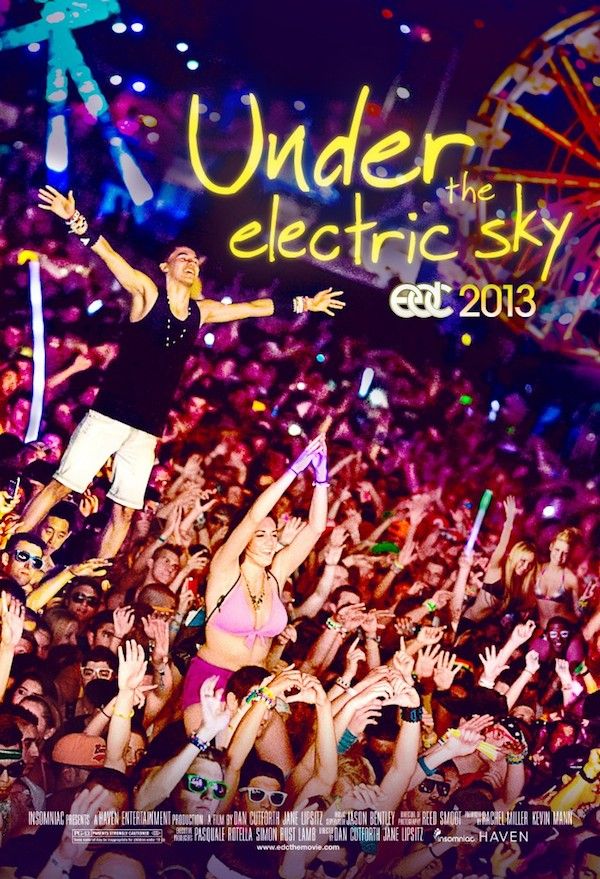 It was when I started watching the Electric Daisy Carnival 2013 after movies that I realized that FOMO (the fear of missing out) was a real thing. I'm sure some like me have spent hours replaying the mesmerizing montages of eerily fanciful festival characters, uncontrollable mosh pits, and climactic fireworks – oh, those fireworks – behind a soundtrack of epic music – but replay no more! This Saturday, 85 minutes of the most FOMO-inducing, EDC bliss will be showcased at the annual Sundance Film Festival.

We've mentioned it before, but hear us out again; EDC's 'Under the Electric Sky' documentary has been selected out of 12,218 entries to portray the inexplicable euphoria of its 350,000 Las Vegas attendees and to share the life-changing experience of the world's largest dance-music festival. The goal of the film is simple, and director duo Dan Cutforth and Jane Lipsitz essentially align the essence of the film to that of the festival's.
 [B]ring this event to life in brilliant 3-D, going behind the scenes to show what it takes to stage one of the biggest parties in the known universe. They chronicle the unique journeys of individual attendees from all walks of life, all of whom share one common desire—to shed their inhibitions and immerse themselves in this judgment-free celebration of life and music.
Though this is Cutforth and Lipsitz's first showing at the Sundance Film Festival, musical documentaries are no stranger. Having produced 'Justin Bieber: Never Say Never', and directed 'Katy Perry: Part of Me', this award-winning duo is just looking to expand their repertoire in capturing remarkable musical journeys. Lucky for us, EDM piqued their interest.
And for an EDM documentary, who better than Kaskade to take on the mammoth responsibility in creating the score for such an epic film. "EDC has become an American institution," said Kaskade, "and there's a tangible power in such a massive shared experience. Translating that intensity into a film score is an undertaking I'm truly looking forward to." Highly involved with the film's production, Kaskade will also be performing with Skylar Grey on January 17th at the Park City Live Concert series, an event associated with Sundance.
The EDM-industry as a whole is witnessing an unprecedented, explosive growth in popularity, and alongside it, so has videography for EDM. What started out as streamed festival sets and fan-made compilation movies has evolved into elaborate media productions, and now an artistic masterpiece that will continue to open the worlds' eyes of the energy and passion surrounding the music, community, and culture we love so much. For Sundance attendees, catch the screening on January 18, 22, 23, or 25th. For everyone else, sign up here to receive news of when 'Under the Electric Sky' will be out in the marketplace.