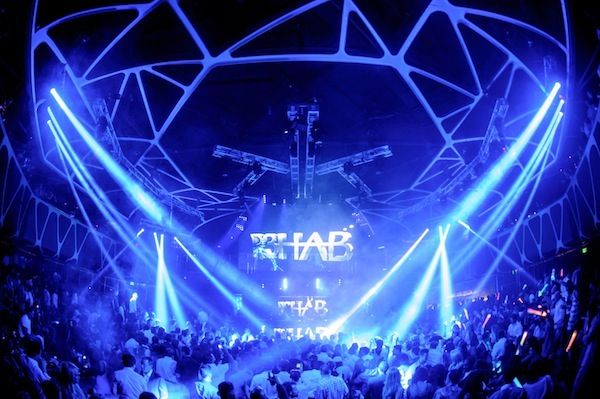 Vegas just cannot be stopped with regards to spearheading the EDM charge and its leading club player, Hakkasan, has just triumphed again by bringing on more mega DJ residents. 2014 will see Afrojack, Above and Beyond, W&W and Sunnery James & Ryan Marciano joining the already prestigious list of residencies, which includes Tiesto and Calvin Harris.
According to an interview with Billboard, Afrojack said, "I've been home for four years at XS where I had a great time," he said. "But Hakkasan provided me with the option to try something new in a new venue, so I'm looking forward to trying a new kind of party there."
No word yet if the deal will also include the dayclub, Wet Republic, but in keeping with this past summer's tradition, DJs who played at Hakkasan will filter through the dayclub as well. Also, as reported earlier, deadmau5 will not be returning to Hakkasan, but Aoki, Dada Life and the Bingo Players will be back. The same goes for Danny Avila, who we are so excited to see on this star studded roster. The 18 year old, who can't even legally enter the superclub, has been making a splash in 2013 and all signs are pointing towards him tearing it up once again in 2014. Catch him on Jan. 31st performing alongside his friend and mentor: Tiesto.
When the colossal club -80,000 square feet and four stories- opened in April at the MGM Grand hotel, there was no worry about investing over $100 million into it. With a show every Thursday to Sunday, often including multiple artists, turning a profit was all but guaranteed.
In keeping up with Vegas nightclub politics, all the new residents have shifted away from prior deals at clubs like XS and Marquee. According to a Forbes article showcasing Afrojack in August 2013, the DJ was being paid six figures a night for his residency at the Wynn hotels clubs. When it came to Hakkasan, the artist claimed he got offered almost double, but he turned it down. The tune quickly changed.
It is clear that Hakkasan is continuing to dominate the Vegas scene and isn't planning on stopping anytime soon. With the money the club generates on a nightly basis, Hakkasan's CEO Neil Moffitt, is willing to pay the price to be the very best and he's bringing everyone along for the ride.
via – Billboard