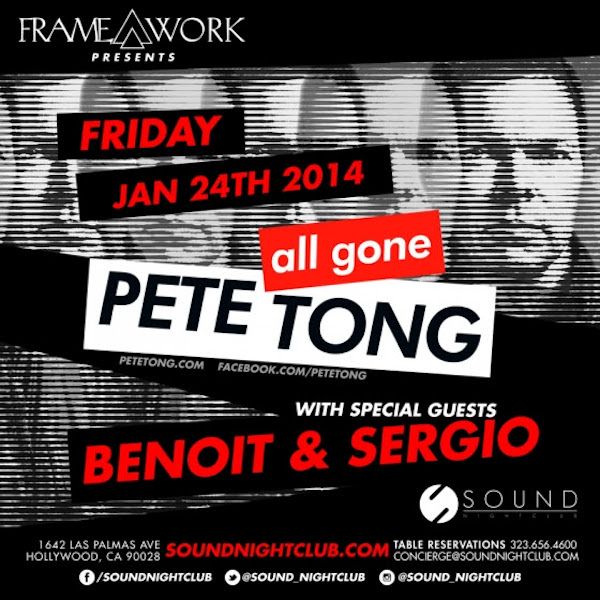 "The original, the don, the boss, the legend, the master, the house, the music, the president, the prime minister of dance music, the king, the top dog…PETE TONG!"
Pete Tong is the world's premiere Disc Jockey in every sense of the title. Aiding in the global evolution of Dance Music over the past two decades, Pete Tong has continuously brought the best dance tunes to the masses with his radio shows, compilation albums and DJ shows.  The world looks to Pete Tong for new music discovery, premieres of the newest tracks and to know what tracks are hot in the world of dance music.

Having been around the world and gracing a multitude of clubs and festivals worldwide, Pete Tong lands in sunny Los Angeles for a monthly residency at one of the best nightclubs in Hollywood, Sound. On a Friday once a month, Mr. Tong will bring the best of the underground to Hollywood with his highly revered "All Gone Pete Tong" show. Each month, Pete Tong will be joined by a special guest to help deliver the best that underground dance music has to offer.
The residency kicks off on January 24th with Pete Tong joined by Benoit & Sergio, followed by a show on February 14th featuring Pete Tong vs. Lee Foss Modern Amusement.
The sounds of the underground are finally hitting it big in Los Angeles and once again Pete Tong is at the forefront of evolving a dance music scene. Sound Nightclub is the perfect venue for this residency as it is a small venue with an underground vibe, friendly staff and a killer sound system. Unlike your typical Hollywood club crowd, Sound draws dance music lovers who know their stuff and are there to get down to some fresh beats and dance the night away.
Get ready for an education in dance music with "All Gone Pete Tong"! Don't miss out Los Angeles!