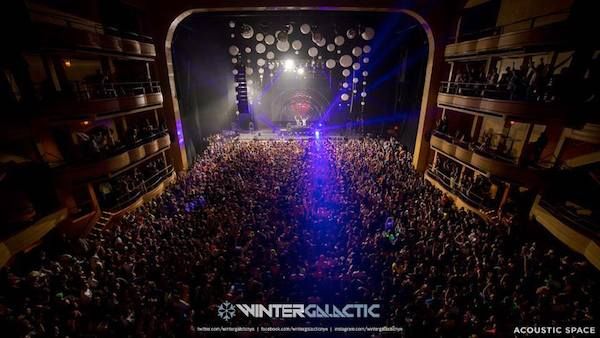 It is one of the most anticipated days of every year, and it had finally arrived, New Year's Eve. If you were in New York City then you know how crazy and hectic things were getting on this December 31. Penn Station was packed and crowded with the movement of hustling and bustling people all going to different clubs, bars, or maybe even Times Square to watch the Ball drop. However, if you were like me and select group of other EDM fans, you chose to ring in your New Year at an insane concert, and more specifically you chose to ring it in at Area Event's Winter Galactic.

Winter Galactic was one of the most talked about New Year's Eve shows to be held in the tri-state area with a line-up that included Bambi, aka Eva Shaw, Cash Cash, W&W, Bassjackers, and of course headliners Porter Robinson and Dada Life. Everyone that was making their way to New York City's Hammerstein Ballroom were excited, anxious, and not to mention, freezing. The cold arid weather outside made me instantly regret my choice of wearing nothing but a rolled-up button down shirt and jeans. However, once inside, it all became worth it, as the venue was transformed and took the attendees into an intimate white wonderland.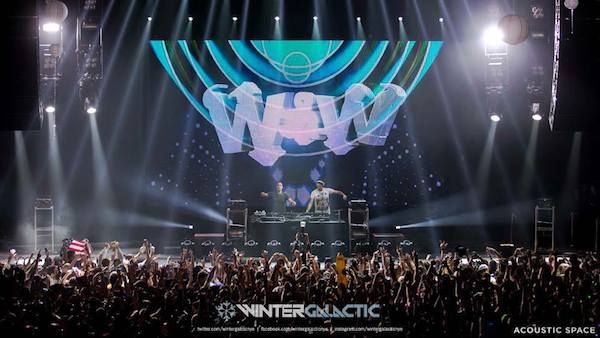 As the bass pumped away throughout the venue, I quickly made my way to the floor and was lucky enough to catch the latter half of Eva Shaw's (Bambi) set. Shaw killed it with by playing different electro bangers which included her own collaboration with Hard Rock Sofa, "Get Down." By the time Eva Shaw had finished, the fans were warmed up and getting ready for the night to begin as Cash Cash took over. The trio from NJ took control of the Hammerstein Ballroom with their own remixes of Showtek's "Booyah," Krewella's "Alive," and the Capital Cities' "Safe and Sound." But the highlight of their set would be when they played their own singles like "Take Me Home," to which the crowd would happily sing along to and go crazy for. As Cash Cash finished up their set, it was clear that the blood was pumping through all of the raging fans. The night would only continue to go on as Mainstage Music's Dutchmen Willem van Hanegem and Wardt van der Herst or W&W as they are more commonly known, were set to play next. The Dutch duo opened up with their hit "Thunder," and continued to feed energy into the Hammerstein Ballroom with their tracks "Lift Off!" as well as their collaboration with Hardwell "Jumper." Technical issues were present in their set as the the speakers and the CO2 cannons did not seem to want to cooperate with each other and caused short glitches in the music. Despite this, the audience never stopped dancing and only kept going as W&W kept playing hit after hit like their collaboration with Ummet Ozcan "The Code," and their remix of Armin's hit "This is What it Feels Like." W&W made their presence known throughout the venue and the fans could absolutely feel it.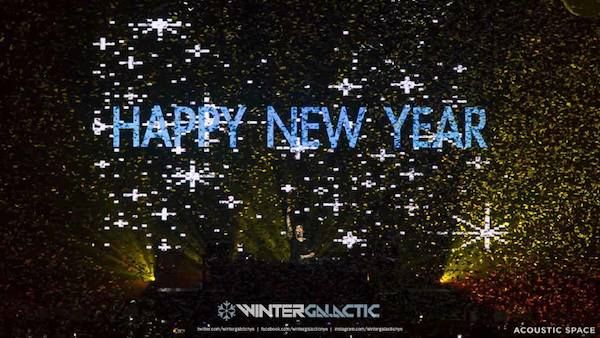 By the time W&W had finished their set, the time was 11:30 and the next artist set to play was electro whiz-kid Porter Robinson. As the young musical genius opened up with his edit of M83's "Echoes of Mine," a sudden atmosphere of intensity took over Winter Galactic. Smiles were gleaming on the faces of the the fans as Porter Robinson continued to go into a vast array of different songs like Knife Party's "EDM Death Machine." As Porter played, the excitement throughout the whole ballroom continued to grow and grow as the New Year slowly but surely approached us. As the beginning of his hit collaboration with Mat Zo "Easy" started to play, bold green numbers appeared on the screen and started to count down. As the final numbers started to count down emotions started to rise until finally the beautiful bells and melodies of "Easy," rang in the New Year with perfect timing. Sparks started to fly down the ceiling and confetti blasted away into the Hammerstein Ballroom to create an extraordinary feeling of nothing but pure euphoria and bliss among the people at Winter Galactic. Joy and jubilation continued to pervade the venue as Porter Robinson kept going through the New Year, playing hits like "Unison," "100% in the Bitch," and his remix of Knife Party's "LRAD." Of course, Porter would finish his set with his hit single "Language," once again re-instilling the feeling of delight to the crowd.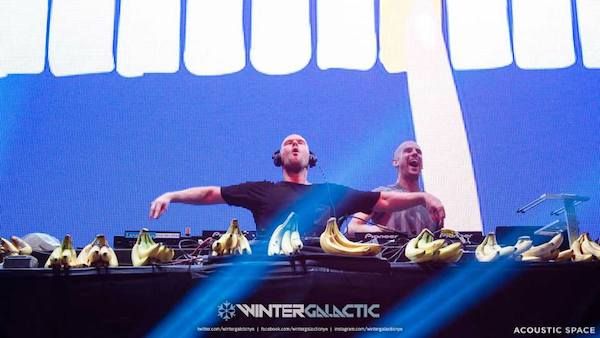 The energy was high in the Hammerstein as Porter finished. But the night was not even close to being done for it was now time for Swedish duo and the kings of bananas and champagne, Dada Life to take over. When Olle and Stefan took the stage, a sudden change in the ambiance could be felt throughout the gathering of EDM lovers. We were not just in an intergalactic Winter wonderland anymore. No, we were also now in Dada Land and the Swedes made it very clear that in Dada Land, there are no rules, but the rules of Dada. The duo got straight down to business as they immediately delivered enormous amounts of intensity by opening up with their remix of Major Lazer's "Bubble Butt." This was only the beginning of the madness that would ensue throughout their two hour set. Stefan and Olle made sure to prepare anyone who wasn't ready for what was about to occur by helping everyone enter a "Higher State of Dada Land," next. Dada Life continued to play electro bangers through the night playing songs such as "Feed the Dada," (which they most certainly did) "Bass Don't Cry," "Boing Clash Boom," and even a little bit of Martin Garrix's hit "Animals." They continued the night by playing "Kick Out the Epic Motherf**er" with everyone hollering "HEYYYY OHHHHH!" as they waved their arms left and right in unison. However, these was not the only highlights of their set. Dada Life's sets are different than other sets because they are not something you just watch or here. No, their sets are something you experience. In no other set will you be in a crowd where a giant yellow banana floats over you while hearing the speakers pump out Gwen Stefani's iconic line "this shit is bananas," mashed up with the duo's own "Unleash the F**ing Dada." In other sets you won't be able to experience a giant pillow fight and understand what "Happy Violence" is really all about. Dada Life made it very clear from the beginning that their sets are made of "happy people music," and even if you weren't smiling, they were going to make you do so by giving out smiles to strap around your face. Their strategy worked as the immense amount of glee and delight spread infectiously throughout the venue. Even as Olle and Stefan began to end their set they kept the crowd on their toes by playing their new hit "This Machine Kills Ravers." Dada Life finished their set in epic fashion by showing the people at Winter Galactic that they were "Born to Rage," as sparks shot out from the stage and confetti swirled through the Hammerstein. The Swedes played an incredible set to start the New Year, and they made sure that everyone at Winter Galactic was left nothing but really really ugly.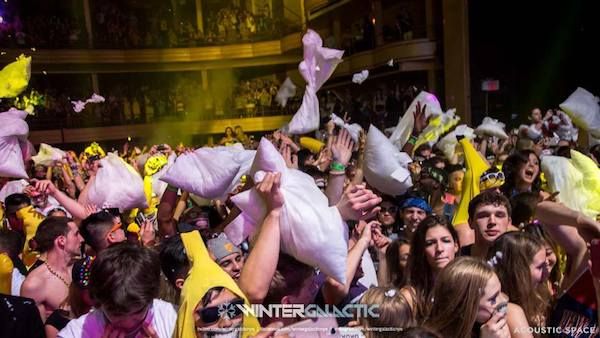 Winter Galactic was nearing the end and there was only one performance left. Bassjackers' Marlon Flohr (the duo rarely perform together) took the stage to end night and close the event. Bassjackers continued to play hits like "Heads Will Roll," Tommy Trash's remix of "Ladi Dadi," the duo's own "Zing," as well their collaboration with GRX "Gamer," to keep the energy flowing before the night ended.
Area Event did a hell of a job with Winter Galactic. Even though the road to New Year's Eve may have been a little rough with the switch in venue, the people behind Winter Galactic did not fail to deliver a legendary passage into the New Year. Not only was the line up fantastic, but the production involved tremendously amplified the experience of the attendees. It was an unforgettable and incredible way to end the last year and start the new one. With a groundbreaking year in EDM like 2013 now behind us, I think it is safe to say that we are all excited to see what 2014 has in store.