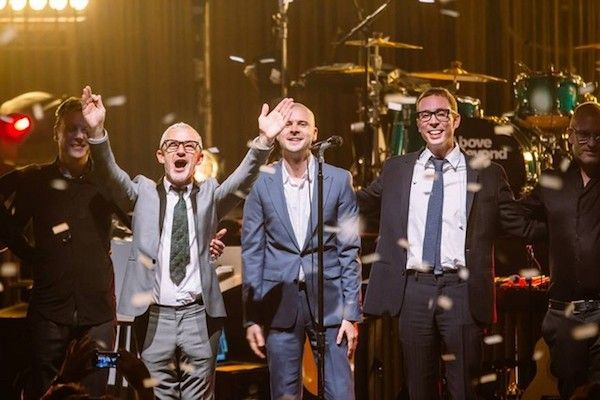 It really does feel like just yesterday Above & Beyond played their first acoustic show this past summer. 4 Sold out shows at Porchester Hall in the UK, and 2 sold out shows at the Greek Theater in the US later they've released their breathtaking album: "Above & Beyond: Acoustic". The album consisted of 12 of their most popular songs, performed by a 24-piece orchestra and was recorded in the spring and summer of 2013. On January 24th, "The Above & Beyond Acoustic Film – Live From Porchester Hall" premiered on THUMP, giving fans a chance to view the spectacular performance. There is a lot to be said for providing their audience with all this content, from the live shows to album to the video; these shows weren't meant to be an exclusive event for the "who's who" of their fan base, but to everyone with a passion for true musical craftsmanship and a yearning to feel something powerful through their music.
Tony, Jono, and Paavo did not accomplish all of this alone, and so they have presented the world with a short film giving us a look behind the scenes at the making of the album. In the film Tony speaks of his history and fondness of fellow producer Bob Bradley, Jono and the gang having light bulb moments while messing around in the studio, and Paavo helping out the orchestra during production. While this may not be a full on in-depth behind the scenes, but rather a brief look behind the curtain with personal anecdotes from the trio, the video still manages to convey a connection between them and the viewers. The really is a down to earth crew; they appreciate everyone involved in the process and love what they do all the down to the nitty gritty stuff. Above & Beyond is not a collection of great DJs or even producers, but honest to goodness musicians, a fact that should never be doubted for even a brief moment.
To get a glimpse into the creation of what is arguably one of the biggest moments in dance music history in the past decade, watch the video below. For an in depth review of the acoustic album and video, check out our write up here.