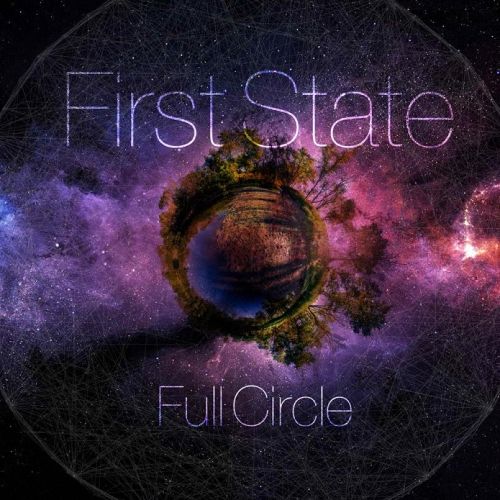 First State – Full Circle
Label: Magik Muzik | Release Date: March 3rd, 2014
Download @ iTunes | Beatport
An album entitled "Full Circle" is one that makes a bold statement resting solely upon initial mentioning of its name, and Dutch producer Sander van Dien's full length album trifecta indeed comes full circle with the upcoming release of his personal aural story of musical evolution through the years on Monday, March 3rd. First State, as Sander is more famously known as, has been the target of many a fan-girl moment on my part throughout the years, and the prospect of receiving a chance to preview and review the forthcoming album gave me those tingles inside (like when you heard "Reverie" for the first time…)
Now, a preface: there are small fractures in the dance music culture, condemning artists for opening their scope of musicality and exploring different production options. I will admit my part in this, as well…a personal belief dictates that there is a fine line between sub-genre experimentation and 
abandonment
 of a signature sound – which in turn, translates to an abandonment feeling in long-time fans of said producers. First State 
has 
shown an evolution through time, but it's not as if he produced "
My Sanctuary
" and the next day dropped a cheesy-big-room-infused-drop track on us. First State's production approach these days is some of the best of what 
true progressive house
 has to offer the culture today, and Full Circle's prog genius is topped off with incredible vocal collaborations from ubiquitous dance music voices such as 
Sarah Howells, Relyk, Tyler Sherritt, Neev Kennedy, Fenja, Quilla 
and
 Eric Lumiere
.
Given, there are rough patches on any evolutionary path, and every cut off the album doesn't give me those warm feelings inside… but normally, full albums tend to not maintain that level. With the push towards big room drops due to the response those styles of tracks receive in live sets, as well as in sales on Beatport, it's no wonder why producers are trying to explore their hand in its production style…as long as its more of a "dip your feet in" (which Sander has done in this case) as opposed to a "CANNONBALL!" (…couldn't resist.)
I've broken down my review into 4 parts (a square review of Full Circle if you will): The Killer Prior Singles, Newly Unearthed Progressive Gems, Successful Sub-Genre Explorations & Questionable Moments.
The Killer Prior Singles:
"Seeing Stars" (Track 10): Just, whoa. "Seeing Stars" has been around for a decent period of time but has not lost one ounce of its sheer beauty. Progressive house at its absolute best here. Raw emotion delivered via the gripping vocals of Sarah Howells and by the soaring harmonies and rapturous riffs crafted by First State. The epitome of a crossover track in its appeal; one friend who is mainly into trap heard me drop a remix of the track, and he demanded that I put on the original mix because of the impossible to replicate vibe that this one construes. How's that for an endorsement?
"
Take The Fall
" (
Track 4
): Another single packed full of feels is "
Take The Fall
." Full Circle encompasses many of First State's past released singles under the album's umbrella, but hearing them packaged with each other brings the appreciation of them to a whole other level. Progressive house is still alive and thriving, guys…just don't listen when Beatport tells you that Big Room is Progressive and you'll be just fine. Relyk's angelic vocals create a palpable synergy with Sander's gripping builds and piano-led bridges, creating a nice amalgamation of beauty and festival energy and edginess.
"Lourdes" (Track 5): "Lourdes" is another one of First State's fairly recent single releases, and this one is a totally banging instrumental progressive anthem that showcases Sander's musicality and production finesse shown via his blending of the melodic side of his production spectrum intertwined with the more mainstream driving elements of commercial house.

"Skies On Fire" (Track 2): Too many tracks rank near the top of my personal list for this album, and "Skies On Fire" is no exception. An airy and summery feels-laden track featuring the pristine and carefree vocals of electronic music vocalist extraordinaire Sarah Howells, the track is an atmospheric and charming cut. Exuding a hint of nostalgic pangs via Sander's usage of vibrating synth layers sprinkled with a touch of crunchiness to take the edge off of the sweetness, the track is sure to set skies on fire all over the world al over again.
Newly Unearthed Progressive Gems: 
"I'll Never Die" (Track 6): After "Seeing Stars," this is my personal favorite track of the album. If any production on the album encompasses the "Full Circle" mentality, it's "I'll Never Die". It is an epic track complete with warm melodies, glitchy yet bubbly synths, soaring emotive vocals per Tyler Sherritt on top of a foray into peak time territory (done right)! The breakdown/drop sequence would sound at home in any upcoming festival season set while appealing to the melodic snobs in the audience at the same time. Bravo on this one, Sander! 

"Glow" (Track 12): "Glow" brings the tempo back, just a tad, and really settles into its place of poignancy within the scope of Full Circle. Eric Lumiere's slow burning vocals help the anticipation to build like no other throughout the course of the track's progression. Sander paves the way for Eric's crystal clear vocals with some soft pad buildups on top of an airy sonic profile matched with a dreamy breakdown section.

Successful Sub-Genre Explorations: 
"I Need Your Love" (Track 1): This is the kick off track to the album. At first listen, it seemed kind of out of place, but in subsequent listens I began to understand its place, in terms of setting the tone for the remainder of the album. "I Need Your Love" is a combination of progressive bones, slightly muted big room/electro-inspired muscular synths on top of some heady electronic vocal samples. This one was a nice exploratory track that fits in with the rest of the album's vibe, in general.

"Worlds Apart" (Track 3): "Worlds Apart" was a pretty trippy entrance into Sander's world of a combination of current house sounds intertwined with splashes of 80's vibes led by a pounding and driving piano layer. At moments throughout its musicality, the track seems to channel the likes of Madeon in its lighter complextro elements, but maintaining Sander's trance roots by showcasing the prominent piano usage.

Questionable Moments:
Let me be clear, that I do not condone straight up abandoning of a signature or crafted style over the years in an attempt to cash in on the big room craze that is unfortunately still sweeping through the "EDM"-ness of American dance music society. But I do understand producers wanting to explore their sound and attempting to appeal to a new and wider market of listeners…and the only way to do this is through experimentation. Sander took this road a couple times in Full Circle and pulled a lot of them off, but these are some of the sonically rougher moments for me.
The End Of The CD ("Maze" & "One Push"): After having such beautiful tracks as mentioned above and finishing the album with harder more commercial house learning tracks like "Maze" and "One Push" confused me more than anything. I felt a bit disjointed with the drop sequences lacking emotion and depth, with melodies being pushed to the background in favor of big room squeals. I feel as if these types of experimentation are better led for individual releases as opposed to inclusion on an artist album – which should tell a full story, IMO.
Tracklist Order: Often one of my biggest criticisms with album releases, if the tracks were just shuffled around ever so slightly, the album would have exhibited an even stronger cohesion than it does in its current arrangement. Possibly in interjecting an "experimental sounds" section in the last ¾ of the album and afterwards bringing the album back to its progressive shining moments would have made the experimentation come across a little more smoothly. But however, taken as individual tracks…the likes of "Humanoid" and "Anunnaki" (against Beatport Top 10 tracks) stand up well in the commercial house arena, and I would like to see how those tracks are received by those types of fans.

Infusion has been the name of the game for Sander it seems, and it has been done deftly (for the most part) in this case. Of course, there will always be haters and detractors. But hopefully voices like those won't completely drown out the true fans' opinions and insights into productions of today (or future ones), or else the industry really will see a creativity bust in times ahead. But for now, bask in the progressive house revelry that First State has crafted in many of his cuts on his Full Circle album, for us all to enjoy.

Tracklist:
01. I Need Your Love
02. Skies On Fire – Featuring Sarah Howells
03. Worlds Apart
04. Take The Fall – Featuring Relyk
05. Lourdes
06. I'll Never Die – Featuring Tyler Sherritt
07. Nothing Lasts – Featuring Neev Kennedy
08. Anunnaki
09. Battle Of Hearts – Featuring Fenja
10. Seeing Stars – Featuring Sarah Howells
11. Where You Are – Featuring Quilla
12. Glow – With Eric Lumiere
13. Humanoid
14. Maze – Featuring Tyler Sherritt
15. One Push
Follow First State on SoundCloud & FaceBook