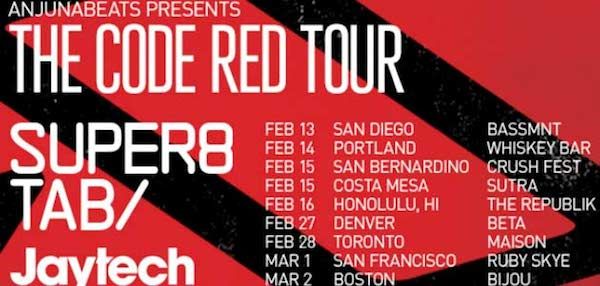 Anjunabeats fans are known to travel distances far and wide to hear their favorite trance musicians perform live. So when the label presents their own tour featuring two of their biggest artists, it's not only convenient for fans, but a showcase of the best of what's going on with Anjunabeats at the moment. And right now, that happens to be Super8 & Tab and Jaytech.
The Code Red tour is hitting up all different areas of North America to bring listeners that unique style of melodic yet hard-hitting trance the brand, headed by Above & Beyond, is known for. Hailing from Helsinki, Finland, the duo of Super8 & Tab have been regulars on the label's compilations and A&B's radio shows for years now, with recent releases including tracks like "L.A." and "The Way You Want". They even just celebrated having 50 episodes of their own radio show.
And just as impressive is Australian producer Jaytech (aka James Cayzer), who got his start crafting heavier house for the Anjunadeep imprint, but has since released more big-room-friendly tracks that have made their way onto the label compilations.
Anyway, this tour is the perfect chance for a trance family reunion. Last summer's Anjunabeats Tour with Norin & Rad and Maor Levi was a success, and this upcoming Code Red Tour is sure to be another. If you live near one of these various cities (or are thinking of taking a road trip!) grab your tickets now.