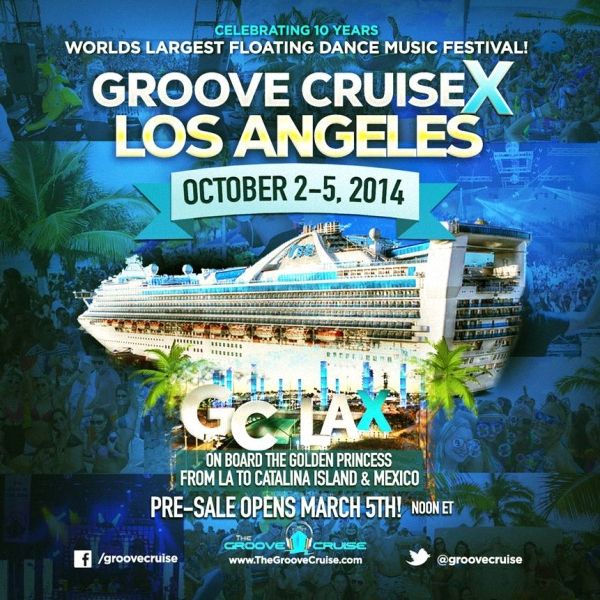 In celebration of its 10th birthday in Miami, The Groove Cruise X (#GCX) departed the Port of Miami with 2,750 Groove Cruise Family members and electronic music revelers extraordinaire. Every subsequent year is an exponential jump in scale for G.C. in regards to lineups, ship sizes…even duration, and this trend is poised to continue into the west coast G.C. leg that is taking place from October 2nd-5th on board The Golden Princess, and will set sail from Los Angeles to Catalina Island and ultimately to Mexico.
The Golden Princess is the biggest vessel yet for the west coast leg of the "World's Largest Floating Dance Music Festival," stacked with 1,318 total cabins, 17 decks, and 8 different venues. Those 21+ can book their cabins during pre-sale opening on March 5
th
 at noon EST. Capacity is limited to 3,000, and the sell out period increases exponentially timewise every year, so make sure not to "miss the boat" this time and join EDMTunes onboard #GCLAX and secure your spot with a $200 deposit – don't forget to use promo code 
EDMTunes 
at checkout to receive a $50 credit! Cabins and full pricing are open to the public beginning March 19
th
@ 
The Groove Cruise.com
#GCX in Miami attracted captains all over the world including Canada, Mexico, Argentina, Brazil, Australia, Germany, Russia and Norway. Given 30% of the "family" was Floridian, there was a presence from almost all 50 states aboard as well. Join the ever growing (and never sleeping) GrooveCruiseFam and either join in on the pre-booking or stay tuned for public on sale announcements/pricing by staying up to date via Tbe Groove Cruise LA's mailing list.
Oh, still on the fence?!  Check out EDMTunes' prior coverages of the event to WHET your appetite even more
See you aboard, mateys!