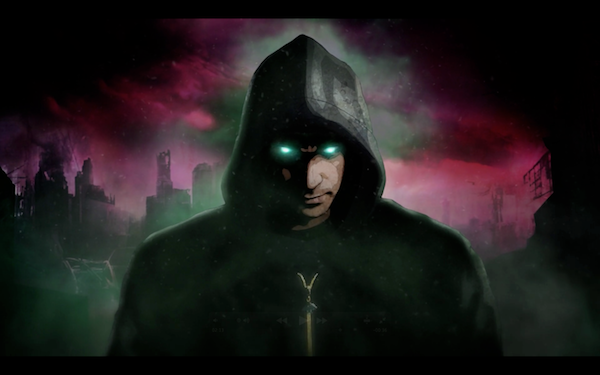 Hardworking producers are hard to come by, especially ones who are all about their labels and care so much about the scene. However, we recently met up with UK dubstep producer who proved that the hardest working producers are the most satisfied with their achievements. Tommy Dash, who goes by the stage name SKisM, has been taking over the dubstep scene since 2009. Although he isn't as much of a veteran as many other producers, his commonly spun tracks and his management duties on his label, Never Say Die, speak for themselves. He's been labeled the 'Dj's Dj' due to the challenging technical sets he spins on his 4-deck set up, which he uses at every show. Tommy even held down a Beatport #1 spot for a whole month with his track 'Like This' and released a 4-part EP which he titled 'Division,' where he tested his creativity with a variety of different genres and rhythms. Tommy sat down with us at the beginning of his 'Rage By The Pound' tour to offer some insight on himself, his tour, his label, and his feelings towards the current scene.

You're about to visit a whopping 22 cities in only 6 weeks time. How do you prepare for a tour that is so lengthy and in so little time?
It's quite long, I've been very busy so I haven't given it much thought. It kinda hit me today when I was at a meeting in LA and I was like damn, "I gotta get my head into tour mode!"

To be honest, I haven't prepared for this tour at all. I normally prepare a bit more than I have, but it's just that I've been so busy with so much going on with the label, managing the artists, and general life bullshit. So I've had about an hours worth of preparation today to be honest.

Also, the main problem I'm going to have on this tour is that I basically play so many of Mayhem's and Victor's tracks, but since they're opening for me, I'm definitely going to have to find a way and fill in those gaps. 
Most of the artists that you're touring with are a mixture of different genres, similarly to your Divisions EP, how does this tour differ from the other tours that you've done in the past?
I think the difference between this tour and the previous tours is that most of the previous ones were meant to promote something. For example, the first big tour I did in America as SKisM was to promote our first 'Never Say Die' UKF album, that was actually the first time I played here in Santa Ana as well. And then the last major tour was with Flux Pavilion to promote his album, so I was supporting him there. But this tour was put together to kind of showcase different sounds, rather than a particular album or release. It's kind of cool. It's nice to know that when we play trap, there are some trap players who are here for trap (Victor Niglio). Which such a diverse lineup at hand, I could throw play a very versatile set and someone in the crowd will be enjoying it.
You've been focusing a lot of time on your 'Never Say Die' record, which by the way, congratulations on your 50th release with UKF. You've established such huge names over the past few years, such as Zomboy, what is it that makes this project so satisfying and important to you?
I think that this is the most satisfying thing I've ever done in my musical career and its definitely taken over all of my time. I literally focus all of my energy on the label, like putting all of my ideas and coaching these kids as well. We have these kids that are surpassing all of our wildest expectations and its just crazy to see them blossom and grow into a name for themselves. And we got acts like Zomboy, he's just blowing up so quickly, quicker than anybody on the label. He's like our crown jewel.

It's the thing that drives me now. It kind of eats away at my career a bit, I don't have time to write tunes anymore. But to be honest with you, I never had the passion for writing music, I do it because I can use it to facilitate me being a DJ. But the best part for me about running a label is that I get new tunes from all of my guys and I get to play their tracks in my set, so that's how I am able to express myself musically now.
Over the past few years, you've toured all over the world in almost every country. What makes it different this time around touring the states rather than touring certain parts of the world such as Europe or Asia?
At the moment, I play in the states more than I play anywhere else in the world, probably because it has the healthiest EDM scene. Its very different, I play very differently everywhere I go. Like Australia… they're quite forward thinking with their dance music, similarly to England, so I have to alter my style a bit. It was cool though, I was able to play trap, house, loads of drum and bass, which to be honest, I don't play that much over here in the states because there's just something about the EDM crowd here, they just don't know how to dance and express themselves to dnb. It's a sad sight for me because where I come from, it's what everybody enjoys listening and dancing to. I think thats the thing, EDM has its different genres for different countries. America is definitely on the big room house/trap and stuff like that.

Don't get me wrong about the drum n bass over here though, there are definitely some successful tours. But theres a very specific and narrow crowd that comes out to them.
Your collaboration with Excision, 'sEXisM', was part of the movie trailer, 'Act of Valor'. If you were to consider branching out of doing what you're doing now, would you ever consider doing a film score or something of that caliber?
In terms of branching out, its probably not going to be about making music for me. I feel like the direction that my career is going is very much the label and management route. Like i manage close to 8 guys and that takes so much of my time. Honestly, I get a much bigger buzz out of making people successful, or helping them on the way to being successful. I would rather sit there and plan out label stuff rather than write a tune because I feel like there's an end to it, so its a different kind of buzz. Whereas with writing music, I get so frustrated because I'm so rusty at it since I haven't done it in ages. I could tell people what to do with their music and what to change, but I can't do it with myself! Its really easy to give advice, but its just so hard for me to take my own. So thats why I don't see myself as a producer down the road.
Which one of your signed artists are you digging the most right now?
*chuckles* Its hard to pick a favorite child. They're all smashing it in their own way, I think in terms of the most fresh sounding and newest act is our new guy, LAXX. He's the one to watch. He's stumbled across this sound that is like… UK trap, it's got dubstep and trap influence, but with his own personal spin on top of it, nothing like what I'm hearing from anybody else right now. He's like my tip for 2014.
Being the frontman of your own record label, which other labels do you feel the most comfortable working and collaborating with?
The great thing about the bass scene is that it's such a friendly scene. When i was growing up in the dance scene in the UK, it was really hard to break into certain scenes, people were really keeping their cards close to their chest, especially the drum n bass folks. But these days, because of social media and the internet, everyone is super acquainted with one another and wants to work together! Nowadays, its just friends doing things for one another and helping the scene grow… I've worked with OSWLA, Circus, Excisions label.. I could go on forever.
Tonight, you showed why you're viewed as the 'DJ's DJ' with your killer unbelievable live performance. How did this recognition come about?
I'm quite proud of being labeled as that, I'll be honest. That's how I really push myself because I'm not doing that in the studio. So when I DJ, I kind of want to be as technical as I can because I feel like thats the craft that I've mastered first, and thats what I wanted to do… and now I'm doing it. The flip side of that is because the general EDM crowd just wants to go out and rave, about 90% of them have absolutely no idea what i'm doing behind the decks… literally no idea.

I don't even stop for a sip while I'm DJing, not one sip of water. But that's my own fault, I could probably just press play on Ableton, jump on the mic, and throw food in the crowd and people would go way crazier. But thats just not me, man. I'm just a DJ and I just want to play for me and the people behind me sometimes.
We're quite curious as to what the displayed cross in your name and on the display screen when you perform resembles?
You know what… it has all to do with the division. It's nothing satanic or anything like that. If you look at the logo, every part or letter is actually split. Skism means SPLIT. So when we did the 'i', we were like "how could we divide it once more?", so we just drew a line. I guess it looks like an upside down crucifix in some way, but i'm really not that much of a worshipper myself *chuckles*