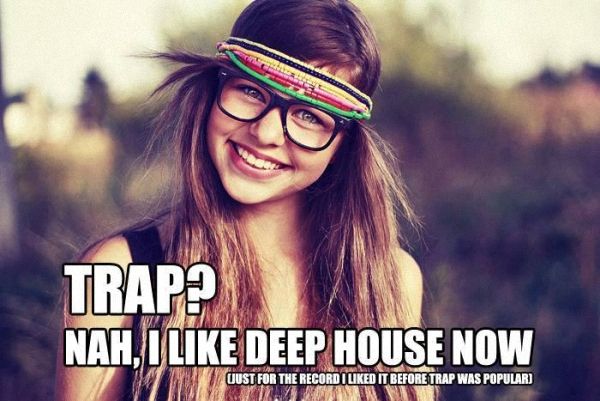 Alright, alright, alright. Time for the fifteenth installment of the Rabbit Hole, and #2 for 2014. The house music is pouring right meow and that means this column is going to be chalk full of great tunes. There's an interesting collection of music this week, everyone from Doc Daneeka, to Guy J, to Lane 8 make an appearance, melding together to form a pretty solid spectrum of house music. Deep House (and the rest of the genres that aren't actually deep house but people in the U.S are still going to classify as deep house -like techno, garage, etc) is going places this year on this side of the pond, and these are some of its key players from the past fourteen-ish days or so:
Cicada – Around & Around (Bump & Flex Remix)
Grant Nelson is back under Bump & Flex for a jungle-bass, garage/minimalistic tune that just samples the shit out of an assortment of things and melds it all together very well.


Cajmere & Sonny Fodera – Destiny
Cajmere teams up with Australian house maestro Sonny Fodera for an infectious tune that hints of techno vibes, while still maintaining an overall deep soundscape. It's a banger and it's officially out on February 24th via Cajual Records.

Philogresz – Mooder [Bedrock]
Bedrock newcomer Philogresz presents us with a dreamy, deep melody that is filled with organic sounds (bird calls) and twists. I'm always a fan of the producer who emphasizes a unique spin on a soundscape, and that's exactly what you get here. This preview is unfortunately quite short, but the full version is only two days away, with a release set for February 03.

Karma Kid – Like I'm On Fire (Behling & Simpson remix)
Karma Kid's explosive original gets a slightly more club-friendly remix by Behling & Simpson (not that the original would be out of place in a wind down or early on or anything).

Lane 8 feat. Patrick Baker – The One (Original Mix) [Tune of the Week]
Lane 8 is back on Anjunadeep with an absolute stunner. While we did feature it on EDMTunes earlier this week, it deserves another mention here, as it is gorgeous. The San Francisco native has impressed ever since starting out on Anjunadeep 05 and he couldn't have had a stronger start to 2014 with "The One." The Klangkarussell remix is also worth checking out.

Ambassador – The Fade (Guy J mix)

Rafa Barrios – Calda

Patrick Topping – Holiday (Forthcoming Defected Miami 2014)
Hot Creations star Patrick Topping is about to release "Holiday" on Defected. He's going to have a big year in 2014, without a doubt.

SETS &  MIXES
Studio Brussel – Playground – Ben Pearce

Doc Daneeka: Music To… Warm Up Your Week
A very enjoyable 40 minutes from Doc Daneeka, one of my favorites of the past few weeks.

John Digweed – Transitions 492 – Guest Andre Crom [SET OF THE WEEK]
OFF Recordings boss Andre Crom takes over Transitions radio. Not a set to miss.

Throwback Track of the Week: I Follow Rivers (The Magician Remix)
Great tune from a producer who never ceases to produce only the highest quality grooves. I had the pleasure of catching Goldroom a few weeks back and it was a joy to see him more or less close his set with this track.

That's all for this week folks. Expect these to start coming out on Monday every week instead of Friday. Cheers.