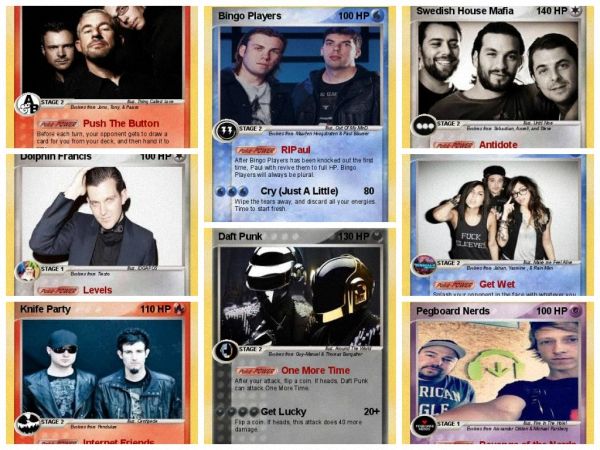 They want to be the very best, like Armin already was. To hit the Beatport Top 10 is their real test, to close Ultra is their cause. If you haven't seen them by now, a creative Redditor named DJ_ChesterHester went out and made Pokemon cards of some of the most popular DJs in the world. The portfolio that started out with 40 has now grown to 73 with even more on the way. These cards have already gotten noticed by the likes of Krewella and Tiesto for good reason; they are brilliant. Each one is unique to the person with their picture and a few attack moves personal to the DJ. There are already calls for these to be made real and traded at shows around the world. It would be interesting to see the EDM market branch into playing cards.

Below are some of the cards that we would want to have when starting a deck. You can check out the full catalog of cards here and be sure to be on the lookout for the 3rd pack.
Pegboard Nerds
Their music is intense, and so is their fighting style. If you've ever been to a PN show you know that raging is expected from the small and the tall, and this card perfectly depicts that. The special effect can be used strategically to really hurt your opponent, while the attack is perfect if your opponent summons someone like Armin Van Buuren. But be careful, do not use this on Bingo Players because of their revival special.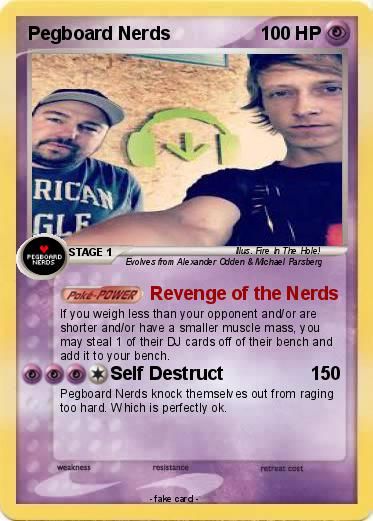 Bingo Players
This card is an excellent tribute that shows that Paul will never truly leave us. Their special is very fitting for the duo, and even reiterates the profound statement that "Bingo Players will always be plural". This card would be a foil one because of the ability to revive itself and attack with 80 damage. No deck would be complete without this, quite possibly the best card of the bunch.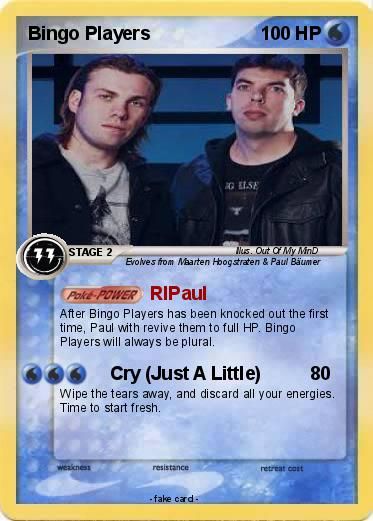 Krewella
Krewella is another powerful card in the fact that they heal themselves. Their special pretty much forces you to do something that you've probably wanted to do the whole match: throw your drink in your opponent's face. This, coupled with Party Monster, allows Krewella to dish out a healthy amount of damage, and the attack allows them to heal after every turn. Then, for good measure, the attack also might stop the opponent from attacking. Sweet.

Knife Party
There is a good chance your friends with everyone you've ever met on Facebook. This automatically gives Knife Party a defensive advantage, with couple with their high health could have them on the playing field for quite a few turns. While they're on the field, they will be dishing out 60 damage per turn with Bonfire, which also has the chance to burn the opponent (which will do damage each turn). Even if you're playing Walter White, this card is extremely powerful (like the group themselves).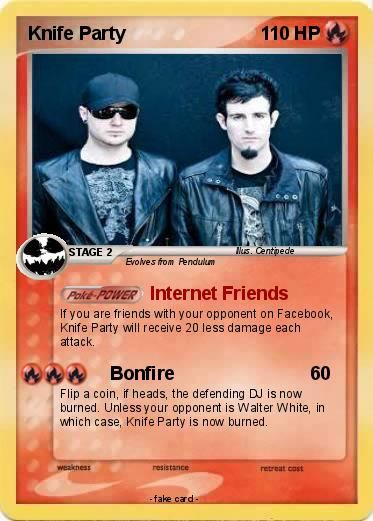 Daft Punk
Just like the group themselves, Daft Punk may be the most over powered card there is. Daft Punk is allowed to attack twice per turn (One More Time). If you can "Get Lucky", you will do 60 damage. So say there is a chance that you flip 4 heads in a row, you can do 120 damage. Per turn. Which, in this game, will most likely knock out every DJ. Except for our next card…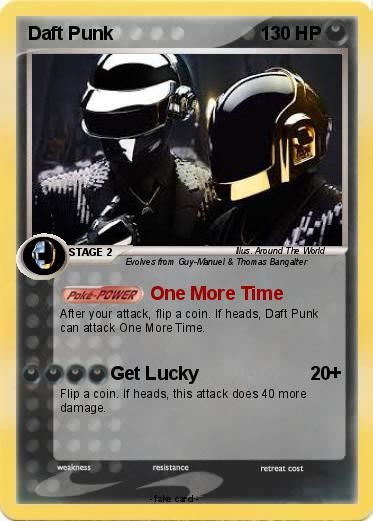 Swedish House Mafia
Swedish House's power is off the charts. Before every turn, they are able to heal themselves. This is remarkable given their high HP. Then they have an attack that can do 100 damage per turn. The only downside to this attack is that if it doesn't eliminate the opposing DJ, then you must remove SHM. But even that has a plus side as you can replace them with one of the 3 solo members.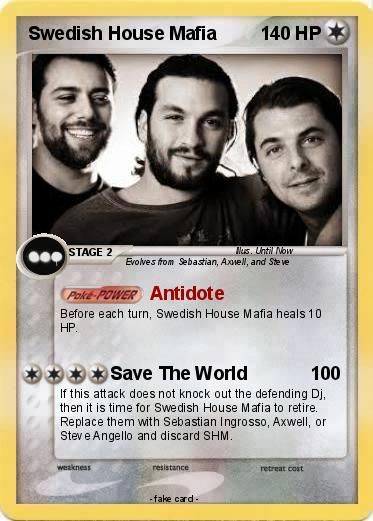 Above and Beyond
No hand would be complete without Jono, Tony and Paavo. When on the field A&B forces your opponent to draw for you before every turn, in addition to the card you drew. Then there is their attack which does a significant amount of damage, as well as gives the option to burn the opponent.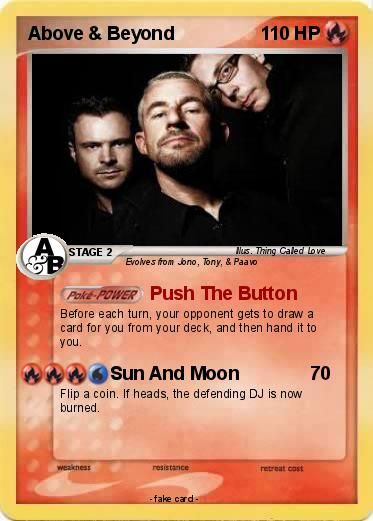 Dillon Francis