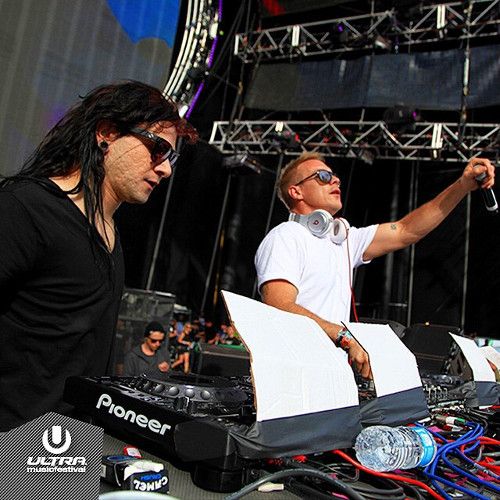 This Sunday at Ultra, amidst a myriad of Big-Room sets on the main stage, one duo smashed the trend with a ridiculously energetic set chock full of a variety of Trap, Electro, Bass, Dubstep, Moombahton tracks with retro hip-hop and pop hits sampled in. Jack U, the collaboration project between Diplo and Skrillex, had the two pioneering DJs switching off mixing and hyping the crowd up to levels of absolute madness.
JACKU – Skrillex and Diplo – Live @ Ultra Music Festival – 30.03.2014 | Download


The set featured many highlights like:
• DJ Fresh VS Diplo Feat. Dominique Young Unique – "Earthquake" beat transitioning into some version of George Michael's "Careless Whisper" (
1:52
)
• The Lion King Theme leading into Steff Da Campo & Danny Da Costa – "Go" (
3:32
)
• Tribute to Paul of Bingo Players with "Cry" (
6:19
)

• The sequence with a series of classic hip-hop and pop samples (like Ciara's "Goodies", Cassie's "Me & U", Pitbull's "Bojangles", etc.) leading into Diplo's "Express Yourself" that culminated with Skrillex's "Bangarang" (
23:28
)
• Closing out the set with Toto – "Africa"
• Tens of wild remixes, bootlegs, hip-hop samples, and new IDs packed into about an hour-long set
Supplemented by only bare minimal visuals (ranging from trippy to Pokemon to their Jack U logo bouncing around), a leaf blower toilet paper gun, jump-ropers on stage, Jack U used a combination of wild tracks, remixes, bootlegs and on-point mixing and sampling to make the crowd (and live stream listeners) dance like they've never danced before with a landmark set.