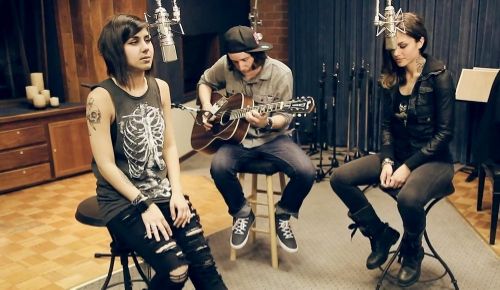 Fighting the common argument of 'EDM is not real music' and that these producers laughably 'just play their laptops' has been a critique made by outsiders for quite some time. Almost as a testament against these claims, chart-topping DJs have been taking a step from their decks and synths and replacing them with guitars and human voices. Above and Beyond recently did an entire show dedicated to this principle, and said they were nervous about the acoustic renditions as it would truly put the power of the music to the test.

Now
Krewella
is following suite, stopping their set midway through to preform the most appropriate track for the occasion; their hit song'Human.' The two sisters performed the vocal elements of the track, while Kewella's tour manager, David Carlson, joined Rain Man with the accompanying guitar work.
It is truly amazing to see these tunes, be they high energy bass music or euphoric trance tracks, stripped down to just the simple chords and melodies. I see these approaches add a much more human, pun only kind of intended, and vulnerable twist on tracks that often seem so separate from humanity.