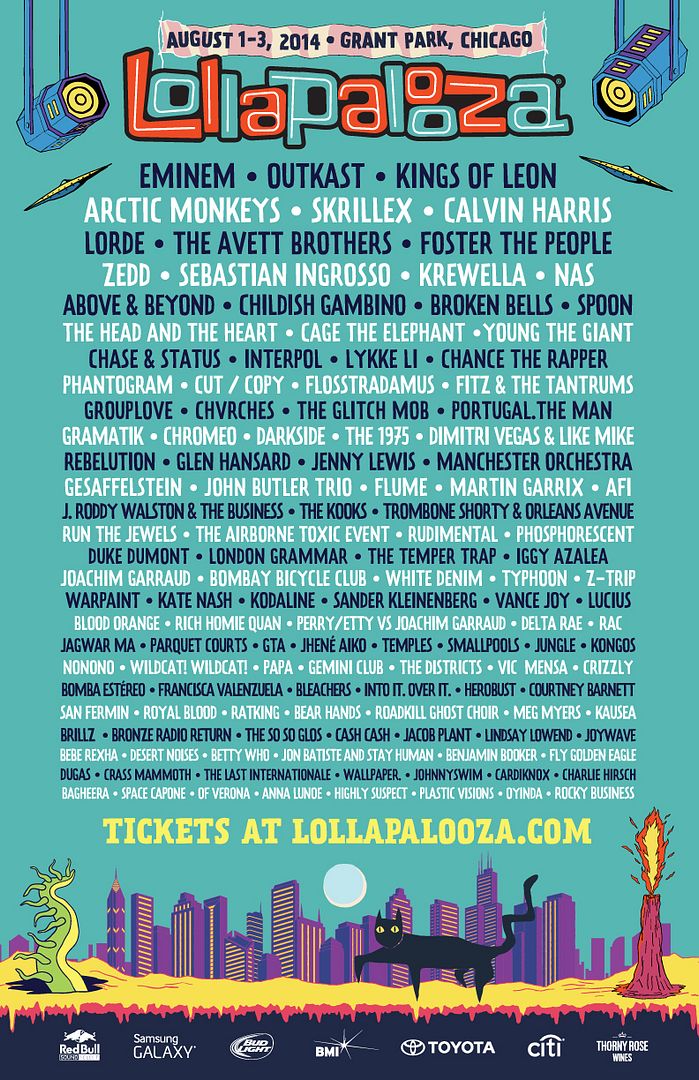 For a large portion of us, before there was Ultra Music Festival and Electric Daisy Carnival, there was Warped Tour and Lollapalooza. Yesterday Lollapalooza released their line up for their 2014 festival, and it is nothing short of epic. This year once again goes to show the flexibility that Lollapalooza has to offer. For all of those that are vibing out to the euphoricness of Above & Beyond, there is someone raging with Eminem. Or, you could have Lorde serenade you for an hour or two before going to visit Skrillex. For those of you with a severe case of FOMO, or if you have already broken your bank with festival tickets, please stop reading now.
This years Lollapalooza will feature a few big names in the EDM scene: Above & Beyond, Skrillex, Calvin Harris, Zedd, Chase & Status, Flosstradamus, Krewella, Dimitri Vegas & Like Mike, Flume, Martin Garrix, Brillz, GTA, Cash Cash, The Glitch Mob, Gramatik, and Gesaffelstein. 
In case that wasn't enticing enough, there is also the chance to see Eminem, Outkast, Kings Of Leon, Lorde, Arctic Monkeys, Foster The People, The Avett Brothers, Nas and Childish Gambino. Throw in Chance The Rapper, Chromeo, Crizzly, HeRobust, AFI, Rebelution and The 1975 and what you have is a festival line-up that is beyond stacked for all of your musical needs. Do yourself a favor and listen to the little voice in your head that's trying to convince you to buy the tickets now.