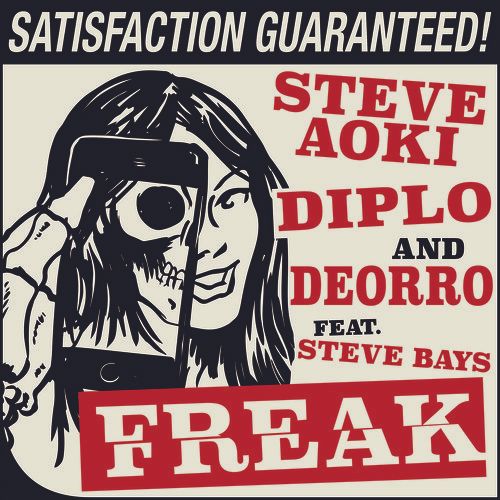 Steve Aoki, Diplo, & Deorro – Freak (feat. Steve Bays)
Label: Mad Decent | Release Date: March 18th, 2014
Beatport
Steve Aoki, Diplo, and Deorro form a superstar team for a collaboration entitled 'Freak'.  The collaboration speaks for itself as each DJ brings their own sound to this already bass dropping track. 'Freak' hits hard with a 808 breakdown and some of the twangy electro-dutch sounds Deorro is known for. It also features the 'Warp 1.9'-esque synth and a broken up lyrical segment that Steve Aoki tracks tend to emphasize. Diplo's influence is heard in the track's overall snare and kick drum scheme, working with the lyrics to bring the vicious and delinquent accent needed to tie it all together. Each style complements one another and combines to create the various melodies, breakdowns, and bassline heard all over this bumping piece.