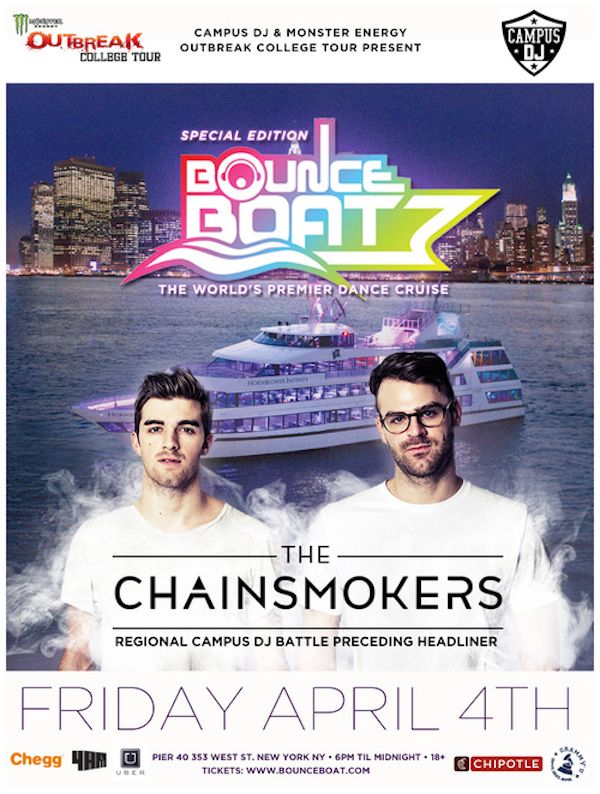 Tickets
As certain styles of electronic music shift away from the "underground", and into dance club VIP territory, the average lover of electro house might find themselves searching for a middle ground. Introducing, the best new option for a dance spot halfway between the bassment party and the upstairs club balcony: cruising along at sea level. And New York, it's your turn to enjoy the increasingly-popular dance music boat party. The Bounce Boat is making its inaugural voyage of the season Friday, April 4th, with hometown heroes The Chainsmokers.
For those northeasterners where a trip to Miami for a "RAVEcation" like the Groove Cruise or the upcoming Mad Decent Boat Party is out of the question, the Bounce Boat has you covered. Bounce Media Group is promising a season of awesome talent and seafaring surprises, and starting the spring with The Chainsmokers certainly lives up to those expectations. The #SELFIE-loving duo will rock the Hornblower Infinity in April to 1,200 passengers, cruising along the Hudson and soaking in gorgeous views of the Manhattan skyline. Can't stand the viral video hit? Not to worry. These DJs are versatile, as proven by their emotive take on Bastille's "Flaws", which made the cut in a recent Above & Beyond Group Therapy radio episode.
Additionally, college DJs will battle it out onboard in the Regional Campus DJ Competition, making it a night for newcomers as well as EDM sensations. Fans are already getting pumped to enjoy the Bounce Boat's booming sound system and crazy light shows – and unfortunately, that means general admisison tickets are sold out. But VIP tix are still available, and definitely worth it. A little birdie told us that Chipotle is catering the top-tier mezzanine. Burritos on a boat, anyone?
Spring marks the start of the beloved "festival season" for many, but if a weekend-long, bank-breaking event just isn't gonna happen, why not feel like a Captain for a night and enjoy another seasonally-friendly raving option? Keep a lookout for more Bounce Boat events coming your way.