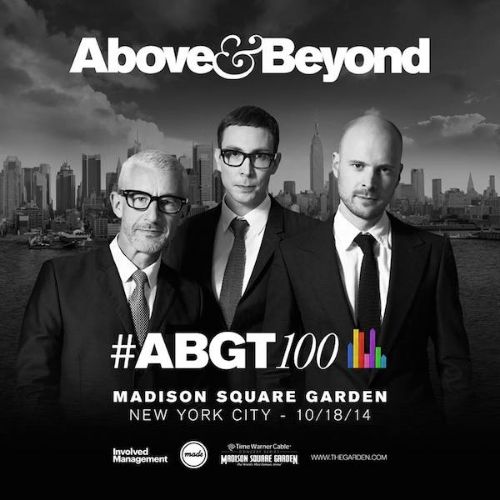 It seems like just yesterday Above & Beyond was teasing our intrigues and wrenching our hearts over the landmark reveal of their live Group Therapy Radio 50 show – and an incredibly memorable Above & Beyond moment it was. In hindsight, their now iconic rainbow umbrella was a clever clue into the London location – a city renowned for its rainy weather – so naturally – like the huge EDM nerds we are  – the EDMTunes writers followed this pattern to postulated potential cities the ribbon-made skyline on the ABGT 100 art could represent.
Wait no more! Scratch your heads, gnaw your teeth, and wring your fingers in anticipation no more! Toronto, Rio. New York City, Bueno Aires – the Twitter pleas were loud and many – but only one city could reign supreme. As revealed on today's live stream, the celebratory milestone of Above & Beyond's 100th Group Therapy show will be held in on October 18th in New York City's Madison Square Garden!
To many, Group Therapy is far more than a mere weekly compilation of tracks. To many, it's an intimate connection to a  worldwide family of other trance lovers, a beautiful reprieve from the strenuous challenges faced in life, or a gateway to experiencing the inundating power of music. And to many, it has been a crucial and life-changing springboard into pursuing their fervent passion in music, the reason to shamelessly smile and dance around like a fool, and a mental haven to just be the little dreamers we were born to be.
Congrats to the centennial commemoration, cheers to ABGT's longevity, and see y'all in New York!
Sign-up for pre-sale access here.