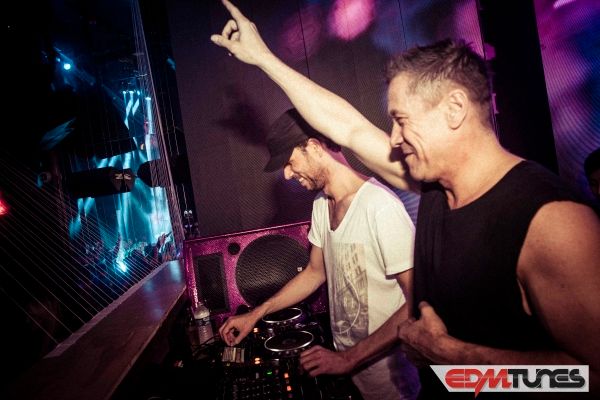 Some sort of divine force must have brought the two German DJs Nic Chagall and Stefan Bossems (more commonly, 'Bossi') together 15 some odd years ago on a chance night in Cologne.  Whatever that force may have been, the global dance community hasn't been the same since.  In what has clearly been a blur of amazing experiences, memories, and productions, they've hit a stride unmatched by many of dance music's elite in both production and DJing, bringing individuals at home, and crowds in sold-out venues into melodically-infused frenzies.  Watching the two legends work together on stage is nothing short of amazing, as this duo forgoes the B2B method of mixing, and frequently converge onto a single mixer, working together to create one sound, as they quickly find a rhythm denoted by a synchronized bounce while mixing on-stage.  In this case, it's more than apparent that the whole is so much greater than the sum of the parts, as these guys time and again weave us masterful works of art in sound, appealing to both trance, and non-trance fans alike. Having seen these two perform three times leading up to Miami Music Week, attended their show at Set Nightclub featuring Jerome Isma-Ae, BT, Audien, and Jaytech, as well as an absolutely transcendent ASOT650 performance, you cannot help but to marvel at these two. Being on the road hundreds of days a year, every single year, it would be easy to question their perseverance.  Yet, the smiles on their faces told a much greater story, as they each sipped their Corona's on what was a perfectly sunny  74 degree Friday leading up to the 16th ULTRA Music festival.  "Do what you love, and it'll never feel like work."  These guys are a true physical embodiment of living a dream, and wake up every day to do what they love. I had the pleasure of spending 15 minutes with the duo as we talked about their plans for 2014 which include an upcoming radio show, their new album, and a move to Armada music.

With everything going on this week, and how busy you've both been, what's the last show you've attended just for fun?
N – "Last night actually, we went to go see Mau5trap and Pryda, so seeing Deadmau5 and Eric Prydz, downtown at the Ice Palace. It was pretty dark. They decided to go really deep techno. Definitely not what we expected. It was good to see something so different from what is usually going on these days. It was quite nice."
What does work life balance look like to DJs and Producers as active as you are?
B – "Every single person is different about this. You have to work hard and push it, but don't over-push it. Take care of yourselves sometimes. Find your own way, enjoy what you do. Work hard, but sometimes give yourself some rest."
N – "The good thing is that we truly love what we do. The work itself, doesn't feel like work really. The tough part, and the tiring part is the traveling. Maybe even go to the gym, which isn't something I've had the chance to do for years and year…obviously (laughs)"
Is there ever any time that you two split up, and if so, how do you decide who goes where?
N – We actually play 99% of the shows together.

S – Nic couldn't make it out to the Groove Cruise Miami on that Thursday in January, so I went there alone. It was truly one of the very few exceptions we've ever had.

N – My schedule just wouldn't allow it, as much as I wanted to, so I played as Nic Chagall on Friday in New York, and Saturday we met up in DC and joined again as Cosmic Gate.
You recently moved to Armada at the end of 2013. What drove your decision to change teams?
B – "We've known the guys for so many years, but never really worked together. With the start of the Wake Your Mind label, we felt it was time to get that started. We basically knew before every single person in the office. It was like getting into something new with people we knew. It was simply the right time at the right moment. It will definitely help continue progressing. It's actually about the DDA network. The complete management and handling is done by Armada, so it won't take much time away from us Producing and DJing, which is perfect."
Speaking of Wake Your Mind Records, are there any up-and-coming artists you're really excited to start showcasing a bit more?
N – "We really want to start releasing tracks from other artists. We have 2-3 releases planned before our own album. The one single is by another German guy named Steve Bryan. He has a really emotional proggy-trance track we're excited to release. Honestly in the last 2-3 months, we've been so busy in the studio , it's been very tough to keep everything moving. With the album completion, we will see more time to expand. I also have a Nic Chagall track I'm excited to release on the label as well."
B "…but it's first got to pass my A&R (laughs)."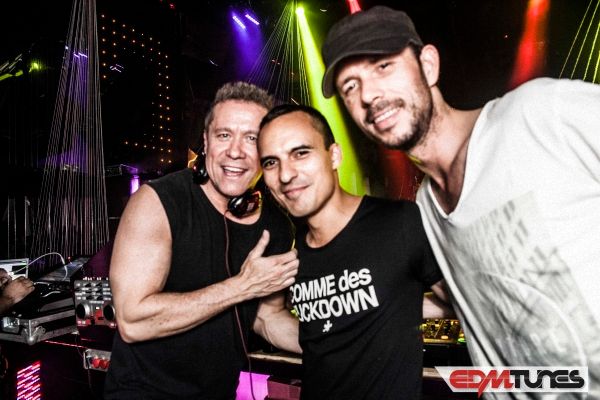 You have a tentative date set for soon this year, May right?  You mentioned that your last album "Wake Your Mind" was made to describe boundary-less music, no borders.  Anything you can share about your new album?
N – "It's actually heading that same direction. We're bringing a lot of emotion to these tracks as well, keeping with our history. We have a lot of collaborations coming up. We have known guys, like Orjan Nilsen, we have an amazing track coming out with him. Tried and tested, and is working incredibly. We have tracks with Emma Hewitt, Johnathan Mendelsohn, big big names in the vocal space. The songs and the albums are done, just some final remastering and now, its time."
B – "We are also working with new talent, and are extremely excited to debut them as well. "N – "The next thing we want to share is the radio show. No boundaries with the music. Not just sticking to just one thing, also bringing in new things to explore. We'd like to play a lot of songs that you hear in the sets." B – "It's going to be done weekly." N – "We are convinced the best choice was doing this weekly. We thought we are two guys, we should make this possible, somehow…we think (laughs). The tough part, honestly, will be to listen to the music. There is just so much out there these days, every week, and to filter out what we want will take some time. In the beginning, for now at least, we're going to plan on doing this on our own, which may sound kind of crazy. Its real though, and we like to say that we can make it work. In the future, we may ask to have additional help, but for now, we will be doing it on our own."
B – "Its much like the conversation of production with ghost writers. We stick to the belief in doing it ourselves as much as is possible."
As far as opportunities go, I'm sure the radio show is going to give you new windows/venues/additional opportunities, right?
B – "People have been asking about the show, and we've been thinking we should do it. It was just a matter of waiting for the right moment. Now with the move to Armada, we're ready to launch in the middle of April, and we're really excited about it."

N – Its a tool for our sound, and to show everyone what we're into. Now, we can go even deeper into the music because we have to. I'm very excited about that, and we can really benefit from it.
On the topic of memories and big events, ASOT650 is Sunday. Do you have any particularly powerful memories that really stick out to you?
S – There are a lot fortunately, the first one that comes to mind is the Trance Energy 2002. That was one of those incredible moments. There are still goosebumps when we think about it.
B – It was a start of our truly international career. We got more gigs in the US and Asia, Germany and Holland, the European markets. Even with Fire Wire and Exploration of Space being released before that. We were able to show everyone that we were more than just producers, and could really rock the crowd.
Preparing to release any samples coming out on Sunday?
B – We are playing at least two tracks, but you know how things are these days with the internet and sets. But it is close enough that we feel pretty good about showing it off.
Do yourself a favor, and put the aforementioned ASOT set at the top of your list.  It was trance heaven, chock full of IDs (what appear to be four from the new album), and one of my personal favorite sets from the entire week.  The song they alluded to with another personal favorite, Orjan Nilsen, is absolutely stunning.  After 15 years, the fact they still put out new music this fresh, and are going to find themselves getting a lot of attention the second half of this year.  Very well deserved for two of the industry's greatest trailblazers.