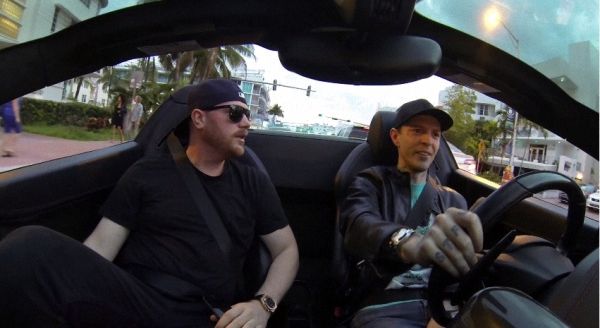 By now you know the drill.  Deadmau5 gets in Ferrari.  He picks up notable person, icon, DJ, or friend.  They cruise the town talking about whatever comes to mind.  Etc Etc. This one was especially entertaining, the fourth in his Miami Music Week series, as the two closed in on their Mau5trap vs. Pryda sold out event (a particularly impressive achievement considering it was the most saturated night of events for the entire week).
Prydz actually calls Joel out for somewhat taking Seinfeld's idea, although Deadmau5 was not aware that existed at the time he started.  They also spend time talking about their event, hinting at the soon-to-occur deep techno event, their childhood jobs, as Deadmau5 recanted stories of his earliest trolls at a peach canning factory.  We also find out Eric Prydz still currently has no driver's license, living in LA, another particularly difficult situation to imagine.
All in all, this video really showcased the extremely frenzied series of events that happened throughout the rest of the week.  At the time, Deadmau5 had no idea he was playing ULTRA, Laidback Luke was expecting his child anyday, and they had no idea what to expect from their event.