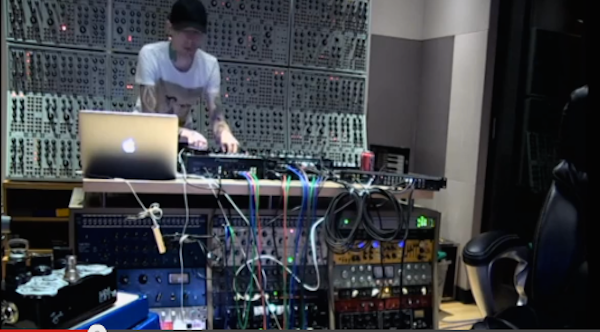 With all the hubbub of his infamous Ultra set, it would seem that Deadmau5 seeks to truly practice what he preached in terms of what deems music "good". While last weekend's consisted of blatantly gimmick-like track selection of overplayed Beatport tunes, a recent set that was recorded from his home studio is the polar opposite.
The set in question offers two hours of seamless beats, perfect transitions, and underground sounds in place of anthemic drops, trance-like breaks, and famous 'flavor-of-the-month' style sounds. Take a while to enjoy this return to dance musics' roots and watch a true master at work.
Download the whole set HERE.
Tracklist:
**TRACKLIST 1ST HOUR**
1) ID – ID
2) Lluis Ribalta – Belial
3) Deadmau5 – Luxuria
4) RAR – The Tool w/ Deadmau5 – Secondary Complications w/ Deadmau5 – Sometimes Things Get, Whatever
5) ID – ID
6) Whyt Noyz – In 95
7) Carlo Ruetz – I'm F***ing Famous
8) Pryda – Muranyi
9) Theo Parrish – Falling Up (Carl Craig 2013 remaster)
10) TG – Mr. Dry
11) Audion – Noiser
12) Joris Voorn – Decay
13) Schneider TM – The Light 3000
14) ID – ID

**TRACKLIST 2ND HOUR**
15) Max Cooper – Enveloped
16) Deadmau5 – Petting Zoo (working title) w/ Deadmau5 – Glish (working title) w/ Deadmau5 feat. Rob Swire – Ghosts 'n' Stuff w/ Nine Inch Nails – Survivalism (Deadmau5 remix)
17) Deadmau5 – 74 (working title)
18) Tony Rohr & Layton Giordani – Careless Suggestions
19) Cari Lekebusch & Joseph Capriati – Missed Flight
20) ID – ID (probably something by him)
21) Ricardo Villalobos – Arild
22) Miro Pajic – Digits (Billy D'Alessandro remix) w/ Avicii – Levels
23) Chazzy Chaz – Imun (Chazzy's panic re-edit) w/ Deadmau5 – Gula
24) Deadmau5 – Cyclic Redundancy
25) Deadmau5 – Orca