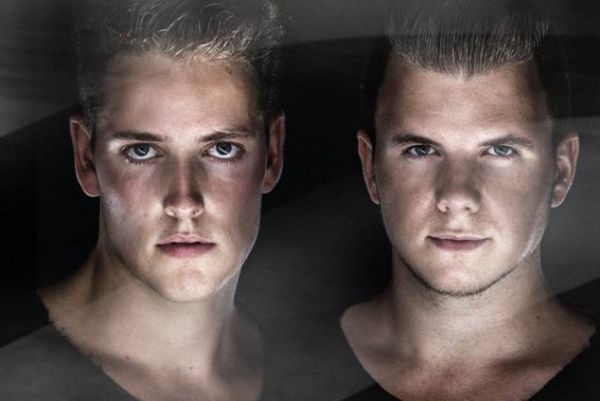 Upcoming Dutch producers surely have their work cut out for them, emerging from a scene known for mega talents such as Nicky Romero and Armin van Buuren to name a few. It is without question that the bar is set insanely high for all producers hailing from Holland. For many, turning their hobby into a career is a daunting and nearly impossible task. Add on an international tour and a slot at one of the world's largest dance music festivals and those chances have become exponentially slimmer. Luckily for the Sick Individuals, they have the luxury of both, having landed themselves a slot at Ultra that precedes their 'Rock and Rave' tour around Australia and America. We had the honor of sitting down with Jim and Ray during Miami Music Week to touch base on their plans for now, the future, and just about everything in between. 
The Dutch house scene is a historically rich one, with veteran game-changers like Armin Van Buuren,Sander Van Doorn, and Olav Basoski hailing from the proud country, along with newly-crowned legends like Nicky Romero and Hardwell.  But in addition to its numerous vets, there is an astounding amount of new talent coming up through Holland's house scene.  One of the most impressive acts of this "new school" of Dutch house is SICK INDIVIDUALS.  This up-and-coming house duo has been on an unstoppable rise lately–having breakout performances during Miami Music Week (playing alongside the likes of Axwell and Deniz Koyu), as well as putting out a slew of original releases and a few highly-notable remixes (including their remix of Icona Pop's "I Love It" and Qulinez's "Troll) this past year.  Now these former music students are gearing up for an exciting end to their storied 2013.  I got the chance to talk to the duo about their origins, their production technique, the state of the new Dutch house scene, and their plans for the rest of the year and beyond.  Read on for the full interview.
Where were you when you realized you were going to be performing at Ultra for the very first time?
We actually thought we had no chance of playing Ultra after phase 2 was announced. We were in the process of changing agencies, so that was definitely a difficult process for us. We were in Italy when we got a call from our manager saying "I have really bad news… you guys are gonna play Ultra!' As soon as we hung up the phone, we got some champagnes and started celebrating. Either way, we were going to be in Miami playing some gigs in and around Ultra, but now that we got the opportunity to play the actual event, it was like a cherry on top.
Sick Individuals are known for that extra hard electro house flavor, which many fans around the world have grown to love so much. What's the spark and reasoning behind picking specific tracks to remix?
For us, the most important element within a track is that it has to be powerful, groovy and bouncy. There are a lot of tracks out there right now that are simple and basic that sounds like BOOM BOOM KUNG KUNG BOOM, we want something that people could bop their heads to, something they could move their bodies to…something that people actually want to hear inside and outside of music festivals.
What could your diehard fans who are reading this at home expect out of you guys in 2014?
We're releasing a track on Ultra records this month and then we're going on a tour around it (Rock and Rave tour). We're also working on a lot of originals this year, as opposed to last year where we focused more on remixes. We're trying to take the original production route in 2014. It's not that we're not going to be doing remixes anymore, we're just pushing that off to the side and not having it as our focal point. We just wrapped up three new tracks with vocals infused into them that we think our fans are going to love.
Can you give us a hint on any collaborations you're working on? Any vocalists in particular?
We're currently working with Dannic on a track, once again. In terms of us seeking out names to work with… to be honest we focus more on the talent than the name. Quite frankly, we prefer to work with the hungrier artists who have not established themselves yet because they have something to prove. But that doesn't necessarily mean we count out some known vocalists.
Speaking of Dannic, what's your relationship with him? 
We were kinda friends prior to even collaborating on the first track. We had a really good vibe with each other right off the bat because we all like the same type of music. Dannic has a really groovy and interesting sound, quite similarly to us, so its only natural that we hit it off and began working together more closely. That's probably why we could just sit down and finish a track together in a matter 3 days.

On top of that, we're managed by the same agency and always play at the same parties. Therefore our relationship is really close inside and outside of the industry.
Would you say that having a strong relationship with other artists, such as Dannic, really help push your career in the right direction?
Yes and no. Obviously, having that type of bond with someone is something you can never take for granted, especially with someone such as Dannic. But we've never really had that strong of a relationship with any other artists, unlike what Dannic has with Dyro and Hardwell. We don't jump in the studio everyday with the same people around us, it's always us as individuals, even though we're a group.
As you may already know, the music scene is always changing and you always have to shift your style around to stay scene. Are there any plans in the foreseeable future where you guys start switching your styles around?
It's honestly really hard to tell. You never know what the future has in store for you. One thing that is certain is that we don't ever want to do the same thing over and over again, we always try to avoid repetition within our style. We enjoy that groovy sound, so that will always stick. Infusing our music with melodies and harmonies will always reside with us as well. We're not going with the hard stuff that everybody is doing nowadays, we're taking a different route with our sound. Although that aggressive and pounding sound is popular in America, we feel as though it's a bit too overwhelming for our taste.
How would you describe your rise to popularity? What do you think catapulted your careers to where it is today?
Definitely the remixes that we put out last year. Within 12 months, we pumped out 22 remixes from various artists across the board. It helped us get recognized and really helped us get our names out there to many artists that we could've only dreamed about working with before. Nowadays, all the big labels are hitting us up and requesting us to remix their originals, so that's definitely a sign that we did something right during our rise to where we are today.
 10 years ago, this buzz could only be found in and around Europe. Many electronic dance artists back then never once thought that they would be performing at such a huge venue in the US today. Why do you think the US is so engaged and interested in dance music at the moment?
We've never been here before prior to last year when we performed during MMW. Every time we get the chance to play here, there's always more energy in the crowd. And we know that's a very cliche and basic answer, but it's the best answer we could give. You could see the love and passion for dance music on the fans' faces in the crowd every night, which rubs off on you when you perform, so it really goes both ways.

On top of that, people here are super crazy for EDM. The culture is something you can't find anywhere else in the world… you also can't find these American girls anywhere else either haha. For a lot of people, this is very new to them, therefore this music is basically what their generation will be listening to for a while and the buzz will be an ongoing thing for quite some time.