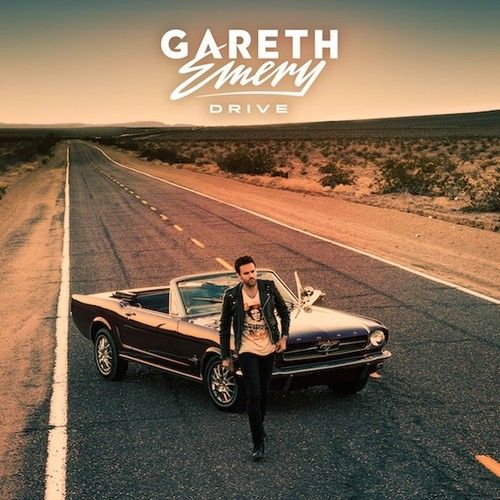 Gareth Emery – Drive
Label: Garuda | Release Date: April 1, 2014
Buy on Beatport | iTunes
It's been 4 years since Gareth Emery unleashed his signature production style on the electronic music industry with his full length artist album release in 2010 "Northern Lights". After wading through the trickling releases of preview clips from his sophomore follow-up album "Drive" in the last few weeks, and ever since reading his Facebook post about how his forthcoming album "would not feature that drop sound," I have been ecstatically awaiting the LP's release – and that day has finally come in the form of some wickedly high quality finesse and craftsmanship that Gareth has penned all throughout his mental road trip within "Drive."
From personal experience, artist album releases in electronic music have seemed to be utilized by producers purely as a platform for club mixes and remixes to thrive off of. Not Gaz! "Drive" is bursting with pure musicality that can absolutely hold its own in the industry on its Original Mix legs, which is an impressive feat to claim and line to toe. Stylistically the album is deftly infused with trancey elements over a pure progressive house base – and is fiercely melodic. As one of the trailblazing purveyors of shedding the "EDM sounds" of recent times, we can only hope that this will spark a fire in producers throughout the scene and send us in a fresh new direction for the horizons ahead – setting sail with a new moray, a new norm.

"Drive" is chock full of goodies. Goodies that have been circulating as ID's for quite some time in Gareth's live sets, sheerly epic vocal masterpiece goodies, and some purely instrumental goodies to truly show off that musical aptitude. Here's a quick rundown:
Previous ID's
The kick off album track "Entrada" propels you like a rocket right into the mix, with its festival-ready sounds and energy – but atypical festival energy, a fresh and clean take on that style of production. Gareth has been teasing fans with this one for the past 2 years or so, and we finally have a name to go along with the track.

His collaboration with Ben Gold, "Javelin" has also been circulating the live set environ for quite some time, and it features that classic Garuda wavey/spacey melodic energy while incorporating a belting breakdown that is primed for any main stage set. Additionally, Gaz's Krewella  collab "Lights & Thunder" finally gets an official home, and the resulting track only came to fruition after over 20 versions had been tested by Gareth in his live sets, in an effort to hone in on that perfect delivery and combination of festival feels, glitchy dub elements and trancey vibes.
Vocal Beauty
This is where the album absolutely shines. Every single vocal track included scored an 8 or above in my personal rankings. I had so many favorites that I couldn't choose a singular one. From the soaring harmonies, rhapsodic breakdowns and poignantly produced structures in "Dynamite" complete with Christina Novelli's gripping vocals, to another flashback of sounds of yesterday in "Eye Of The Storm" with its classic Gareth spacey synth-led layers and the dreamy alt-rock-infused vocals of Gavin Beach, there is something for everyone. "Million Miles" features incorporation of those old school Avicii sounds with some added bouncey breakdowns and anthemic verses delivered by Asia Whiteacre. I contend that once a producer leaves behind a signature sound, that said sound if fair game for other producers to utilize…and Gareth has done so masterfully.
LJ Ayrten
's vocals burst through the spectrum of normalcy within "
Beautiful Rage
," with her simultaneously angelic and haunting pipes, all in all the track takes "ethereal" to the next level. It left me speechless, and is an immaculate production. Possibly tied with the aforementioned track as my absolute favorite, the long-awaited Emery-squared production of "
Soldier
" has been a long time coming, but totally was worth the wait. Comprised of acrobatic vocals from
Roxanne Emery
and Gareth at his jubilant best, the slightly melancholy-turned-hopeful production
drives
you into territory oozing with euphoria. Because it's all about the journey from one place to another, continually moving forward…
The Instrumentals
Gareth's musicianship shines through like a shooting star in the few instrumental cuts on the album, with "Firebird" as another track striking chords of his "Northern Lights" days – giving fans like me hopes that delving deep back to prior signature style sounds will become a viable future trend in artist album releases. The track is permeated with a hypnotic synth incorporation on top of an indescribable level of headiness that projects your consciousness through the tree of life and out into the universe though a white hole – yeah, it's that intense. Firebirds can apparently drive you to space, FYI.

To end the album on a perfect note is "Long Way Home," a track that smoothly and softly brings you down from the pulsating energy of "Drive" and shifts you down into 2nd gear for a smooth stop. Airy and captivating, yet emanating an openness and a sense of hopefulness in addition to pangs of Orbital's track "Halcyon & On & On" from the 90's.

The album's finale leaves you with a sense of earthly atmospheric vibrations, signaling the beauty of the coming of a dawn of a new day, while taking the lessons learned from days gone by and applying them to your current life and future plans. This is what Drive has left me pondering after 3 straight subsequent listens. A deep album in multiple aspects: deep in musicality, deep in underlying meaning and deep in talent. Get out there and support this one today and show the industry that we will no longer support the same cookie-cutter crap that is shoveled into our laps daily; and give our credence, attention and fandom to the truly deserving..and in this case, I believe Gareth has articulated his point masterfully, like a true boss.
Bravo, Gaz.
Tracklist:
Entrada
Dynamite (feat. Christina Novelli)
Eye Of The Storm (feat. Gavin Beach)
Javelin (with Ben Gold)
Beautiful Rage (feat. LJ Ayrten)
Million Years (feat. Asia Whiteacre)
Firebird
Soldier (feat. Roxanne Emery)
Lights & Thunder (feat. Krewella)
U (feat. Bo Bruce)
Long Way Home
Layers (Bonus Track)