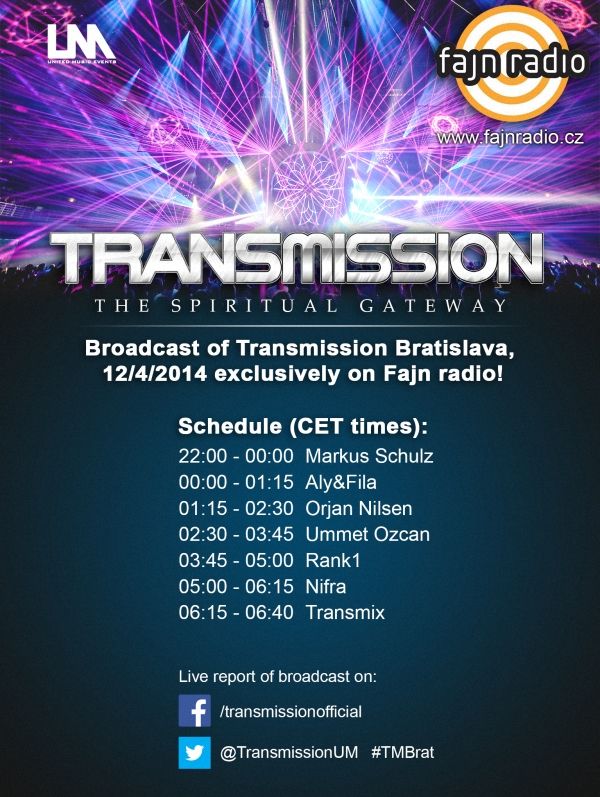 The largest regular indoor trance event, Transmission has gained notoriety for their amazing sound set up, premiere trance lineup, and unparalleled laser light show. The producers of the event, United Music, are now taking this spectacular experience to new horizons beyond its home in Prague. The first international edition of Transmission for 2014 was held in Bratislava, Slovakia on March 15 at the Slovnaft Arena. 7000 trance fans entered the Spiritual Gateway as Markus Schulz, Aly & Fila, Orjan Nilsen, Ummet Ozcan, Nifra, Rank 1, and Pico provided the beats for the evening's journey, and Dutch VJ team Vision Impossible brought the otherworldly visuals. Luckily for those of us who were not able to attend, Czech radio station, Fajn Radio, will be broadcasting all of the live recorded sets on April 12. You can also listen online here.

During the broadcast, the official Transmission Facebook page will have live reports, and up to date track listing will be provided on their Twitter profile @TransmissionUM using the hashtag #TMBrat. After the broadcast, all sets will be posted on the United Music Soundcloud channel.
Broadcasting Schedule in CET Time:
22:00 – 0:00 Markus Schulz
0:00 – 1:15 Aly&Fila
1:15 – 2:30 Orjan Nilsen
2:30 – 3:45 – Ummet Ozcan
3:45 – 5:00 – Rank1
5:00 – 6:15 – Nifra
6:15 – 6:40 Transmix
United Music has also announced plans for future foreign editions of the event and the date for the annual Prague Transmission. Transmission Prague will be held on October 25th, and you can grab your tickets here! And, for those of us who can't travel overseas to experience the magic that is Transmission, we HOPE and PRAY that United Music will bring the show to the states one day! Check out the Transmission Pre-Sale trailer below!