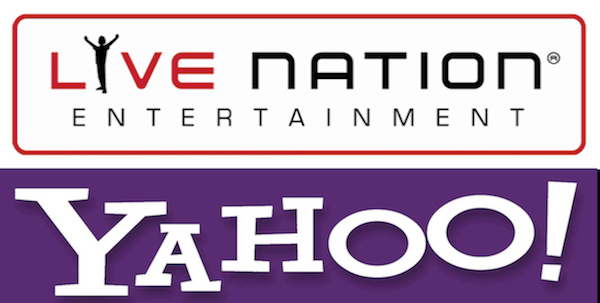 "Live" seems to be one of the biggest new trends in the music industry and the major players continue to seek ways to monetize their products outside of the physical events. EDM fans have certainly seen this development as many of their favorite festivals are now streamed worldwide, from Ultra to Coachella, and more recently Tomorrowland with MTV.
Yahoo! is now looking to get in the game, announcing at their Newfront presentation earlier this Monday that they will be partnering with Live Nation to live-stream a concert a day for at least a full year, starting this summer. While Live Nation serves as the event production arm, Yahoo! will serve as the platform by which they plan to broadcast hours of live music from a variety of genres. To no surprise, both companies will be looking for sponsor support to help cover expensive endeavor's costs; viewers can expect plenty of brands to get involved. Yet, given the scope of acts that Live Nation supports – "We have 100-plus shows a day somewhere in the world right now," said Live Nation CEO Michael Rapino – there should be something for everyone, including behind-the-scenes footage and interviews surrounding the performances.
Never before have fans had so many opportunities to see their favorite artists perform across the world from the comfort of their own homes, as well as get exclusive access to events they couldn't get in person. More music is rarely ever a bad thing and even though live-streaming at this scale is still very much in its infancy, it's an exciting development for all music fans. The companies are currently looking at a late June launch for the first event.