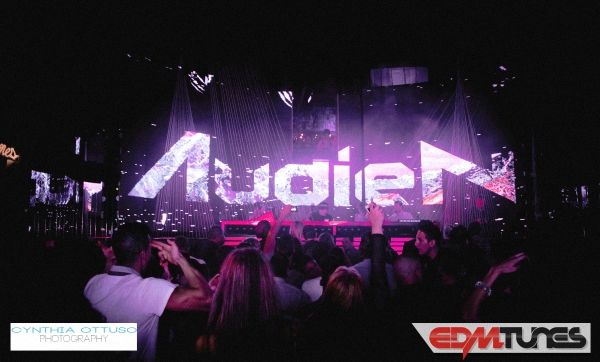 As the lens of electronic music continues to prove that age has no limits, it seems as though a new star is born every day.  Of these young guns, there remain a few atop the list, that the young up and comers can aspire to.  Audien is not only one of these stars, but with hallmark tracks like "Leaving You," "Iris," "Wayfarer," and "These are the Days," if he hasn't already ascended the ranks into superstardom, he will be there soon enough.  Clocking in at the ripe old age of 22 years old, he is already at the pinnacle of his career.  While many his age are still focused on internships, finals, and finding their first "real" job, he's playing some of the biggest venues in the world, touring with the biggest names in dance music.
Being young afforded him a few special opportunities, as anyone whose ever truly been great at something, knows that rules are often up for interpretation.  One of those opportunities for Audien was entertaining the masses at clubs before he was legally able to enter them.
"Having an increasing number of DJs under 21, you have to think the clubs didn't consider this would ever be a problem.  I can see why they don't want kids around alcohol.  Usually when you're underage and still DJing, they'll grant you an exception, but you'll have eyes on you the whole time, these big bouncers, people in suits.  When I was under 21 and DJing, they'd walk me up there, have me play, then rush me out of the club, well , actually the same kind of thing still happens when I play now…. (laughs)."
That kind of an experience certainly has its perks, as Nate "Audien" Rathburn found his groove playing with people many years his senior.  It was perhaps these early club experiences that helped him come to the decision that led him here.  Shortly after his first year of college, Audien left the college life to pursue music full time.
"If I was still in a full-time college, I'd pretty much hate life (laughs).  I did one full year of college, and spent that entire year producing track after track after track.  I ultimately knew this is where I wanted to head, and that first year just gave me the extra time to focus on it full time.  People have asked if there's anything I missed, but I don't really miss anything at all, I'm having an amazing time."
This success is in no way attributed to any kind of luck, he has absolutely cornered the market on a an upbeat, joyous, progressive sound, that has massive record labels Spinnin, Armada, and Anjunabeats clamoring to put their name on every single one of his releases.  If the music we choose to play are what feelings sound like, Audien might very well be one of the happiest people in the world.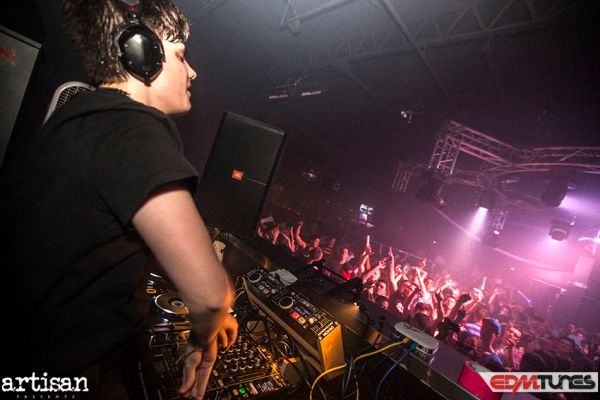 When asked how he was feeling about his own musical tastes, and if he was feeling any influence from his friends at Anjunabeats, who have been pushing more electro releases, he had this to say:
"I gotta change it up a bit.  I do a very similar sound, all the time.  People know it's a really melodic, pump-up, chord sound.   Really though, I get inspired by a lot of other stuff.  If I ever do an album, I'm going to throw together like seven different genres.  I would like to show my range.  I'd do some drum and bass, electro, downtempo, maybe happy hardcore.  There's no reason to hold back, especially with where I am in my career.…  I think my fans are really receptive, they jump on a lot of the releases I have and that's encouraging.
Now… "Elysium," I got a little bit more flak from the trance crowd, but they are very clear on what they want, and what they don't want (laughs).  All the same, that track introduced my music to a much different crowd, and it brought a lot of people back to my more progressive sounding music.  Besides that track, no matter what type of music I'm releasing, it's always going to have my signature sound.  No matter how far my style ranges, people should be able to recognize my music."
Without a doubt, Audien possesses a strong musical ear to try these different styles, as he spoke about the amount of difficult remixes he's attempted over the ears, culminating with his iteration of Bruno Mars's "Treasure."  Whatever he's been doing, it's clearly been working, as another of his new releases, "Hex," found its way into a  new TV commercial, informally titled "Vegas Season."
"I work with a headphone company called 808 Audio.  We've been developing some stuff, and pulling together some ideas.  "Hex" was a track I put together for them for their promos.  I basically looked at some of their designs, and made the track based on my interpretation of them, which is a bit difficult to conceptualize how to actually make that happen.  Some of the people who make the commercials for Vegas got their hands on the track, and took it from there.  To have this song featured for an advertisement for one of the most amazing electronic communities in the world…. Pretty amazing, especially with how popular dance music has gotten.  The track itself… Its got progressive, electro, and a bunch of trance elements.  It's a crossover…it really helps to represent a lot of what you see in the clubs, because the clubs, and the DJs are all so diverse."
A full season of touring ahead of him, multiple hit tracks, and featured advertisements for some of the biggest gigs in the world…well it might be enough for some, but when you know someone is doing something they absolutely love, the only thing worth expecting, is more of it.
"I've got one more big release coming for this festival season.  Its this new track coming out with Matthew Koma called 'Serotonin,' and is going to be a release on Spinnin.  I've had it for awhile, been testing it, and fixing it, and now I think it's ready.  Something I've been really looking forward to putting out, it should be a big one.

I've actually got one more project I'm working on…. One of the biggest looks anyone could have in all of dance music.  The contracts I have won't legally let me talk about it, but it's going to be absolutely phenomenal.  Just wait a bit.  It'll be out soon."
Audien's tour schedule should afford a great many opportunities to see him this year.  He's already booked for Tomorrowland for the second year in a row, and one would expect to see him on the upcoming EDC Las Vegas lineup.  A self-proclaimed lover of festivals, Audien is a can't miss talent who won't disappoint.  One of these events is going to get a first look at this "massive and secret project," and with all the success already under his belt, it is going to be nothing short spectacular.
Photo Credit: Cynthia Ottuso Photography & Nak Attack Photography