FRIDAY, MAY 9th, 2014 — In the heart of Hollywood on a Friday night, Avalon Hollywood is preparing for another Control Friday. Tonight is special. It's Friday night of "The Grand Reveal," the consecutive four-night event by which veteran club Avalon Hollywood unveiled its recent renovations and one-of-a-kind sound system. The special guest of the night is Congorock, supported by Jordy Dazz, Joel Fletcher, Sam Hiller and David Dann. Congorock (real name Rocco Rampino) is no stranger to Avalon. The Italian DJ/producer has been based in LA for some time, but remembers Avalon as the first club he played in Los Angeles, back in 2008. "The first time, I didn't really know anything about LA and I was overwhelmed by the welcome of this club and I feel like over the years this club has been established as one of the best clubs in the United States," Congorock explains in the subterranean green room before his set.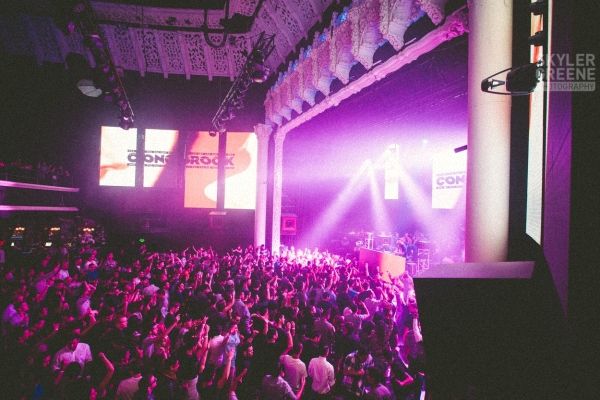 In fact, Avalon Hollywood recently ranked #40 in the world on DJ Mag's 2014 list of the Top 100 Clubs around the world, moving up 9 spots from the 2013 list. Congorock's appraisal and DJ Mag's affirmation of the venue's stature in the dance community are well-deserved. The club opened in October 2003 and has been attracting top-tier electronic talent ever since. After celebrating its 10-year anniversary last fall, Avalon Hollywood underwent significant renovations, creating a fresh aesthetic and unrivaled auditory experience for its guests. The result of these renovations is on display tonight. The remodeled front entry gives way to a center bar and sleek facilities. Continue on into the main room and you'll find remodeled VIP tables and an awe-inspiring dance floor illuminated by 150 LED panels. The ethereal glow cast by these new additions highlights the gorgeous historic features of the building, which was constructed in 1927 as a theater for stage performances.
The theater turns out to be the perfect environment for the all-encompassing cinematic sound Congorock strives for. He takes cues from soundtracks of films and video games in his quest to create compelling productions. He cites the original soundtrack for the 2012 film Prometheus, written by German composer Marc Streitenfeld, as the most inspiring soundtrack in recent memory. "It's mainly orchestral, orchestra music, but it sounds so epic and big… I was trying to figure out a way to incorporate that sort of sound, that vibe, in my own production," he explains, drawing a parallel between sweeping scores and the captivating effect club music can have. When asked about his own plans to score a soundtrack, Congorock replies enthusiastically, "If I ever had the chance to do something like that, I would definitely do it."
Another facet of the Avalon renovations is the one-of-a-kind sound system the club now boasts. Owner John Lyons co-designed it himself, giving the world the "Avalon by EAW" CLUB.one sound system. Lyons has made his living operating nightlife venues (most notably the House of Blues franchise) and designing sound systems with his company John Lyons Systems for his venues, along with restaurants and clubs in elite locations including the Mirage, the Venetian and the Bellagio in Las Vegas. Congorock's infectious, high-energy, African-inspired percussive tracks work perfectly in such a space. Later on, he takes the stage with confidence, performing an energetic set packed with hits. The crowd goes crazy as he's joined on stage by his good friend Clockwork for their recent release, "Infinite Mana." He describes the connection he and Henry Steinway (who also masquerades as trap sensation RL Grime) have comically: "Me and Henry are both nerds that somehow made it into the club… We share this kind of narrative background with video games and board games." The two drew inspiration from Magic: The Gathering, taking the name for "Infinite Mana" straight from the game.

In the same fashion as his friend, would Congorock ever veer from his current moniker to showcase a different style of production? He says, "I think in the near future the people are going to see another side of me, another musical side of me." When asked if that would include an alter-ego, he laughs and says, "We'll see. So far I'm just putting down ideas and writing. But I haven't figured out anything else." He's recently relocated to downtown LA, where he has a new studio that houses the equipment he's collecting. As he evolves as an artist, he says he intends to try out something different. "I've been buying a lot of old hardware gear… I'm kind of bored of using VSTs, visual synthesizers and computers, I want to play actual keyboards… My goal is to make a record with this new equipment." It will be exciting to see what that evolution in his sound entails but for now, what Congorock is doing is working.  He's entertaining fans and the electronic music community with his creative energy, iconic productions and vibrant collaborations.