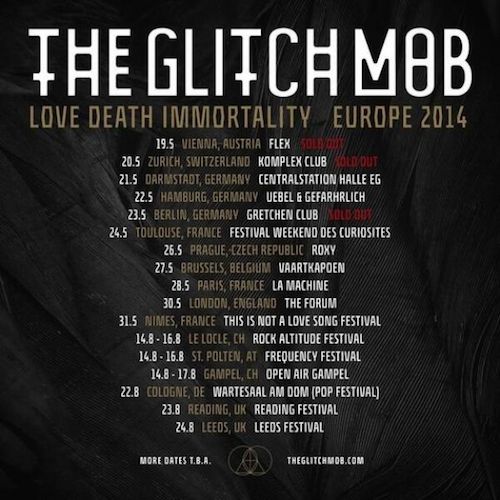 To showcase their Billboard top-ranking comeback album, Love Death Immortality, The Glitch Mob are bringing their tour to Europe in a 17-date continent-crossing  extravaganza. After a stint around North America and buzzed-about festival slots (like their Coachella appearance), the three-piece LA-based group will pump out their electro jams to audiences everywhere. Some shows are even already sold out.

The LDI single "Becoming Harmonious" has been featured in the upcoming Hollywood thriller Edge of  Tomorrow, so it's obvious that the Mob's songs alone make them a standout group in a sea of electronic music status quo. However, it's their touring production that is the true draw to these upcoming performances. Bringing the latest in lighting, visuals, and sound enhancement, this tour is sure to blow you away.
Catch the Glitch Mob if you can this month, and check 'em out later in the summer when they return to Europe for festival season.
20 May – Complex Club – Zurich, Switzerland
21 May – Halle EG – Darmstadt, Germany
22 May – Ubel & Gefarlich – Hamburg, Germany
23 May – Club Gretchen – Berlin, Germany
24 May – Festival Weekend Des Curiosites – Toulouse, France
26 May – Roxy – Prague, Czech Republic
27 May – De Vaartkapoen – Brussels, Belgium
28 May – La Machine – Paris, France
30 May – The Forum – London, UK
31 May – This is Not A Love Song Festival – Nimes, France
14-16 August – Rock Altitude Festival – Le Locle, Switzerland
14-16 August – Frequency Festival – St. Polten, Austria
14-17 August – Open Air Gampel – Gampel, Switzerland
22 August – Wartesaal Am Dom (Pop Festival) – Cologne, Germany
23 August – Reading Festival – Reading, UK
24 August – Leeds Festival – Leeds, UK