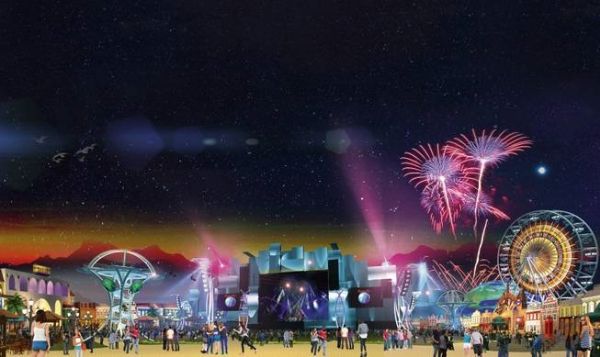 It doesn't seem like EDC is the only stop for festivals in Vegas anymore. Rock in Rio, one of the oldest and biggest festivals to come from Brazil, is celebrating their 30th anniversary by holding their very first Rock in Rio in the States. This festival comes with a whopping $20 million dollar infrastructure plan that will hold a brand new entertainment venue in the heart of Sin City.
The project's partnerships with MGM Resorts International and Cirque du Soleil's will transform a 33-acres lot on Sahara Ave in to a City of Air venue that will hold a capacity of 80,000 people for five stages. Much different from EDC, this venue is to be the most intricate and ideal setting for this one-of-a-kind unique festival that is set to be in the heart of the entertainment capital of the world.
The group behind Rock in Rio has a long tradition of throwing the biggest and best festivals in the world. Starting in 1985, the festival is grown to have more than 1 billion fans across the globe with international stops in Brazil, Portugal, and Spain. The event has been said to get massive artists on their line ups such as Queen, AC/DC, Katy Perry, Beyonce, Pretty Lights, and Carl Cox to name a few.
What is really mind-blowing about this festival is that the changes being made to the strip, from the new entertainment venue to the different stages. It will all be a part of a massive plan for Vegas to transform and utilize the changes all-year round. CEO of Rock in Rio, Luis Justo, says this about the new infrastructure, "It will be stripped down when Rock in Rio isn't utilizing it. We could do soccer, boxing matches. It's not an arena — it's an entertainment venue. We're building the infrastructure for the community and MGM, and we can easily have other major events there like a country music festival, a mega-food festival." He also mentions, "Rock in Rio is a four-day festival every two years, so it doesn't affect what we plan for MGM Grand Garden Arena or the new arena going in behind Monte Carlo and New York-New York. Rock in Rio will have a large number of many performers in shorter time performances, whereas our two arenas would have them as solo stars in two-hour shows."
This four-day festival is set for May 8th, 9th, 15th, and 16th of 2015, and you can find out more information about this historic festival coming to the states at Rock in Rio's USA page. With major changes coming to Vegas and an estimated 300,000 people said to be drawn in for the festival, what will these differences mean for Sin City?